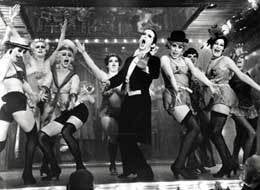 Cabaret has been increasingly marginalized as an entertainment genre over the past few decades. Its cavalier dismissal -- despite the success of the 1966 musical, Cabaret, 1973 Oscar-winning movie adaptations and many stage revivals -- has been especially buttressed in recent years by American Idol's Simon Cowell who habitually dubs anything he thinks sounds old-fashioned as "cabaret."
A shame, since in places where cabaret is still available -- metropolises like New York City, Chicago, San Francisco, Los Angeles -- it remains extremely vital. At times, it even echoes the great political cabaret, or kabarett, that predominated in Berlin during the Weimar Republic, when what transpired within music-hall walls had the sharp, angular edges of George Grosz drawings and Otto Dix etchings.
One such just-shuttered cabaret evening, which will quickly be revived for three nights (June 25-7) has boldly popped up -- like Athena from the head of Zeus -- in an unlikely sophisticated nitery, Feinstein's at Loews Regency, situated on ultra-swanky, ultra-traditional Park Avenue.
The evening is called The Power of Two (after The Indigo Girls' song) and features the man who lends his name to the room, Michael Feinstein, and Broadway leading man Cheyenne Jackson. At the top of the cumulatively stunning set, Feinstein explains that the material will cover musical examinations of "the different varieties of twosomes." And superficially, that's what's pursued by Feinstein and Jackson, both of whom are blessed with cover-boy profiles and look dapper in matching black suits, white shirts and black ties.
The pair blasts buddy songs like the opening "I'm Nothing Without You" from the Cy Coleman-David Zippel City of Angels. Feinstein talks about romantic man-woman love before crooning -- in his best melting vibrato -- Cole Porter's "So In Love" (from Can-Can). Jackson, as fine an interpreter of standards as you'd wish, does a first-rate acting job on the Duke Ellington-Bob Russell "Don't Get Around Much Anymore."
But the lung-powerful duo don't fool the cheering crowd of well-enough-heeled women and men as to what's really afoot. The object here is a call for acceptance of gay alliances. It's occurring when the campaign for same-sex marriage is gathering momentum across the country -- and particularly in New York State, where the legislature is again considering approval. (Whether a law approving same-sex marriage will pass is anyone's guess.)
There's definitely no missing the intention when the pay-off number is a medley (beautifully arranged by John Oddo) of "We Kiss in a Shadow" and "I Have Dreamed," both ballads of exquisite sexual longing from the Oscar Hammerstein II-Richard Rodgers King and I. Feinstein and Jackson begin the sequence facing away from each other but at one of the later musical climaxes turn to confront each with the same conviction Hammerstein built into the words "behold and believe what you see."
Though there's no direct reference to gay pride, no one associated with The Power of Two is likely not to have noticed that June -- during which The Power of Two is being presented -- is Gay Pride Month in New York City and elsewhere. Furthermore, 2009 is the fortieth anniversary of the Stonewall Inn uprising.
The situation has to be of immediate interest to Feinstein and Jackson, both of whom are openly gay and live with partners. Jackson, 33 -- a dreamboat who's convincingly courted the girls in musicals like Xanadu and Finian's Rainbow and had the ladies weak in the knees as an Elvis Presley sound-alike in All Shook Up -- wears a wedding band on the third finger of his left hand; Feinstein, 52 -- who retains the youthful ebullience of a 40's band singer -- does not. (If Hollywood ever gets around to filming the Rock Hudson story, look for Jackson to land the title role.)
So The Power of Two is a potent political statement from Feinstein and Jackson. It demonstrates that such a message has its best results couched as quality entertainment--if you're going to send a message, include a joke and a ditty. It's worth noting that at no time did Feinstein or Jackson do anything like haul out a figurative soapbox and mount it. Throughout, the men were light-hearted -- but never campy -- with Feinstein throwing in some dead-on impersonations as he often does. Okay, he mimics Paul Lynde and Carol Channing, but in a funny, not swishy way.
The "We Kiss in a Shadow"/"I Have Dreamed" turn is not, incidentally, the only point at which gay pride is addressed head-on. Several songs earlier, Feinstein sat at the piano to deliver -- with great sincerity -- an obscure anthem by Marshall Barer and Mickey Leonard called "The Time has Come," which was written as a response to Stonewall, '69. Introing it, Feinstein was anything but polemical. Yet, there was no doubt how strongly he felt about the pro-tolerance lyric.
Yes, night-crawlers, not only is life a cabaret but there's still topical life in cabaret.