Video game devotees will recognize Hannah Telle's longing-filled, relatable girl-next-door voice from the BAFTA award-winning video game Life is Strange, for which she brings protagonist Maxine Caulfield to life. When I first heard her debut LP, Hollow Glow, it was no wonder to me the up-and-coming actress is finding success using her voice--she's got a great one.
The album, out September 21st (you can buy the homonymous lead single now on Bandcamp), is whimsical, contemplative, honest, and timely. Reminiscent of other Los Angeles-based dream pop, girl-fronted acts like La Sera and Springtime Carnivore, Telle seems to be stepping into the indie music scene at the right place and time. (It would be great to see her opening for La Sera and Springtime Carnivore for their joint October and November 2016 tour. Can someone please make that happen? Tweet this at Katy Goodman, maybe?)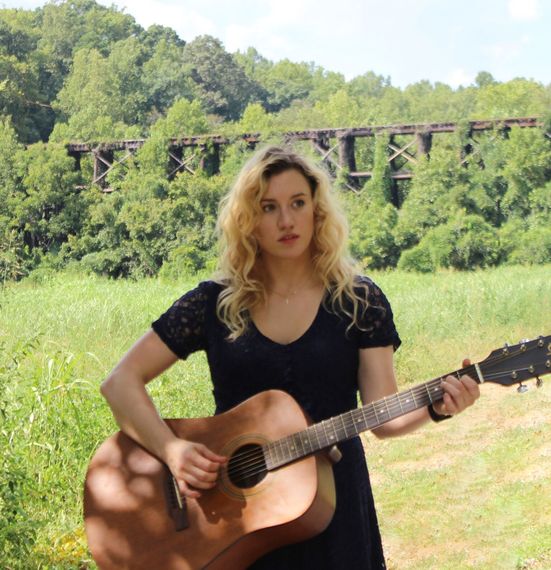 Hollow Glow starts off on a dreamy, drumming-powered foot with "Never Done," a track that talks about the difficulty of pursuing a path laden with never-ending obstacles. Telle gets a little more specific on "Hallow Glow," calling out Los Angeles and the entertainment industry--her specific path of choice, for its specific difficulties--with an open look at why she's attracted to the City of Angles despite its many shortcomings. ("Bought my friends, forgot my family/Addicted to cacophony..." she sings.)
The album continues with strong, sultry and melancholy "Sunrise," a song that's sure to get stuck in your head in the best way. ("Sunrise, I love to follow you home/Somehow, I'll get you all alone/Time flies, and one day we'll be gone/The memory's mine, the burning bridge is yours...") It's followed by other memorable neo-psychedelic tracks like "Skinned Knees" and "Winter Coat," both begging to be played on college radio stations everywhere.
"Freeway," a beautiful indie pop number that's movie-soundtrack ready, was written by producer (and Telle's guitar teacher) Ben Schwab, who helped Telle alleviate her depression and performance anxiety by teaching her to write music, which lead to helping her record this album.
While she sings of struggle and uncertainty--years toiling in Hollywood with little forward movement--Hannah now seems poised for big breakthroughs. They say when one thing changes, everything changes, and it'd be no surprise if Telle finding her voice through video games leads to a successful career as a Sufjan Stevens-esque singer/songwriter. Here's hoping the road ahead for Hannah is as dazzling as her music.
Calling all HuffPost superfans!
Sign up for membership to become a founding member and help shape HuffPost's next chapter