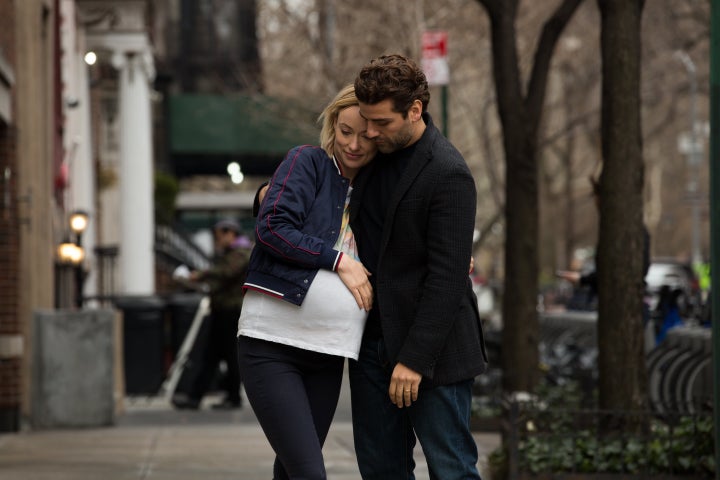 "Life Itself" takes its title from a college paper about unreliable narrators in fiction. Its author, Abby (Olivia Wilde), lost her parents at a young age, and now her foremost personality traits involve monologuing about Bob Dylan, eating "any kind of sushi" and agreeing to marry a hunk named Will (Oscar Isaac) after they've dated for less than a year.
Abby's professor didn't like her thesis, more personal essay than literary criticism. Arguing that our inability to retain accurate memories renders all storytellers untrustworthy, Abby ― seduced by her own cutesy wordplay ― wrote, "The only truly reliable narrator is life itself." 
As the saying goes, hoo boy. 
The only truly reliable thing about "Life Itself" is that, despite a premise built on surprise, little of it is surprising. The movie's calling card, as seen in the first 30 seconds of the trailer, tells us all we need to know: It comes "from the creator of 'This Is Us,'" a show engineered to provoke more waterworks than a rainstorm. Dan Fogelman's weekly melodrama is a cultural sensation, which is probably why he opted to borrow its time-hopping, intergenerational theatrics for this 118-minute soap opera, which hovers somewhere between trauma porn and self-help bunkum.
Technically, almost anything I say about the plot of "Life Itself" constitutes a spoiler. You, gentle reader, are meant to wonder what connection an olive harvester in Spain (Antonio Banderas) could possibly have to a rebellious 21-year-old punk rocker in New York City (Olivia Cooke), and how Abby and Will's frat-party introduction set these globetrotting junctions in motion, and why Will now imagines his therapist (Annette Bening) getting mauled by a bus.
If chance encounters are the story's sweet fulcrum, then fatal and near-fatal vehicle collisions are its demented unifying force. That and PB&J sandwiches. Isn't life beautiful?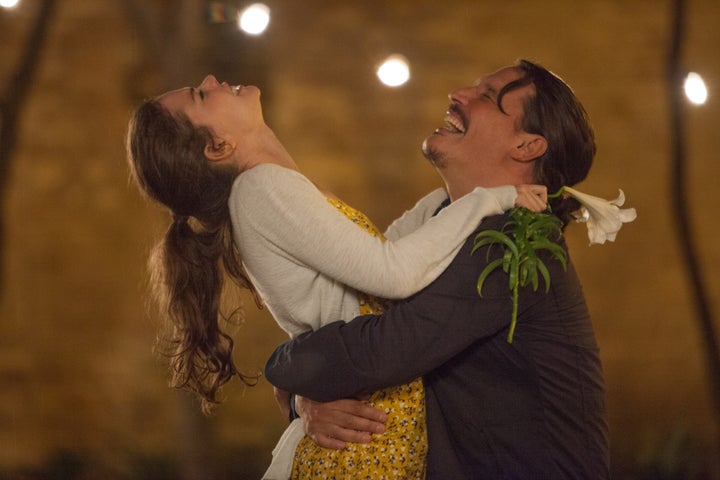 "Life Itself," which premiered at the ongoing Toronto International Film Festival and opens in theaters Sept. 21, posits tragedy as some great destiny maker. "No one knows where their story is going," one character declares at the end, attempting to prove that her fortitude is a result of hardships inherited from her parents, who met at a literal and figurative crossroads. The movie wants to be about finding strength in misfortune; instead, it is an exercise in peddling misfortune for dramatic vigor ― pathos designed to manipulate its audience with a sensitive score that instructs you when to cry, and just how hard.
Should you succumb, you will be forgiven. But repent quickly, before you, too, start spouting hollow proverbs about how overcoming adversity makes life itself worth living. Life! It's so dynamic!
Fogelman's film begins in the present day, with a disheveled Will causing a commotion as he pours two whiskey shots into his Starbucks coffee and asks the barista if he wants a Xanax. He is 35 and "not well ― but you don't need me to tell you that," Samuel L. Jackson announces in a performatively self-aware voice-over, prompting an obvious question: So why did you just tell me?
Through a series of therapy sessions and morose banalities, Will's memories glide in and out of his now-dissolved relationship with Abby. At first, the flashbacks are slices of romantic heaven: bedroom banter, drunken meet-cutes, afternoon strolls. And then, steadily, Will chips away at his recollections, revealing the imperfections he'd dismissed. The first half of the movie, in fact, spends a lot of time challenging Will's stability, sometimes by repeating scenes from alternate vantages ― a fleetingly clever and intermittently humorous conceit that would be a lot more meaningful if the movie's second half didn't meander through the Spanish countryside in desperate search of anything that will make us swoon.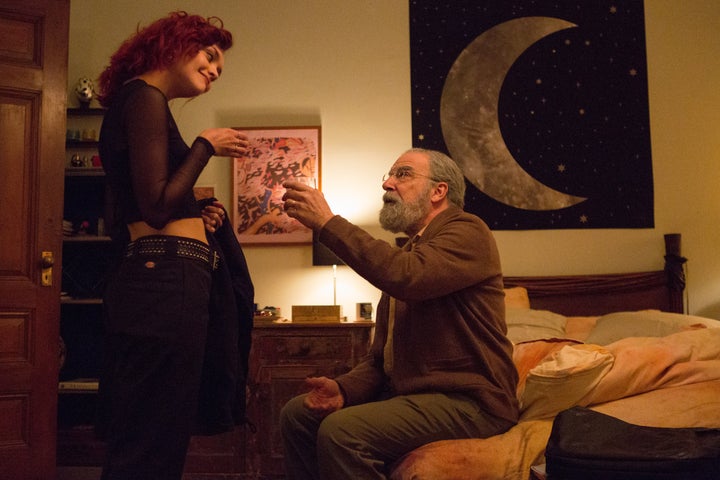 Indeed, we spend a painfully long time at that handsome olive grove before any sort of connective tissue is introduced. When it is, the narrative boils down to this: A family (played by the likes of Laia Costa and Sergio Peris-Mencheta) takes a trip to America ― the one thing their young son desperately wants ― and tragedy ensues. (This may be a vague spoiler, and for that I am vaguely sorry. Life is tough! We shall overcome!) With time, they, too, will be healed, more or less, because all they had to realize was that they did not know where their story was going. Or something.
Here again, "Life Itself" is designed so that I cannot tell you just how cloying the plot is. It's constructed to ensure I betray no specifics, much in the way that "This Is Us" is built to generate headlines about much-anticipated deaths that include the words "shocking," "gut-wrenching" and "tragic." All this movie wants is to seize those adjectives alongside a few beatific badges like "life-affirming" or "sanguine" or "not nearly as fun to mock as 'Collateral Beauty' was."
By the end, it's possible that even "This Is Us" apostles won't accept their cathartic cries with such cheaply woven fabric. 
Fogelman has proven himself a skilled screenwriter ("Crazy, Stupid, Love," "Tangled") and competent director ("Danny Collins") with a penchant for redemption stories. But he appears to be high on the "This Is Us" crack pipe. That show's tagline is "This is real. This is love. This is life." This movie's tagline is "Life will surprise you." A person could drown in all these platitudes, especially since "Life Itself" is doused with all the hallmarks of hardship. Dogs die, girls get molested, mothers are ransacked by cancer, a therapist has never heard of Natalie Portman. But life? It's still a treasure. 
If you knew where this story was going, well, you'd never press play in the first place.
REAL LIFE. REAL NEWS. REAL VOICES.
Help us tell more of the stories that matter from voices that too often remain unheard.