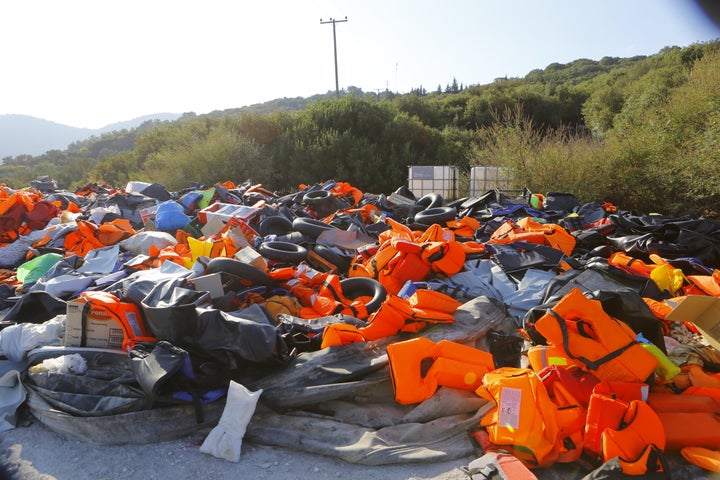 Stirring photos of piles of abandoned life jackets -- some amounting to just flimsy pieces of plastic -- speak to the extraordinary dangers that hundreds of thousands of refugees are enduring to make their way to safety in the European Union.
Over 350,000 refugees have crossed the Mediterranean in 2015, many on dangerously overcrowded boats with leaks and faulty motors; through extreme weather and total darkness; and under the threat of mysterious masked gunmen that appear to be targeting Syrian refugees fleeing war in their homeland -- all with nothing but a life jacket as a precaution.
In a series of tweets on Sunday, International Rescue Committee president and CEO David Miliband shared haunting images and video of the mountains of life jackets shed by refugees after making it to the Greek island of Lesvos. 
"The collection of life jackets tells you what people are going through to get here, including some pathetic pieces of plastic that are given to kids."
He also shared a close-up of one life jacket that warned "WILL NOT PROTECT AGAINST DROWNING" and "NOT FOR USE IN BOATING." 
The human toll of the refugee crisis has become increasingly apparent in recent weeks as graphic images and heartbreaking stories have begun capturing international attention. Earlier this month, a photo surfaced of a dead Syrian toddler lying face down on a popular tourist beach in Turkey after a boat carrying him and other refugees capsized.
He was later identified as 3-year-old Aylin Kurdi, whose mother and 5-year-old brother also perished in the journey. His father, Abdullah Kurdi, recounted the horror of losing his family to HuffPost Arabi.
"I wish I could transfer my breath to them, to breathe life into their bodies again," he said. "We spent a whole hour holding on to the boat. My children were still alive. The first one died because of the raging waves. I had to leave him to save my second son, who also drowned. I turned around to find that their mother had drowned as well." 
PHOTO GALLERY
Migrants And Refugees At Hungary's Border
Calling all HuffPost superfans!
Sign up for membership to become a founding member and help shape HuffPost's next chapter