My husband, Patrick, and I kissed for the first time on the famous Lange Voorhout Street in The Hague. This is a special place for me, with precious memories. We eventually married where it all began on this spot, in Pulchri Art Gallery, right on Lange Voorhout, on an unforgettable day in April. Patrick and I had both had previous relationships and kids. He has two daughters, 25 and 26, while I have two sons, 15 and 16, and a daughter, 12. We also have a lot of fun with our two Labrador pups, Hans and Fietje.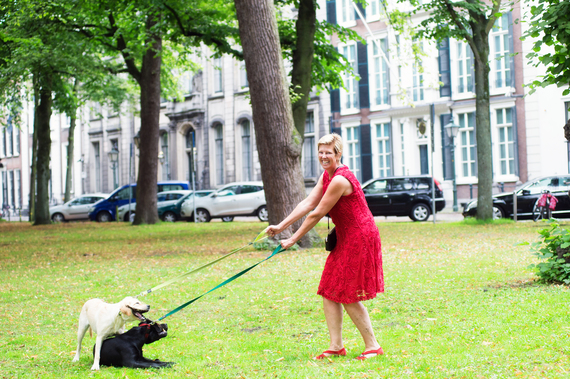 Traveling the world at 29
After high school, I started working right away, as I wanted to build my own life and become independent. But, I also studied law in the evenings. My first job was as a project manager at KPN, a Dutch telecommunications company, where I was doing amazing things. When I was 29, I was already traveling all over the world to conduct negotiations on joint ventures with other telecom companies. In my early 30s, I moved to the USA to work as a global alliance manager for AT&T. After the birth of my second child, I started my own consultancy practice, as I no longer wanted to spend my life on airplanes. In 2010, we returned to the Netherlands, and I started working for Accenture, a global professional services company.
A nice walk to school
A career and family life can be excellently balanced, as long as you get your priorities right: What do I want, and how am I going to organize it? I've always done this, and I advise young people to do the same. Set clear boundaries every day, and prevent your work from taking over your life. My company allows people to work flexible hours and work from home from time to time. As long as you achieve the results that you've agreed on, you can organize your time. If possible, I walk my daughter to school every day, and I often work between 7 and 10 p.m. to catch up on e-mails. If someone from my team can't make it to a meeting because their child is getting their swimming certificate, I simply say: "You have to be at the swimming pool!"

Don't take them by the hand
In my current job, I'm responsible for a large group of people. I strongly believe in a motivational leadership style, which is similar to how I see my role as a mother. I teach my kids to take responsibility and allow them to make mistakes. Since we moved back to the Netherlands, they cycle to school themselves. I give them space, but support them when they need it. Motherhood is great training for leadership. I don't take my staff by the hand either, and I give them a lot of space. At the same time, I'm in the driver's seat. And, as every mother learns at some point, you mustn't want to do it perfectly, and you take life as it comes with a smile.
You're as strong as your team
My mother worked part-time, and my father was a CEO in a big corporation. He always enjoyed talking to me about my work and teams. I've benefited greatly from his insights. You need people you can trust, both in your own environment and in the organization. You're only as strong as your team: That's something I've learned over the years. I fight for my people. I believe in the power of a close-knit group of people, with a great sense of mutual loyalty. Diversity makes teams even more successful and allowing people to be their authentic self contributes to a team's success.
At my workplace, I find a variety of people and cultures, with all different backgrounds, knowledge and skills. That's what I enjoy, just like the social component of my work. I'm 53 now, and I think it's a beautiful idea that I contribute not only to the development of my employer, but also to the society in which my children are growing up. For example, we help find jobs for people with disabilities (autism, physical disabilities etc.), either at Accenture or in our clients' organizations. We are, for instance, supporting a large retailer in the Netherlands to create jobs in their stores for 2000 persons with disabilities. It makes my job very rewarding.
As a member of the Advisory Board of WorkPlace Pride, on behalf of my company, I also am supporting this organization to make the workplace a better environment for LGBT persons.
Dancing to Motown music
Life is not just about work. In my spare time, I like to cook for my family or for friends, such as a Moroccan tagine or a Spanish paella. I also love trying new recipes. Part of cooking well is shopping for the right ingredients, and I really enjoy going to my favorite wine shop, greengrocers, and butcher's. A festively laid table also makes me very happy! Once a month, my husband and I go to the art gallery where we met and enjoy dancing to Motown music, R&B, and Luther Vandross soul.