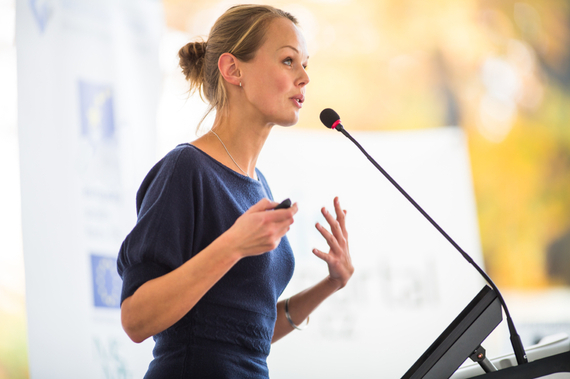 You may have had being a TED speaker on your "bucket list." It's been on mine for the past few years. So you can imagine my delight and excitement when I was asked to speak at TEDxFargo on July 23, 2015.
While you may not be scheduled to talk at a TED event or even give a speech to your local school, church, or bridge club, I'm discovering that the lessons learned from this are far-reaching. And I haven't learned all the lessons yet, as we're more than a few days away from the actual event.
But I think you'll be as surprised as I was by some of these lessons.
Here are my insider secrets:
1. People don't know what "TED" is.

In sharing my news, I found many people don't really know what a TED talk is. Are these random people, these "in-the-dark" folks? Uh, no. People like my husband. My secretary. My parents. (In fairness, my husband's actual response was, "I don't know what that is, but I know you've been wanting it, so congratulations!")
2. There's confusion about what TED stands for.
You can see various answers on what TED stands for. Everyone agrees that the T is for Technology and the D is for Design. But the E? The official folks say the E is for Entertainment. Others say the E stands for Education.
3. You find out who your friends are.
There is nothing more boring than listening to 50 different renditions of a short (less than 18 minutes) talk over and over and over. Your friends will only tell you this on about the 24th rendition. Your not-so-friendly-friends will say "Uncle!" after the second practice session.
4. Family are our best allies. Hands down.
My husband, my mom, and my sister have been my biggest supporters in this preparation. They have super busy lives and have still taken the time to listen (yet again!) to my talk, make thoughtful suggestions, and not let me go to voicemail when I call with one more silly question.
5. You find out what you're really made of.
When it's time to share an idea that comes from your heart, it's a bit staggering. You think you know what you want the world to know, and that your message is "an idea worth spreading." But self doubt can rear its ugly head without any warning. Quiet listening to my inner compass has gotten me through the rough waters.
6. You learn that it is really not about you.
You think you know what people want to hear about your subject matter. At first glance, I thought sharing the message from my viral Huffington Post blog on "The Secret Lives of Doctors" would be the obvious choice. But it turns out that, when you give your talk to random people who are kind enough to listen and voice their opinions, some things you thought would have mass appeal are in the "Who cares?" department. If you want your message to be heard, you need to let ego go and find the global language we all speak.
7. You learn that being humble is your best quality.
When you start out on this adventure, you think you have something to offer. And that you are the right person for the job. But then, "experts" begin to show you what you don't have. You find out you're "too soft spoken." You walk "heavy-footed." You talk "too fast" or "too slow." It's a Goldilocks story of finding things "just right."
8. You learn nobody knows everything. Even the experts.
One of my strengths is that I am a great fact finder. I can research 'til the cows come home. And I've been blessed to have a team of experts helping me and fully acknowledge that it takes a village to make this happen. But it turns out, there are lots of things that aren't known ahead of time. How big is that round red carpet that we are supposed to stand on? How long does it take for the video to be posted online? How many questions can I ask without driving me or them crazy?
9. You learn everybody has an opinion.
When you ask people for their opinions, they are going to (usually) tell you. This can be a good thing. You don't want to prepare for this opportunity in a vacuum. But when you ask 50 people and get 50 responses... now, you're in trouble. Think about when you asked your high school friends what your college major should be. Did you really want 50 different answers? Only one opinion matters, at the end of the day. Yours.
10. You learn to have faith.
Faith that you've been given this opportunity for a reason. Faith that your message will be heard despite your nervousness, soft voice, and Southern accent. Faith that if one person changes just one tiny thing based on your message, you will know the truth: you are enough.
Starla Fitch, MD, author of the #1 Amazon international best-seller , is the creator of the hugely popular international online community for doctors, nurses, other healthcare providers, and patients who want to restore humanity to health care. Dr. Fitch speaks to audiences around the world on The 4 Steps from Burnout to Balance. She is an oculoplastic surgeon and senior partner in practice in Atlanta. To follow Dr. Fitch and get free weekly stress-busting tips and inspiration, sign up for updates . You can also connect with her on , , and .
Related