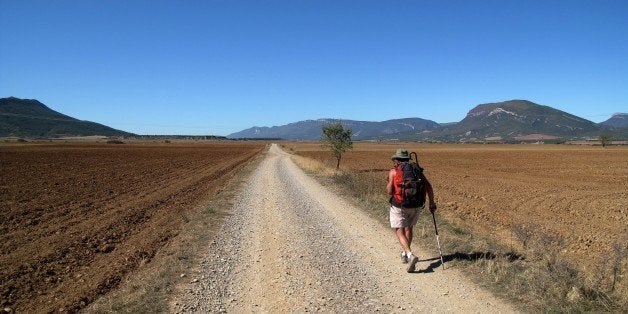 Recently, I walked a section of the Camino de Santiago, a pilgrimage that begins in France and ends in Spain. For centuries, thousands of pilgrims of different spiritual traditions, backgrounds, and countries travel to participate in the 800-kilometer trek.
A beginner's mind and a backpack is all you need. Leave your connected social media world behind, say goodbye to disruptive technology, and follow the way.
Finding words to describe the Camino de Santiago is difficult. You walk for many hours a day, along roads and picturesque paths. You arrive at the next town, check in, eat and drink, shower, wash your clothes, sleep, and wake up to begin all over again. It's said that if you search for it on the Camino, whatever it may be, you'll find it.
Every pilgrim has a different reason for joining the journey. Huck, the 70-year-old man from Japan, had been walking for two months before I met up with him. Laura, the fiery English girl, had quit her job after her friend passed away, struggling to find purpose. There was a kind, homeless young German whose story inspired everyone he met; he had been walking for 3,000 kilometers. There was an American woman committed to running the entire journey. A Spanish choir from Seville, two hilarious Italian sisters, a man with one leg, smiling Josh from Taiwan, a couple on a tandem bicycle- all taking the same road to Santiago. And there was the unforgettable Hungarian couple that purchased, opened, and shared a bottle of wine seconds after arriving in the town. These are just a few whose paths I crossed. The Camino de Santiago is like living life's most valuable lessons in action. Without revealing all of the Camino's secrets and mysteries (each pilgrim's experience will be different), I'd like to share a few.
1. Connect.
Connect with others, nature, and yourself. Throughout the Camino de Santiago, it is tradition to greet anyone you meet with a "Buen Camino." Everyone becomes a part of your expedition, a part of your story. Whether you simply see them in passing daily or share stories over a meal, the connections are rich, meaningful, and memorable. However, it's not just about connecting with others. It's also about reconnecting with you. There was a sign along the Camino that said, "Look Up. Look Inside! But Don't Look Down." Walking for hours each day, many times alone, gives you time to look inside and reconnect with yourself. There is a comforting peace and joy in this aloneness. And after experiencing this reunion with you, it seems absurd that it's not a normal part of our daily lives.
2. Find meaning in suffering.
The Camino is tough. Blisters are almost inevitable, your back may hurt, and you will be physically tired. But a friend I met along the way reminded me that the pain is the Camino's way of making sure you are living in the present. If the Camino were easy, it wouldn't be the same gift. Finding meaning in the challenges, feeling joyful regardless of the pain, that's what its about. Pain is an inevitable part of life; it's how we deal with it that matters.
3. Keep walking.
Just keep walking. The Camino was full of highs and lows, just as life is. There were times of homesickness, days of sadness and feeling lost, moments of exhaustion. But these moments, these tests and trials, all had something to teach you if you trusted it. Conquering challenges leads to transformation. So no matter what part of your journey you're on, whether you are climbing up a hill or taking a turn for an alternate route- keep going. Keep walking through the good and the bad. The sun will rise again. Just keep walking.
4. Realize that life is a journey, not a destination.
Many fellow pilgrims agreed that the last 10-minute walk into Santiago was shockingly sad and a little strange. We always knew it was the destination; we had walked miles to get there, yet surprisingly many of us felt a strange sense of melancholy upon arriving. It really was the journey -- the walking and talking, pausing in old churches, praying with Italian nuns, and listening to Spanish songs accompanied by the guitar into the night -- that mattered. It was about stopping at random cafes, watching the sunrise, listening to a stranger's story, and meeting others from all walks of life, even if just for a moment to share a "Buen Camino." The end wasn't the part that mattered at all. I was shocked that at the end of the road, after arriving at goal I had worked so hard for, all I really wanted was more path, more adventure, more journey.
The cliché is true.
You've probably heard the Ralph Waldo Emerson quote, "Life is a journey, not a destination." Sadly, its overuse has caused it to nearly lose its meaning to all of us anxious 20-something year olds. We live in a fast-paced digital world, a world of constant communication where it seems everyone we know already has a stellar LinkedIn profile page, appearing to be right on track to the road to success. We're eager to do big things. We want to follow our dreams and aspirations, but we're filled with stress at the mere idea of not being where we want to be right now at this very moment. For all my fellow strugglers out there, I hereby share the greatest lesson of the Way: life is indeed a journey.
Whatever path you're on, treat it like the Camino de Santiago. Create connections and be open to whomever you meet along the way; you never know what you'll discover. Find meaning in your suffering; in that rejection letter, in your tiring tedious job, in feeling lost and alone. And just keep walking...great adventures await you. Most importantly, remember to appreciate and embrace the journey. As Arianna Huffington reminds us, "don't miss a moment", the Camino teaches the same. Fleeting moments are all we have. Live in the moment. Seize the day. Enjoy the journey. Buen Camino!
Support HuffPost
A No-B.S. Guide To Life
Related
Popular in the Community