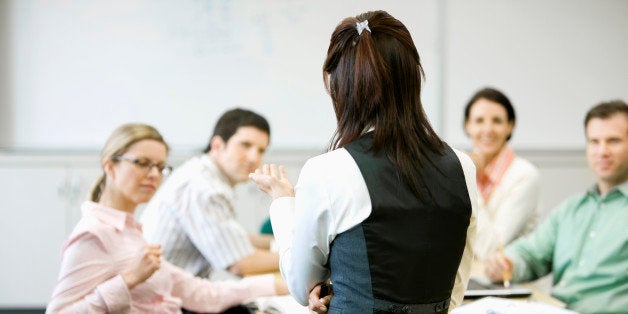 Over the past three decades, I have had the benefit and pleasure of working with some tremendous coaches who have inspired, challenged and encouraged me. I'm not talking about sports coaches (I'm a sidelines soccer mom and part-time runner), but rather people who have guided me through my professional and personal development. As a new school year has begun, I recently thought about my journey and how various coaches have impacted me through the years. It struck me that for almost each of the past three decades, I've experienced various developmental stages and have had the wise counsel of coaches to fit each experience. The International Coaching Federation (ICF) suggests the benefits of coaching include the following, many of which I've experienced: fresh perspectives, better decision-making, greater effectiveness and confidence and improved productivity.
Here are some life lessons from my various coaches -- with a huge thank you to each one these incredible people:
In my 20s, it was a time of self-discovery and self-awareness. I was working professionally after spending most of my life up to then in school, and not really given much thought to the values and interests truly important to me. I am glad that Ontario high school students today spend at least some time on this factor through their mandatory careers course... but wish it could be more. For me, trying to figure out where I wanted my career to go led me quite by chance to a career counsellor -- my first coach. The whole concept of career coaching was relatively new (at least to me). One of my favorite exercises this coach asked me to do was a brain dump of my most positive life experiences: Without giving it much thought, just sit at the computer and describe the times that I had felt at my best.
The process alone of writing and remembering those positive moments was freeing, but the true benefits came from the self-reflection, discovery and discussions that followed on the (later) obvious links and similarities amongst those experiences, and the values they underscored that I held dear to me. I've since used this exercise, in various ways, for many I work with, with similar benefits and results. Another pivotal take-away from this coaching experience was a reminder I also constantly raise since. I clearly remember the day this very dignified and seemingly serious coach asked me if I was having fun in my work. Being at the time in a very serious professional role, I thought she was joking and reminded her of what I did and that fun was something that happened outside of work. That was telling... of course! She turned to me and firmly reminded me that given the amount of time we spend at work, if you're not having fun and enjoying it, then what's the point -- serious and fun can (and should) mix!
This first coaching experience helped me transition my career from one path to another that led me to a tremendous opportunity for the next twelve years. In my 30s, however, circumstances led me to my second coach during a period of getting comfortable with change. Not only was I trying to figure out future career moves, but I was also balancing this with the impact of decisions on parenthood and marriage -- pretty overwhelming stuff at that point. Once again, a coach brought me back to fundamentals: What did I value most? But she also went a step further to help shake me from the holds of being too comfortable with how things were. Change was certainly scary, but remaining stagnant seemed even worse. While I remember and appreciate many conversations with this coach, one of the most is the analogy of a young child sitting cautiously at the edge of a pool -- curious, gently dipping a toe into the water and wanting to go in, but being scared; in those instances, if we've otherwise prepared ourselves, sometimes the greatest help is the gently push from another person -- and once we've made the leap... the benefits are so rewarding. It was through this coaching experience that I truly began to believe and experience a phrase I repeat for others many times since -- get comfortable with being uncomfortable.
My 40s is a decade where I'm more focussed on resonance, ensuring I pursue endeavors meaningful to me. I decided to look at coaching from the other side and enrolled in coaching programs offered by the Coaches Training Institute (CTI). I learned so much from each of the facilitating coaches during the workshops. Of course they delivered the formal lessons; but their values and approaches differed so greatly and offered such a rich diversity of informal life lessons, and I'm indebted to each individual (as well as some great colleagues in the program). One particular coach, with whom I continued a relationship beyond the workshops, has been particularly important to me. Her zest for life, matter-of-factness and strong encouragement have meant so much. I remember a session she facilitated about pace and timing that has stuck with me, and to which I return frequently. We were up walking around the room, at varying speeds and over different periods of time, when I understood that for each of our "seasons" and perhaps for various events, different paces or speeds of life are most true for us -- that single session was a wake-up call... that I'm still working on. Patience and accepting the different seasons, and honestly reflecting on what is meaningful to me at a particular time, have been some of the life lessons of this decade and this coach.
So as my 50s are a now just a couple of years away, I wonder what wonderful coaches will enter my life and the lessons I will gain from them. In the meantime... I am enjoying NOW and appreciating all those who've helped me get to today.