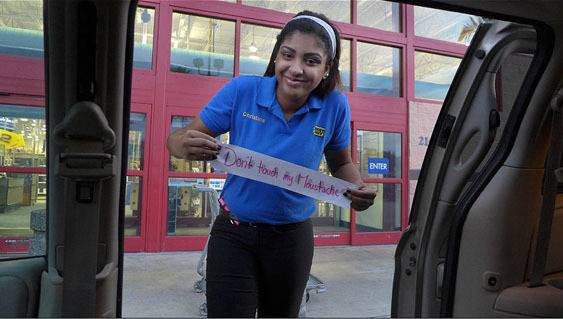 I'm in Best Buy checking out televisions but no one's in that section, so I go to the adjacent section and ask this young lady "Can you please help me with TV's or get me someone who can?" "I can help you!" she says. We go over to the aisle and I point to the one that to me has the best picture, even though it's 720p, as opposed to 1080p. "I'm not married to the idea of the highest numbers," I say, "Some of my best pictures were made with four- or five-megapixel cameras and blown up big!"
As I do with many I meet, I ask about her heritage, if she doesn't mind saying, out of genuine curiosity. By her look I think she might say Indian, or possibly Sri Lankan, but she lists off four countries in the Caribbean and South America as components of her heritage. "That must make for some good food!" I say. She smiles big. "It sure does!"
I tell her how I know "thank you" in many languages. She asks me a few. "How about Japanese?" "Arrigato... do you know how to say 'you're welcome?'" "Dou itashimashite." she says. Then she tells me the memory trick for it that my Japanese client told me long ago: "Don't touch my mustache."
I then ask about her career and life aspirations, again out of curiosity and care. She doesn't reply with a specific career choice but instead with this unique thoughtful response: "I want to find something I enjoy doing that gives me stability and enables me to raise children in a good way." I'm impressed and edified by what she's said. I tell her about Kindsight, it's origin, and how stories are made with pictures and words from random encounters and moments. She likes this, so I ask "Are you up for an assignment?" "Yes," she smiles. I give her my business card to check out sample Kindsight pieces, I explain parameters and give her a deadline of three weeks to get me her own finished Kindsight piece. "I'll get it to you in one week!" she beams. "Even better! Can we make a photo?" I ask. "I kind of wish you had done it without asking," she says. "Okay, don't worry," I say.
I pay and per Christina's instructions, I go to pull my van around to the front of the store so she can load the TV inside. Once done, she says "I made this for you." It's a long piece of cash register paper with "Don't touch my Mustache" written in pink magic marker. I can't help but smile. "Arrigato!" I say. "I'll be looking out for your assignment!" She heads back inside and I drive home, enriched by the treasure of our kind encounter.