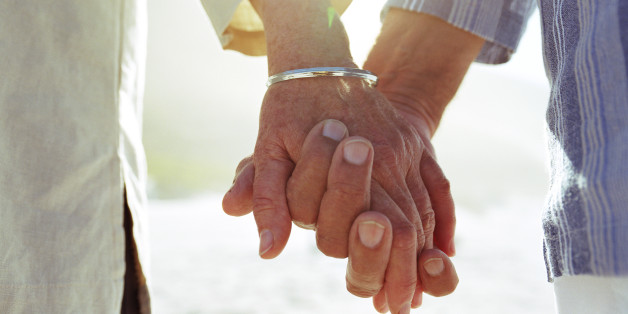 One of the great privileges of serving as senior editor of Huff/Post50 is the opportunity to read so many wonderful pieces by some of the most talented writers I've ever come across. The stories we've featured run the gamut from reinvention and new careers to revitalized relationships and parenting challenges. Hundreds of bloggers have contributed essays over the past year and I want to thank each and every one of them. Even though I can't call them all out by name -- although I wish I could -- I'd like to look back at 13 lessons we learned this past year from 13 incredible storytellers.
1) From Judith Newton, we learned how to show true love.

In her piece titled "A Valentine For My Gay Ex-Husband," she wrote: "After he began his sexual journey, we both fell in love with other men, but within two years, we were living as roommates and would continue to do so for the next 10 years. 'Home' was where the two of us could be together, no matter what the terms."
2) From Ronna Benjamin, we learned how to laugh at ourselves -- a lot.

In her blog, "My Resolution: To Take Charge Of The TV,", which originally appeared on Better After 50, she wrote: "I'm not stupid. I graduated college, went to law school and passed the bar (the first time). I'm not 'out of it' as far as technology goes. I can make Siri take me home or give me a reminder when I pull into the garage. I read on my iPad, I post to Facebook and I tweet. So why is it that I cannot operate our TV?"
3) From Sharon Greenthal, we learned how to make a marriage last.

In her blog, "8 Ways To Do To Stay Married At Midlife", which originally appeared on Empty House Full Mind, she wrote: "1. Decide you want to. I don't mean to sound flippant, but in my experience that seems to be the most important thing couples do to remain married. This does NOT apply to those who cheat on each other, or are abusive or mean or just plain awful. This is about those months... years... that are tinged with a touch of ennui."
4) From Pat Gallagher, we learned how to ask the best questions.

In her interview with Dick Van Dyke, she wrote:
Q: You were married 36 years to your first wife and lived with your second partner -- Michelle Triola -- for 33 years until her death. I read that you don't like to be alone. True?
A: My last lady, Michelle, died of cancer about three years ago. I was alone for a year and just about lost it. I cannot live alone. I have to have somebody to share [life] with.
5) From John Blumenthal, we learned that it's okay to be really, really sad when our kids leave home.

He wrote several pieces for us this past year, but one in particular -- titled "I Want My Daughters Back" -- was particularly poignant. "Now it's just The Wife and me, alone together in our condo (we downsized when the kids left) with rooms that reverberate with silence, and lots of non-kid time on our hands. We cook for two. We sit alone in front of the TV at night. We don't have to stay up late and wait for the kids to violate their curfew. We don't have to watch MTV or listen to hip-hop. No one makes fun of us when we dance. It's a great life! Sort of."
6) From Joan Price, we learned that you can have the best sex of your life in your 50s, 60s, 70s, and beyond.

In her blog, "Things You'll Never Hear Him Say When He Sees You Naked,"
she wrote: "Women: By hiding your body and being embarrassed by it, you're buying into our youth-obsessed culture that says that only young, firm, fertile bodies can be sexy and alluring. Let's put that notion to rest right now!"
7) From our senior writer Ann Brenoff, who has written countless pieces this year I'd describe as brilliant, we learned how to stand up for ourselves and take control of our lives.

In her blog, "When Did The Customer Stop Being Right?" she wrote: "Actually, the answer to the question of when the customer stopped being right is 'somewhere around 1980.' For those old enough to remember, there was a time when you pulled into a gas station and four guys would rush over to service your car. One pumped gas, another washed your windshield, the third checked your tire pressure and the fourth one looked under the hood and advised you whether you needed a quart of oil."
8) From Kathleen Peddicord, an expert on retiring abroad, we learned how to take risks in new places.

In her blog, "22 Tips For Retiring Well And Happy In Thailand," she wrote: "Thailand is one of the most affordable and interesting places in the world to think about retiring. One challenge, though, for the foreign retiree, can be culture shock. No question, Thailand is an exotic option. Thais take for granted behaviors that would take you and me by surprise... and Thais say and do things that you and I would never say and do. It's much easier to navigate all this if you're prepared for what to expect."
9) From Melissa Shultz, whose pieces often made me tear up, we learned how to let go of our kids.

In her blog, "A Mother's Text Message To Her College-Bound Son," which originally appeared on Sisterhood of Mothers, she wrote: "Wait just a minute. You don't like it when I'm sentimental, but how can I not be today? You're heading off to college and there are a few things I've got to say."
10) From Ken Solin, we learned that not all men over 50 are looking for younger women.

In his blog, "Why Boomer Women Are Perfect For Boomer Men," he wrote: "I've known lots of boomer men who were still trying, but mostly failing, to extend their casual sex years beyond their physical capabilities. When they try, it's nearly always with younger, tight-bodied women who fuel their sexual fantasies. Is there anyone on the planet who honestly doesn't know why older men date younger women? Okay, it's about sex. Glad to clear up any lagging doubts. This is a fallacy, however. At 67, I'm having the best sex ever, and it's with a 63-year-old woman. Great sex stems from the heart, not the head. But that's another topic for later."
11) From Phyllis Sues, we learned that life can be full and amazing at 90!

In her blog, "Loving Life At 90," she wrote: "I'm not aware of being 90. I'm aware of feeling physically as good as I have ever felt and mentally even better. I practice dance and workout every day. This body has to know who's boss and being 90 and feeling 20 is as good as it gets! People ask me all the time what's my secret. I tell them move, learn and listen."
12) From Christopher Meeks, we learned to accept who we are.

In his blog, "Sixty Is The New Sixty," he wrote: "Sixty is not the new fifty. Sixty is what it is: beyond middle-age. I'm not saying this to be mean. It's just that my friends here in the Baby Boom Generation don't want to talk about it. Sixty is hard to accept. So are the AARP envelopes that go in the trash unopened. Heck, we have concerts to go to. We have skiing to do. We have online classes to take."
13) And finally, from Candy Schulman, we learned how to hold hands again with our long-time spouses.

In her blog, one of my all-time favorites, "Learning To Hold Hands Again," she wrote: "We'd turned into one of those forever-married couples, the ones we'd mocked in restaurants. Sipping decaf, sharing the same table but not talking to each other. Not angry or anything... just nothing left to say."
Thank you again to all our wonderful bloggers. You make Huff/Post50 what it is: a celebration of the wonders of life after 50. Truly, it's been an honor to read your work.
Calling all HuffPost superfans!
Sign up for membership to become a founding member and help shape HuffPost's next chapter
BEFORE YOU GO
PHOTO GALLERY
Secrets To Living A Long Life From Centenarians