 WASHINGTON -- As former Massachusetts Gov. Mitt Romney and President Barack Obama vie for the crucial women's vote in the upcoming presidential election, the Obama campaign released an online tool called "The Life of Julia" on Thursday that walks users through the life of an average, middle-class woman, in hopes of showing how Obama's policies benefit her more than Romney's at every stage.
The website points out that when Julia is 17, Obama's Race to the Top program will help her get into a good college, while the budget plan authored by Rep. Paul Ryan (R-Wis.), which Romney supports, cuts funding for public education. Julia will be able to focus on her career at the age of 27, because Obama's Affordable Care Act requires her employer to cover birth control and preventative care, while Romney supported the Blunt amendment, which could jeopardize that coverage.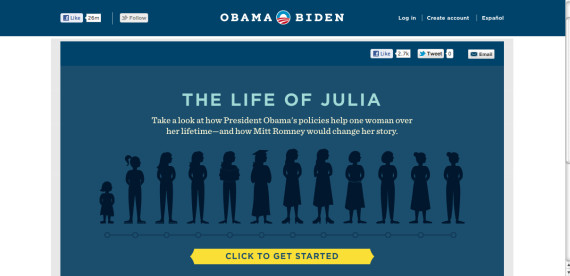 The Life of Julia hits the Romney campaign on several issues, including Romney's unwillingness to say whether he would have signed the Lilly Ledbetter Fair Pay Act, his plans to repeal health care reform and his plans to cut funding to Medicare, which disproportionately benefits women. The Obama campaign timed its release to coincide with Mitt Romney's trip to Virginia to campaign with Gov. Bob McDonnell (R), who controversially supported fetal personhood legislation and a mandatory ultrasound bill this year.
"Mitt Romney and Bob McDonnell have some explaining to do to American women about their extreme agendas: both would refuse to stand up for equal pay for equal work and take women's critical health care decisions out of their hands," the Obama campaign said in a statement. "Using this new online tool, moms can see what President Obama and Mitt Romney's contrasting policies will mean for their daughters. Students and recent graduates can see what they will mean for them, their sisters and their friends. Working women and seniors can use this online tool to see what this election will mean for their ability to earn a living, support their families and retire comfortably."
In response, the Romney campaign criticized Obama's handling of women's economic issues.
"Each night, too many women go to sleep wondering if they can pay the mortgage, if they can afford to put food on the table, and if their children will have a job after graduating from college," said Amanda Henneberg, a Romney spokeswoman. "Nearly a million more women are out of work under President Obama while female poverty is at its highest level in nearly two decades. By all accounts, President Obama's policies have failed women, like all Americans, and they deserve a president who will focus on getting America back on track."
Popular in the Community