It shook Leela Rao to the core when the person closest to her was almost taken away from her. At the age of 30, Leela's sister and best friend Uma, a doctor, was diagnosed with an aggressive form of breast cancer that had traveled into seven lymph nodes. Uma had to undergo a double mastectomy, chemotherapy, radiation treatment, and hormonal therapy.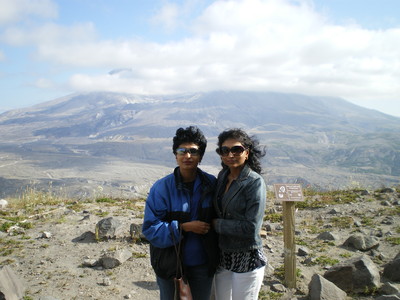 Leela (left) and Uma (right)
Uma had always loved cosmetics, creams, and lotions. But after undergoing chemo for a form of cancer that thrives on estrogen, she noticed that most of the high-end, "great for your skin" creams had steroids and estrogen in them. Uma decided to develop a formulation for creams and lotions free from hormones, dyes, and perfumes. That way, everyone would be able to use them safely -- including breast cancer survivors. After several iterations, the Forever line of skin care products was born.

At this juncture, Leela, a physics/astronomy major and software engineer at Oracle, leapt in, choosing to collaborate with her sister on launching the new business, 4Eternite. "I wanted to work with Uma on something that would force us to make the time to stay in contact no matter how 'busy' we were," Leela said. In addition, she was eager to develop her business skills.
Finally, once she herself started using the cream, people began remarking on how nice Leela's skin looked. She really came to believe in the power of the product and its message. Leela took charge of the packaging, marketing, and business side of things, while Uma remains in charge of concocting the formulas.
Leela points out that Forever skin care products are not just for cancer survivors; anyone can use them. However, the ingredients are very high end -- prescription grade -- and pure enough to ensure that the users' health and vitality are carefully protected. The creams and lotions are free from hormones, which is especially important for people who have estrogen/progesterone receptor positive diseases like breast cancer. Nor do they contain any ingredients, like perfumes, which may cause allergic reactions. The day cream has SPF 30 for sun protection, and the night cream has retinol for minimizing wrinkles.

What's truly remarkable is that Leela not only chose to help Uma launch 4Eternite, but also decided to go back to school after Uma's diagnosis -- med school, to be precise. Yes, Leela wanted to become a doctor just like her sister, so that she could better understand her sister's disease and learn more about what was going on with her. She has 1.5 years of her residency to go but is in sight of achieving her dream.
Leela says that the most challenging part of her career change has been learning about business tasks like marketing, packaging, manufacturing, and dealing with inventory. The skincare line itself is made in the U.S., but the packaging is done internationally. This means Leela has had to deal with time differences, language barriers, and one outright disaster. For the first batch of products made, the jars and bottles came out beautifully, but the large boxes were completely off from the specifications that Leela had sent.
"We were stuck with more than 500 boxes that could not hold the jars they were supposed to hold!" Leela remarked. She had to quickly improvise since they did not have the time or resources to redo the boxes. Fortunately, she managed to figure out a quick and easy solution by adding another product to the box.
Naturally, Leela has faced her share of personal challenges on this journey. "I worried what would happen if people didn't like the product," she says. "The idea of failing has been very daunting." But overall, she has remained fiercely driven, motivated by the idea of getting to work with and help her sister.
Launching 4Eternite is about getting to tell Uma's story and share how her ordeal prompted her to create something beautiful and useful. It is also about knowing that I can do something totally outside of my comfort zone if I put my mind to it. I am someone who does not like to sell things. However, I've come to believe in the Forever products so much that I find myself wanting to share them with everyone. I want to see this project succeed for us personally, of course, but also to fulfill the bigger goals we have envisioned, such as becoming champions of breast cancer-related causes. We intend to donate 10 percent of our profits to different charities, and that makes all the effort and long hours very, very worthwhile.