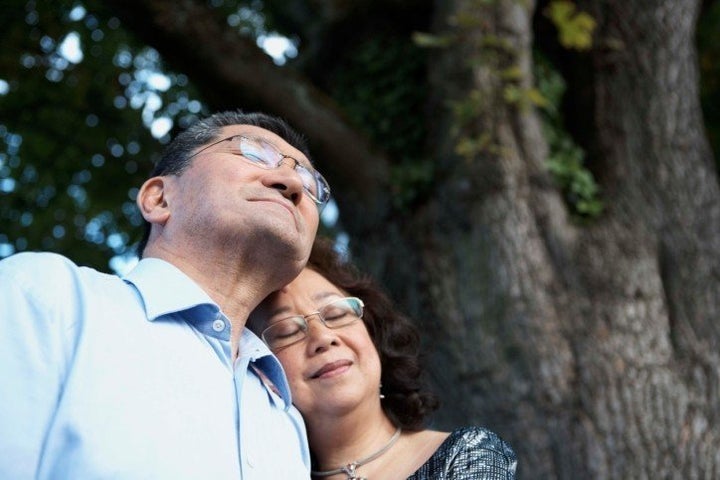 Have you ever found yourself asking, "What is my purpose?" Or, "What is life all about?" Or, "Why am I here?" I believe there are as many ways to answer those questions as there are people who ask them.
An answer that I have found for myself has to do with awakening the human spirit that I am -- the one that recognizes that same spirit in others. Central to that human spirit is the capacity and appetite to give and receive love, to experience love in its many dimensions.
As the "wounded" party, Mum had visitors and plenty of support. Dad, on the other hand, was alone. I suspected might be lonely. With a couple of breaks, I called them every day. I noticed how Mum seemed to gain strength and a more confident sense of herself. She seemed more in charge of her life, more like her old self -- even though she was missing her home and her John.
Dad expressed confusion and disorientation. During that first week alone, he hallucinated about people stealing things, like his watch (which his caregiver found), dusters and apples. In the second week, he grew more relaxed and started speaking of his self-doubts. He saw himself as a miserable failure in life -- a dumb one who never had anything to say for himself. True, Mum had been the driving force in their marriage, and he had seemed happy enough to go along with her lead.
He spoke a few times of the amazing discovery he had made. He had been a full-time officer in the Royal Navy. We all thought that that had been his life and had been important to him. But no. He had only gone into the Navy because it was expected of him. His father, a successful Naval officer, had made it possible for him to enter the school for training officers. He was not bright enough to have gone on his own merit.
I reassured him that he was far from incapable in my eyes and had contributed a lot to people around him. He had been a keen and successful gardener. I told him that some of the things he was saying were rubbish and should go on the compost heap. That made him laugh.
Then he confessed to an affair that he had had during a tour of duty in the Caribbean. The affair had come to light because the lady in question had left him £250,000 in her will -- "for services rendered," he said. In a subsequent call, he said she was an older woman. She just wanted sex. This was bordering on the "too much information." But in fact, the blessing was that Dad was unburdening himself. I was honored that he was able to be so open with me. The thought did cross my mind that to have been left a not inconsiderable sum of money, he must have been good.
It occurred to me that all these years while his personality and ego were able to contain the self-doubts and his guilt, he had been able to contain and bury them. Now, in older age, the protective structure was crumbling to reveal what had been hidden and now needed clearing and cleansing from him.
Dad spoke of having been left behind in England at the age of two with his 11-year-old sister when their parents had gone to live in India. When he took my mother, brother and sister to his posting in the Caribbean, I was left in the charge of that same sister, Dawn. History repeated itself. Dawn told me how her little brother did not like the porridge he was given for breakfast. She would put it in an envelope and flush it away for him. That story used to make me feel very sad. He now felt the sadness of having been abandoned by his mother and how it had had a negative effect in his life. That made sense to me. His recalled his childhood as not being a happy one.
The blessing in all of this? The gift of awareness. I was recognizing in his self-doubts my own. He spoke of Mum being the life and soul of the party, while he just dragged along. He had nothing interesting to say. I, too, had found in my early adult life I had nothing to say in a social context. Self-doubt and self-judgment had robbed me of my self-confidence.
As he spoke, light bulbs went on for me. I saw how unconsciously I had inherited many of the limited patterns of belief and behaviour that have conditioned my life in the past. Dad was giving me a new sense of freedom. How? Because with awareness comes new choices. Through the loving present in our conversations, I was reassuring Dad and healing myself. He later spoke of my phone calls as being a lifeline for him. When I called, Mum and my sister Diana said he would almost run to the phone.
The second gift: forgiveness. In hearing about his affair, I could have felt a sense of betrayal on behalf of Mum. He had cheated on her. I could have judged him. But what use would that have served? He had suffered the guilt long enough. Every couple has their issues to work out. They need my love, empathy and understanding more than my judgment.
The third gift: gratitude. I am grateful that Dad was able to be honest and vulnerable with me. He spoke to my heart. I am grateful for their struggles, that I am able to view my own with greater compassion. I am grateful for the gift of their lives, and the gift of life they have given to me.
These three gifts -- awareness, forgiveness and gratitude -- I have found to open me to more of my spirit and the love that is in everyone around me. The gifts invite me not to condemn and blame, but to witness and observe. They make a connection to the best quality of life available to me.
No matter the conflicts and challenges that Mum and Dad have gone through in more than 66 years of marriage, I sense a deep and abiding love that they have for each other. After two weeks apart, Diana took Mum back to their apartment. Dad seems more relaxed and happy with her. My wish for them is that before the ends of their lives, they might come to more fully realize that love for themselves and the peace that will come with it. Who knows if that will be possible?
What are you most grateful for in your life, right now? What are the gifts of awakening you have experienced? Have you ever found the freedom that forgiving brings? I would love to hear from you.
Please feel free to leave a comment below or contact me at anne@annenaylor.com
. For information on my future blogs, click "Become A Fan" at the top of the page.