Twenty-five years ago, David Sloane murdered someone who tried to knock him off a motorcycle. "In my mind, it was the right thing to do," he said of the crime.
In prison, where he was sentenced to spend the rest of his life, he realized he was wrong. "I believe that people have the possibility to change," he said. "I've seen that a lot."
Sloane, 56, was paroled in February and now serves on the board of the Life Support Alliance, a California group that advocates for the rights of people serving life sentences. That population has grown steadily in recent years, according to a new report by the Sentencing Project, a group that advocates for prison reform.
Last year, 159,520 people were serving life sentences in American prisons, according to figures the Sentencing Project collected from state corrections departments. The total is a 12 percent increase from 2008, the report says. The number of individuals serving life without parole has increased even more dramatically, from 40,174 in 2008 to 49,081 in 2012 -- a 22 percent rise, according to the report.
Although most "lifers" have been convicted of homicide or sexual assault, the use of life sentences has expanded over time to include a wider range of offenses, including property crimes (5,416 prisoners) and drug crimes (2,686), according to the report. In Idaho, prisoners who have not been convicted of homicide comprise more than half the population of lifers, the highest in the country; in Washington, they represent 46 percent.
Life sentences have been popular since the 1980s, when politicians began embracing the "tough on crime" philosophy that dominated the nation's criminal justice discourse in the decades that followed.
But as the discussion begins to shift, with policymakers from both parties pushing for reduced prison sentences and smaller prison populations, the number of lifers still continues to grow.
In recent years, states from New York to Texas have lightened sentences for many low-level, nonviolent offenders, partly to cut down on the costs of mass incarceration. And the Obama administration declared in August that it will no longer pursue harsh penalties for people convicted of nonviolent drug crimes.
Yet when it comes to prisoners who have committed more serious crimes, like homicide and sexual assault, officials have been reluctant to call for policy changes, said Ashley Nellis, a research analyst for the Sentencing Project and one of the authors of the report. There is a common "misperception," she said, that lifers are "the worst of the worst."
"The lifers are sort of off the table," she said.
Sloane is among a number of prison-reform advocates who are trying to change that. Central to his argument is the belief that people convicted of serious crimes are capable of profoundly changing their lives.
He takes his own story as an example.
Twenty-five years ago, Sloane was a drug dealer. One day, he was riding his motorcycle through a rough neighborhood when someone tried to kick him across the chest, as he tells it. "I went into a rage," he said. "I went around the block and picked up the gun and I came back and started shooting. I started shooting the gun at the ground, but that didn't satisfy me. And I kept shooting until I hit someone."
He was arrested three days later and began serving a life sentence with the possibility of parole. But the hope that he might someday earn his release motivated him to "work toward self-improvement," he said.
As it turns out, Sloan himself had been shot in the shoulder in a drive-by incident days before he committed the homicide. "It took a great deal of self-discovery for me to realize that being shot generated a great deal of fear within me," he said. "At the time I believed that a man is not allowed to be afraid. That's a common belief in these sorts of circles. I got mad at myself for allowing myself to be afraid, and I went into a rage."
While in prison, Sloane began corresponding with the director of the Life Support Alliance. Two years ago, they got married.
"Had I known him at the time he committed his crime, he would not have been the type of person I would have wanted to be around," said Vanessa Nelson-Sloane. "But now he looks at himself so deeply and he makes me look at myself more."
Nelson-Sloane said she thinks the use of parole should be greatly expanded for older prisoners. "Once a guy hits 50, the recidivism rate starts to really plummet," she said, "and many longtime lifers are well over the age of 50."
"Are all of these guys suitable for parole?" she continued. "Absolutely not. But we do think there are a lot of lifers who are."
Before You Go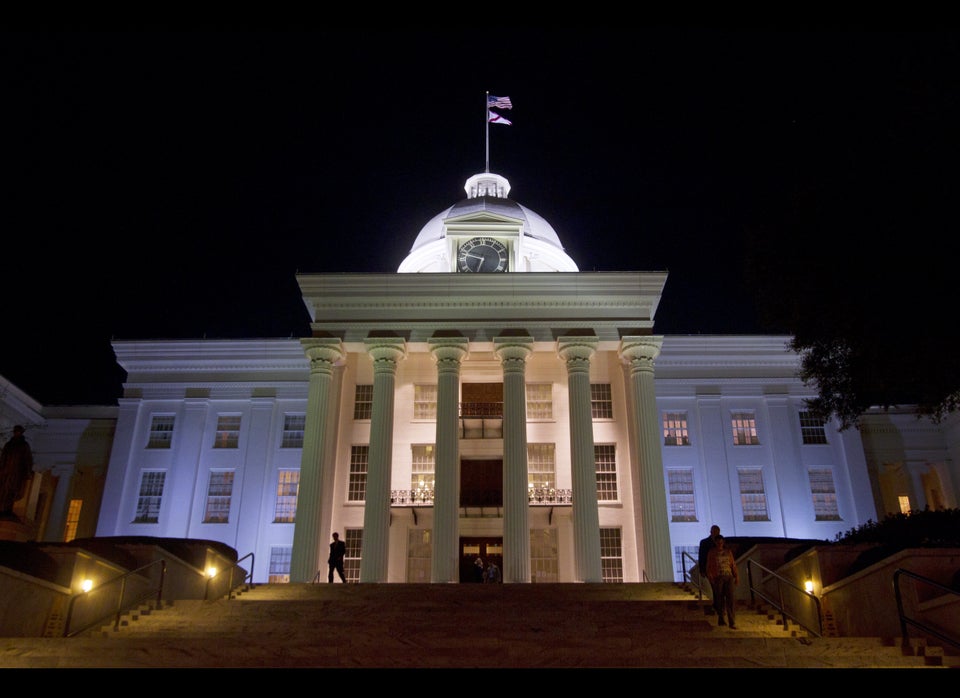 U.S. State Capitol Buildings
Popular in the Community