My Boston Terrier, Ma'amie, is 14.5 years old. If you know about dogs, then you know that this is actually quite old for a Boston Terrier. Up until a year ago, it was difficult to guess her age. Yes, she went prematurely grey, but she's been an athlete her whole life, and her passion for the tennis ball fueled her energy.
About a year ago, her eyesight started to deteriorate. Her arthritis flared up. We started her on medicine for incontinence issues. We changed her diet to stave off the renal failure that showed up in her blood work. Suddenly, my good girl, my athlete, was old.
But it's inevitable. I've been mentally preparing for this inevitability for many years. Too many years. It's a thing called anticipatory grief, and I was relieved to discover I am not the only one who has experienced it. When I get in a funk, when I sink into nostalgia thinking about the bygone days of chasing tennis balls into the ocean, I have to remind myself that she is not wasting any time reminiscing about the old days. She isn't depressed over old memories. She's okay spending her days getting scratched, getting her ears rubbed, and going on walks with her family. And though she has some rough days, so far they are few and far between.
So we are lucky, blessed that she is doing okay at 14.5. For so many years I've been mentally and emotionally preparing for my dog's demise. I've shed tears, expressed my fears, and I've persevered, knowing that life does not exist without death.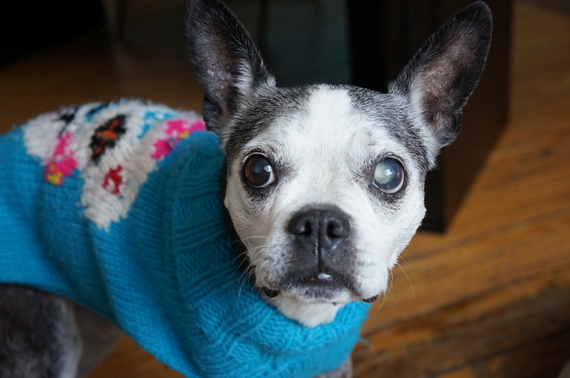 What I did not prepare for, what has blindsided me in these past few months, is her transition into senility. This possibility did not occur to me, so I've been caught off guard. Sometimes her senility is amusing; we watch her get up and go into the other room and then she forgets why she got up in the first place. We call her name from five feet away and she stares at the wall. It's silly, and we chuckle and go to her and shower love. Other times it is far from amusing, when I realize that the connection we've shared for 14.5 years is slowly being frayed, chewed apart by the senility monster who has no qualms with destroying our heart line. In the past, Ma'amie found a way to lock eyes with me across any room or space. If we were in a giant dog park, somehow we would make contact across the field. She had a way of checking in with me, of always acknowledging that she knew where I was, and that she knew that I knew where she was, and the acknowledgement comforted us both.
Now, my eyes will seek hers and find nothing. I will look at her across the hall and be unable to tell if she even notices my presence. This doesn't happen all the time, but it happens enough for it to hurt. I know part of it has to do with her deteriorating eyesight, but most of it has to do with her deteriorating brain. That connection that I've cherished for 14 years is no longer at the forefront of her mind. Before, when I would be upset, she would hover and invade my personal space in an attempt to assuage my pain. Somehow she always knew when I was sad, and she felt it her duty to cheer me up or to at least make sure I was okay. I don't know that she has that same empathy now.
All of my anticipatory grief did not prepare me for this severed connection. Let me re-phrase, because it isn't severed yet, though I know it will be soon. Right now it is fraying, splitting, coming apart fast on some days and holding steady on others. And it is heartbreaking. Life with an aging dog will break your heart. I am so grateful for the years I've spent with the Good Girl, and I will cherish this last year with her, even though it has been difficult. I can repay her for all of those years she looked after me.
Related