A few months ago Emma's teacher emailed me asking if we had a pair of sneakers we could send to school with Emma so she could participate in their gym class. First of all, Emma is 10 years old and she is autistic. (She is also the star of my blog, Emma's Hope Book.) Because of her many and varied sensory issues, Emma doesn't like wearing shoes, or socks, for that matter. But when she must, which is most of the time, she wears one of two types of shoes -- Uggs in the winter or Crocs during the summer. She has a couple of variations on this theme such as a pair of Ugg slip-ons that resemble black pumps (spring/fall) and some fake fur-lined Crocs (fall/winter), but as I said, Uggs or Crocs are the only two brands of shoes her feet have seen in recent years. So, no. We did not have sneakers to send into school. However, I decided to change that.
"Hey Em. Today after gymnastics I'm going to take you shoe shopping for a pair of sneakers." I smiled enthusiastically at her and winked at her older brother, Nic who muttered, "That's probably not such a great idea, Mom."
"Together," was Emma's reply.
"Yes, we are going to go together."
"We are going to go together, just you and me!" She pointed to herself when she said me and bounced up and down.
"Yes! That's right. Just you and me."
Later in the sporting goods store we first went upstairs where they have their snow boots, rain boots, hiking boots and rougher terrain shoes for children. I figured these might be an easier sell as most of them have velcro straps, which do not require tying shoelaces, something Emma cannot do yet, and besides, these looked more in keeping with some of the shoes she's agreed to wear in the past. "Hey Em. Do you like any of these?" I motioned with my hand in a sweeping gesture toward the wall with shoes.
"Really?" I was surprised by both her answer and her apparent enthusiasm. "Which do you like?"
"This one. I like this one." She reached up and grabbed the one pair of shoes they had that did not fall into the rough terrain, outdoor shoe category. In her hand was a pair of delicate, black pumps.
With a tiny leather bow on them with, what looked like, a fake pearl on each.
"You want to try on these?" I asked.
"Yes. I like these," she said, nodding her head.
First I had her try on at least a dozen pairs of traditional sneaker type shoes. I even took her downstairs where they have their running and gym shoes. Emma was terrific about trying on lots of different shoes, but each time she would say, "No, no, these are too tight!" or, "Too big, Mommy!" or, "No. I don't like these!" or, "No, no, no, no!"
Finally back upstairs, she tried on the black patent leather shoes. "Do you like these, Em?"
"Yes. I like them." And then just to be clear, she said, "I like these shoes, Mommy." She looked at me and beamed.
"Will you wear these if I buy them?"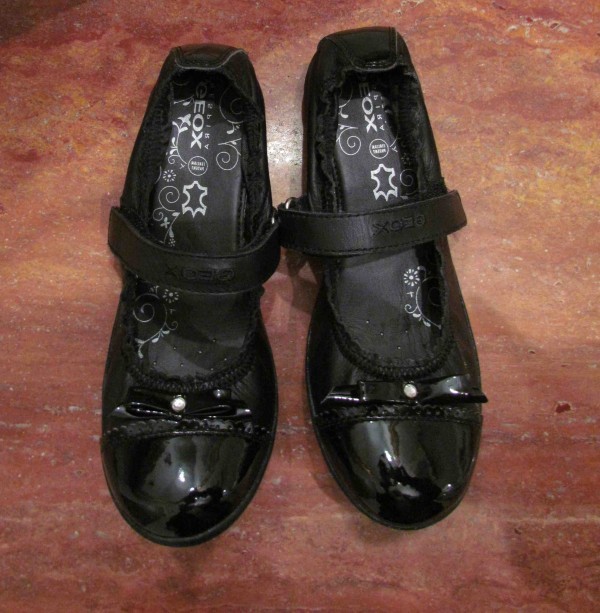 For more on Emma's journey through a childhood of autism, go to: Emma's Hope Book
Emma's Hope Book has been nominated as a "Top Autism Blog"-- if you like it, please vote for it by clicking on the "like" button opposite Emma's Hope Book after opening this link.
Related