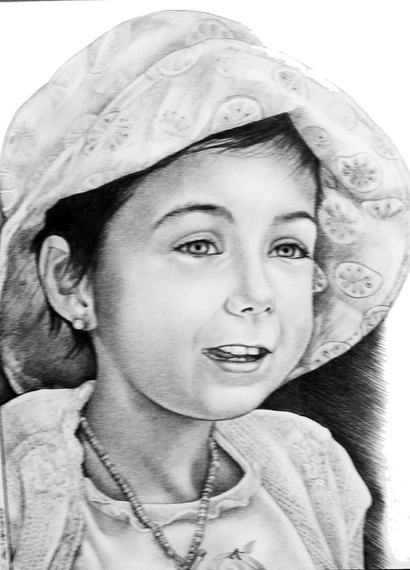 Artwork created by an incarcerated man, sent to Alex's Lemonade Stand Foundation

At Alex's Lemonade Stand Foundation, we receive thousands of letters each year. And for as long as we have been doing our work to raise money and awareness for childhood cancer research, we have received letters from prisoners. Sometimes the letters talk about how Alex's story has touched them in a way that has made them want to change their lives. It is not uncommon for us to receive beautiful artwork from prisoners. Usually they are done in pencil and the artists are incredibly talented.
I recently received an envelope with a prison return address. Inside, I found an incredibly touching and well-thought-out letter. It outlined a unique plan of sorts to help other people. This prisoner, who is serving a triple life sentence without the possibility of parole, and his friend came up with an idea. They want to create a "parallel registry" for bone marrow donation. Currently, if someone cannot find a donor on the national registry, and no one in their family can donate, a search is conducted. This parallel registry would consist of potential bone marrow donors who are currently in a category that is restricted from donating bone marrow. This includes prisoners, people over 60 years of age, people with asthma, chronic back pain sufferers requiring ongoing chiropractic care and those affected by sleep apnea, among others. Now, it seems, that at best it is extremely difficult for someone in these categories to donate bone marrow. At worst, it is impossible. The inmate suggested creating a back-up registry of sorts for urgent medical needs - a registry that would only be used when all else fails.
In researching this concept, it is difficult to find examples of people from these categories completing a bone marrow transplant. Some sources say that they are ineligible to be a donor. Yet, the United States Food and Drug Administration states that a donation can be used from an ineligible donor if there is an urgent medical need. I can't help but wonder if the 1,000+ people who die each year waiting to be matched to a donor would be willing to take a donation from someone in a "parallel registry." Would you?
The letter goes on to talk about the number of people that would be needed on the "parallel registry" so that everyone could find a match. According to the data in the letter, we would need to add 4 to 5 million people to registries to find a match for 99% of people who need one.
This is an interesting idea, though I am not sure if it is feasible or not. I wonder if adding 4 to 5 million people to the bone marrow registry would save the 1,000 people waiting for a match. Maybe during this holiday season, we should consider signing up for the bone marrow registry list and try to get one more person to register. We might be able to get to that 4 million matches mark pretty quickly.
Calling all HuffPost superfans!
Sign up for membership to become a founding member and help shape HuffPost's next chapter