More than 35.7% of American adults are considered to be obese. About 75 million American adults have high blood pressure. Approximately thirty-four percent of Americans have high low-density lipoproteins. These grim and disheartening statistics- as showcased in the obesity prevalence maps below- paint a somber picture of not only the current obesity pandemic here in the United States but the shape of our health and well-being as a whole. In a compounding effect, the impact of Westernized culture, digital technology, convenience foods, and sedentarianism have played a potent and negative role in the widespread global upsurge of obesity, chronic disease, and related comorbidities. As discouraging as these numbers are, they represent quantifiable data points, trend lines, and percentages void of the power lifestyle medicine has on adding QUALITY years to life and life to years while optimizing our health and well-being in the process.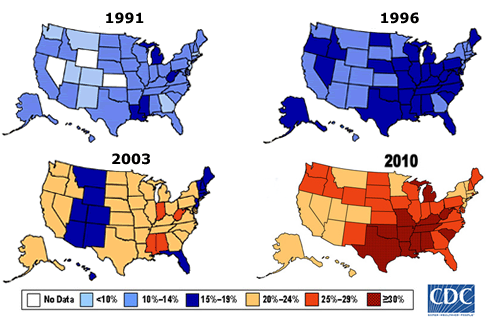 Contrary to the obesity epidemic and associated chronic disease upsurge, is a picture of optimal health and well-being, a picture sometimes muddied by an influx of conflicting data, quick fixes, and health and wellness gimmicks. This blurry vision of how to attain such optimal health and well-being can create this incessant need to continually seek what has already been found- practical lifestyle medicine solutions for adding years to life and life to years. By using what we already know about positive lifestyle modifications, we, through self-care and preventive practices, open up a gateway to augmenting our health, happiness and longevity. Fortunately for us, there are pockets across the globe (no, not the ones that come with your summer dress!) that provide us the blueprint to not only maximize, but healthfully optimize, the life in our years. These pockets across the globe embrace and exemplify the foundational keystone habits and behaviors for enhancing health and well-being, increasing happiness, and cultivating a life well lived.
These pockets of the globe-known as Blue Zones-take us to Nicoya, Costa Rica, Okinawa, Japan, Loma Linda, California, Sardinia, Italy, and Icaria, Greece. The stories behind such robust and healthful regions go far beyond a statistical algorithm or data trend line. Rather these stories are wrapped in soulful data, encompassing the sheer beauty of meaningful conversation, personalized communication, and social networks. These regions, connected not only by extraordinary health but also the highest population of centenarians, provide us a blueprint for extending our longevity with such commonalities as natural movement, purposeful living, wholesome nourishment, and social networks.

"STORIES ARE DATA WITH A SOUL"~ Brené Brown
This blueprint, known as the Power 9 in Dan Buettner's book Blue Zones, is as follows:
1) Move naturally: utilizing the environment around you for natural, purposeful movement (no gym included)
2) Purpose: understanding what you are meant to do on this earth
3) Down shift: implementing routines that minimize stress and optimize health
4) 80% rule: mindful of the quantity of food being consumed while halting consumption when feeling 80% full
5) Plant Slant: mindful of the quality of food being consumed while filling your plate with primarily plant-based options such as legumes and whole grains
6) Wine at 5: centenarians in these pockets of the globe consume moderate amounts of wine per day to improve longevity and heart health
7) Belong: participation and involvement in a faith-based group and services 4x/month showed increases in longevity
8) Loved Ones First: maintaining a strong focus on family first, with an emphasis on caring for elders and supporting children
9) Right Tribe: surrounding oneself with a strong social network that support and live out healthy behaviors
The beauty in these Power 9 lie in the soulful data-stories- that personify and showcase the potency of lifestyle medicine practices while inspiring, motivating, and encouraging health-promoting and longevity-enhancing behaviors. These personal success stories of the impact of lifestyle medicine must be heard for it is my fear that the majority may never have stories at all. Stories of purposeful movement, energizing nourishment, stress-free thoughts, and sleep-thriving nights. Lifestyle medicine, with its bountiful resources, provides a wide array of prescriptions that assist us in leading a healthier, more sustainable lifestyle. Although most prominently known for its exercise and nutritional components, lifestyle medicine encompasses and provides a diverse range of solutions for achieving optimal health and longevity while collaborating with feet and fork approaches. Lifestyle medicine, as such, provides us the self-care and preventive gateway for purposeful movement, wholesome, nutritious consumption, a clear and stress-free mind, and sleep-nourished bodies. This gateway creates a platform of using what we already know- data, trends, best practices, resources- to transform our lives for the better while adding years to life and life to years. We no longer need to overreach for quick fixes or wait around for gimmicks that promise everything short of a return or value on investment. How can we, then, make use of the soulful data present in lifestyle medicine practices to attain such desirable behavior change? Here's to soulful data. Here's to stories that make an individual and population-based impact. Here's to happier, healthier, and more stress-free lives filled with diverse lifestyle medicine practices!
Best in health,
Colleen M. Faltus
Founding President and CEO
Healthy Fusions, LLC

References
1) Buettner, D. (2008 ). Lessons From The World's Longest Lived People. Retrieved from Blue Zones: https://www.bluezones.com/live-longer/
2) Diseases, N. I. (2016). Overweight and Obesity Statistics . Retrieved from National Institute of Diabetes and Digestive and Kidney Diseases : https://www.niddk.nih.gov/health-information/health-statistics/Pages/overweight-obesity-statistics.aspx
3) Prevention, C. f. (2016). Cholesterol Fact Sheet . Retrieved from Centers for Disease Control and Prevention : http://www.cdc.gov/dhdsp/data_statistics/fact_sheets/fs_cholesterol.htm
4) Prevention, C. F. (2016). High Blood Pressure Fact Sheet . Retrieved from Centers For Disease Control and Prevention : http://www.cdc.gov/dhdsp/data_statistics/fact_sheets/fs_bloodpressure.htm
ABOUT THE AUTHOR: Colleen M. Faltus
With a passion and enthusiasm for workplace well-being and lifestyle medicine, I founded my own company, Healthy Fusions, an interdisciplinary and holistic workplace well-being company based in Boston, MA. As the President and CEO of Healthy Fusions, I am an advocate of the power self-care, prevention, and lifestyle medicine has on adding years to life and life to years.
I earned my BS degree in Applied Exercise Science from Springfield College (2008) and MS degree in Nutrition and Health Promotion at Simmons College (2015). I currently hold certifications through the National Strength and Conditioning Association (NSCA) and National Wellness Institute (NWI) as a certified personal trainer and worksite wellness specialist. Additionally, I am a member of the Worksite Wellness Council of MA as well as an active committee member for their annual conference.
Colleen has experience writing and speaking about lifestyle medicine at both the individual and population health level. My expertise also lies in the design and implementation of people-centric health and well-being programs, with previous experience in both the commercial sector at Sports Club LA and Equinox as well as corporate sector at Google and State Street Corporation. My knowledge and expertise in the development and implementation of individual and population-based health and well-being programs embodies the significance of lifestyle medicine solutions for sustainable, positive health outcomes.
Specialties: organizational health and well-being program planning and implementation, lifestyle medicine practices and solutions, disease and stress-management, individual and population-based exercise prescriptions
Read more from Colleen on Women's ilab here
Follow Women's iLab on Twitter: www.twitter.com/womensilab
Popular in the Community