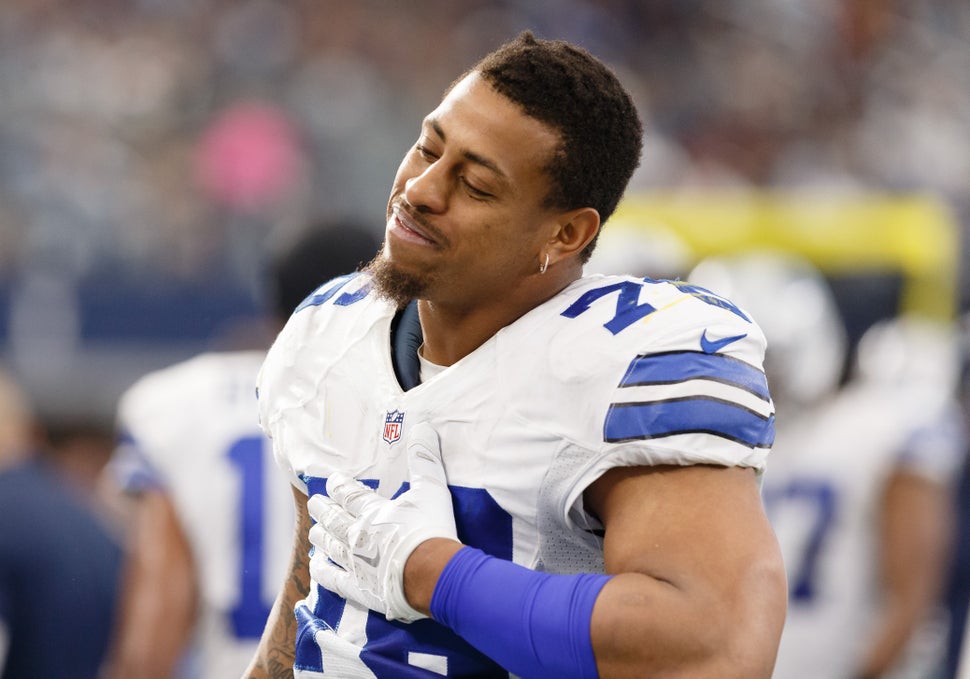 When convicted domestic abuser Greg Hardy returns to the NFL on Sunday, his history of violence against women will follow him to the team parking lot, through AT&T Stadium, into the locker room and out onto the field. But should he ever harm a woman again, that same history will push him off the field and out of the league for life. 
Buried deep within both of those new domestic violence policies is another type of possible punishment, perhaps the ultimate punishment a league can hand down to any man who makes his living playing football: a lifetime ban.
"If we investigate him and determine there's sufficient evidence to find that he committed a second domestic violence offense, then yes, he would face banishment for life, absolutely," Lisa Friel, the NFL's special counsel for investigations, told The Huffington Post.
The possibility of a lifetime ban has been little discussed since the new policies were announced by the NFL in August 2014 and the CFL this August. But whether the punishment is an appropriate one raises important questions. How do you discipline domestic abusers in a manner that actually reduces violence and helps victims, rather than punishes the abuser for punishment's sake? And when, if ever, would a lifetime ban do that?
The answers to those questions are complicated, as each domestic violence case is unique to the two people involved. The mere threat of a lifetime ban sounds like a powerful weapon that could deter players from abusing their partners. Experts, however, disagree on whether it is an effective deterrent. Ruth Glenn, executive director of the National Coalition Against Domestic Violence believes that no deterrent, not even the possibility of losing one's livelihood, will stop a perpetrator from violence in the moment. Rita Smith, an NFL senior advisor on domestic violence and sexual assault who helped create the NFL policy, challenged that assertion.  
"I don't believe that's true of all people who chose to use violence," she said. "I think that probably a significant number of them can be educated about what triggers them to use that violence and other opportunities for them to get results without doing the things they're doing. But I do think there's a small subset who use violence and it escalates and escalates, and are in fact lethal people no matter what we do."
Research on domestic violence deterrence has largely focused on arrests and prosecution as a means to prevent recurring abuse. A 2009 report from the U.S. Department of Justice found that police involvement, regardless of whether the abuser was arrested or not, has a strong deterrent effect, but previous research has argued that arrests are only effective when the abuser has something to lose in their social environment. On the sentencing side, the same U.S. Department of Justice report stated that prosecuting offenders without taking into consideration their specific risk level does not deter future abuse.
In all, it's difficult to say whether the threat of a lifetime ban will preempt violence, but the research suggests that initial intervention from either the police or the perpetrator's local community can have a powerful impact in preventing more abuse.
Such a severe threat, however, could deter a financially dependent victim from reporting the abuse. Holder was one of those women. She often had her rent paid by Hardy and didn't immediately give a statement to police for fear of retaliation. 
"Punishing him has the effect of immediately punishing the woman and her children."
"The last thing we want is to do something that's going to drive reporting down further," Friel said.
Yet the possibility for a lifetime ban from the NFL remains, even though permanently taking away an abuser's source of income could further destabilize a dangerous situation, like that which existed between Hardy and Holder. After all, no football means the loss of not only NFL salary, but also lucrative endorsement deals and paid appearances, which in turn means less security and more anger. 
"[Perpetrators] might be an important financial support for their family, and so punishing him has the effect of immediately punishing the woman and her children," said Tracy Porteous, executive director of Ending Violence Association of British Columbia and one of the drafters of the Canadian Football League's policy on violence against women. 
Porteous says the CFL policy was based largely on the NFL's ("Why recreate the wheel?") but different in one key way. The CFL has taken a distinctly fluid approach to domestic violence punishments, allowing Commissioner Jeffrey Orridge the ability to hand down personalized penalties -- a lifetime ban in that case is never a certainty, but always a threat. 
The NFL, on the other hand, has adopted a hard-and-fast approach to domestic abuse punishments, likely a direct result of NFL Commissioner Roger Goodell's previous missteps in the Rice case. By implementing a baseline six-game suspension for the first offense and a lifetime ban for a second offense (with the possibility of appeal after a year), the NFL is ensuring that punishments are less open to the interpretation of a single figure, according to Smith. A figure like, say, Goodell. 
Friel, the NFL special counsel for investigations, believes that such baseline punishments are helpful in sentencing, a belief she attributes to her past experience as the head of the Sex Crimes Prosecution Unit in the New York County District Attorney's Office. But she emphasized that the NFL's policy asks the commissioner to consider aggravating and mitigating circumstances before levying a suspension.
Dawn Dalton, executive director at the Domestic Violence Legal Empowerment & Appeals Project, is skeptical about whether Goodell and Orridge, two men wholly lacking in experience in the domestic violence field, will ever use their power effectively. But the NFL-affiliated Smith and CFL-affiliated Porteous are confident that they have provided the leagues with the necessary in-house experts and resources to avoid missteps like those made with Rice in 2014. 
Smith pointed to Goodell's visits to offices of the National Domestic Violence Hotline and the National Sexual Violence Resource Center as proof he is trying to learn more about the issue from experts. "He's personally trying to learn what these issues are about so he can make better-educated decisions, and cleaning up the policy so everyone knew from the beginning what that outcome could possibly be," she said.
Regardless of the differing levels of confidence in Goodell and Orridge, experts and advocates say banning a player for life might make for good optics, but doesn't solve much of the situation. 
"Ultimately, that's not the answer to ending domestic violence -- taking one person and cutting them off and thinking you've fixed the problem," said Travis Lulay, a B.C. Lions quarterback and one of the CFL's leading voices in combating violence against women. 
"I think it has the potential to put the victim at further risk," Glenn added.
Porteous echoed those sentiments. "The answer isn't immediately banning somebody from playing football," she said. "The answer is trying to see behavior change." 
Even Friel admitted that banishment for life is not an ideal outcome, although she added that "taking a strong stance is going to be part of the effort to change how domestic violence is handled in this country." But she's optimistic that the possibility of an appeal after one year will serve as a "carrot" to the banned player to seek corrective change, noting that any punishment from the NFL includes a requirement for counseling.
"We are looking to have this change you. To give you a chance to change," she said.  
"It does seem to suggest that his head is not where we would like it to be at this point," she said. "It's troubling."
"I hope for his sake and everyone's sake that his behavior is better than his language," Friel said.
If it isn't, he's out. But exactly who that helps outside of the NFL's public relations team remains unclear. 
PHOTO GALLERY
Shocking Domestic Violence Statistics
Calling all HuffPost superfans!
Sign up for membership to become a founding member and help shape HuffPost's next chapter