If all goes according to plan, 2020 could change the game for LGBTQ-inclusive holiday entertainment.
On Monday, Lifetime unveiled plans for 30 new movies that will comprise its "It's a Wonderful Lifetime" lineup, scheduled to kick off in mid-October. The slate will include "The Christmas Setup," the network's first film to feature a same-sex couple as its central romance.
Though the cast and creative team for "The Christmas Setup" has yet to be announced, a synopsis of the film reads as follows:
Hugo, a New York corporate lawyer and his best friend Madelyn head to Milwaukee to spend the holidays with his mom Kate, who is also in charge of the local Christmas celebrations. Ever the matchmaker, Kate arranges for Hugo to run into Patrick, Hugo's high school friend and secret crush, who has recently returned after a successful stint in Silicon Valley.

As they enjoy the local holiday festivities together, Hugo and Patrick's attraction to each other is undeniable and it looks as though Kate's well-intentioned Santa-style matchmaking is a success. But as Hugo receives word of a big promotion requiring a move to London, he must decide what is most important to him.
And "The Christmas Setup" isn't Lifetime's only diverse yuletide offering. The network has also announced plans for "A Sugar & Spice Holiday," about a Chinese American family. The script will be written by Eirene Donohue, with Jennifer Liao attached to direct.
"We are thrilled to continue our legacy of creating a holiday destination that is welcoming to all at Lifetime," Amy Winter, programming executive vice president of Lifetime and Lifetime Movie Network, told TV Line. "I couldn't be prouder of the incredible talent joining us in front of, and behind the camera, on these new holiday movies."
Holiday-themed made-for-TV films have been hit with increasing criticism for their adherence to heterosexual (and overwhelmingly white) stories. That shifted slightly last year, when Lifetime's "Twinkle All the Way" included a kiss between a gay couple (played by Brian Sills and Mark Ghanimé) at its conclusion.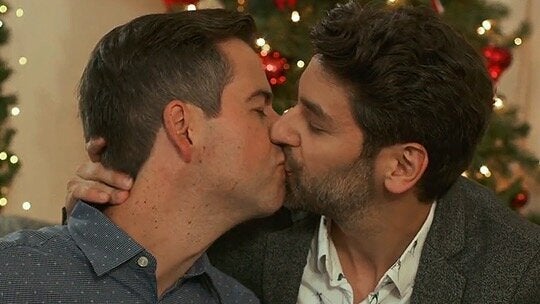 The gesture won praise from critics including the Daily Beast's Tim Teeman, who applauded the film for its effort to "shake up these snowy, typically heterosexual worlds of love." Others, however, urged networks to go further by making LGBTQ romances and themes more integral to their narratives.
"We are committed to creating a Hallmark experience where everyone feels welcome," George Zaralidis, vice president of network program publicity at Hallmark's parent company, Crown Media Family Networks, told HuffPost in an email last month.