Other than paid traffic, the #1 reason marketers dismiss mobile apps as a business platform is low lifetime value.
Even though this app (and other King.com games) have enjoyed top positions on the iTunes and Google Play charts, the model relies heavily on volume to account for the razor thin margins.
You need millions of users (mostly purchased via advertising networks) to sustain IPO level profitability.
On the internet, however, marketers are used to selling products for hundreds, if not thousands of dollars. Margins can be in excess of 80% - fewer sales still bring in enough money to sustain the business.
The lifetime value of a customer on the internet can be ten, even 50 times larger than one on a mobile app.
The inability to get a meaningful lifetime value has been a deep pain point for mobile app companies and mobile app developers, trickling down to a marketing paralysis that forces these app entrepreneurs to rely on app store optimization and organic downloads (both of which promise "free" app store traffic).
Strategies like Facebook ads are not an option with lifetime values of $0.15-$0.30 per user.
The fundamental problem is that app developers and marketers have been treating apps as the complete monetization engine of the business, making it impossible to achieve the lifetime value required for scaling.
This is where the real opportunity lies.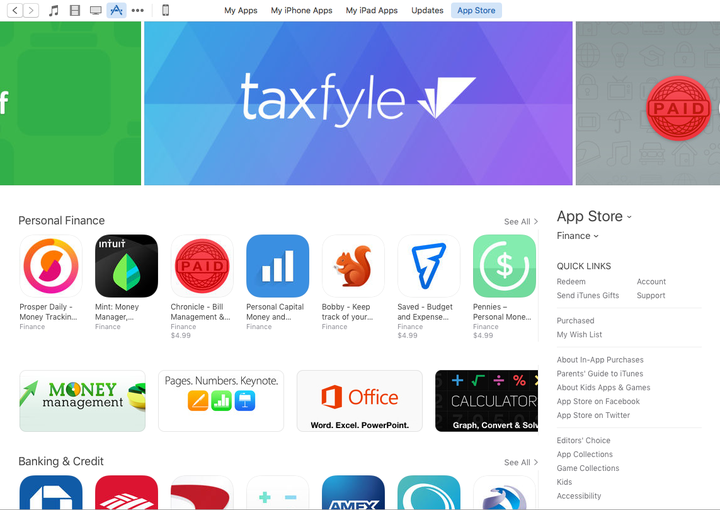 This extends to categories like:
Travel
Finance
Shopping
Content
Meanwhile, internet marketers are selling $500 programs and $10,000 live coaching packages that push their profitability through the roof.
This difference is driven by user expectations. The idea of spending $500 in an app is ludicrous in the eyes of most users...while spending $5,000 on a website with a brand you trust is quite realistic.
In 2016 and 2017, however, we will see this change.
In fact, we're already seeing it.
Let's look at a few examples (NOTE: these are not endorsements or promotions of these services).
1. Wish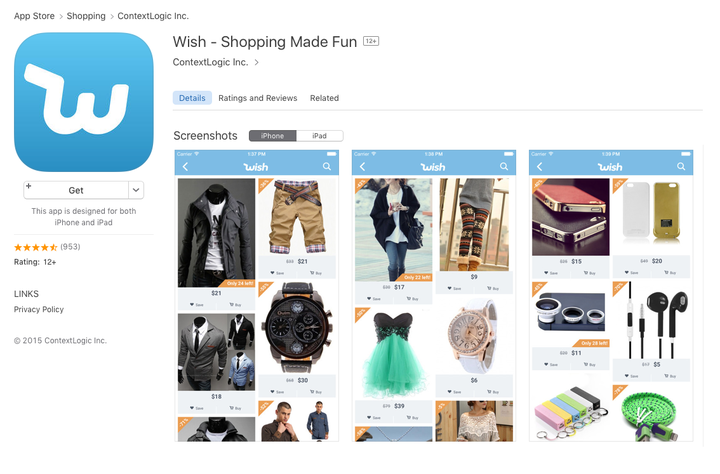 Wish is a platform that combines the best of Amazon, Groupon and Gilt into one shopping experience.
You get massive discounts on clothing and goods by purchasing directly from the wholesaler (while supplies last). The caveat being you wait 3-4 weeks for it to ship from China.
What is so interesting about this particular platform is that they focused on the lifetime value model FIRST, then rolled it into an app.
Increase engagement

Increase usage

Increase ability to reach customers
More than they could with a mobile website. Apps offer functionality such as push notifications and seamless Apple Pay checkout. Downloading an app also buys Wish real estate on a user device screen - maybe the biggest win of all.
By creating lifetime value business that leverages the mobile app platform, Wish has exploded.
They've used the psychology of discount spending to drive repeat customers - hundreds of millions of them.
While users probably won't spend $1,000 in one visit, they could easily spend hundreds per month.
The lifetime value impact of this dwarfs virtually any other app in the iTunes store that relies on virtual economies (buying coins, power ups, credits, etc).
Wish is a unique example, but the model it represents is not.

Translating internet buying behavior to a mobile app is now possible, maybe even necessary, for explosive growth.
2. JetSmarter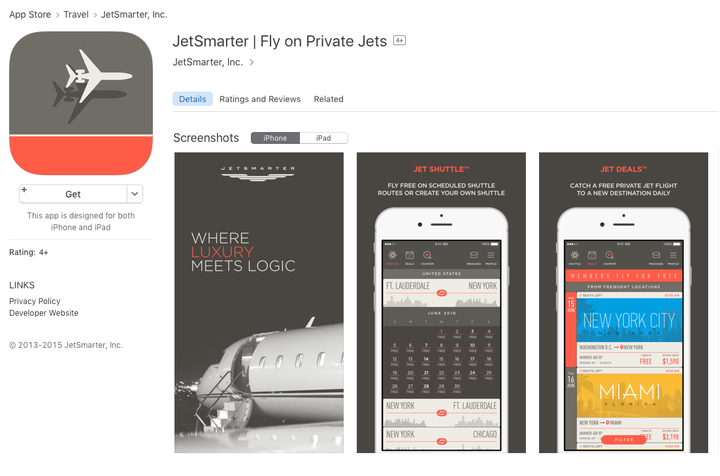 On the other end of the spectrum is JetSmarter, a popular new jet sharing service.
Unlimited flights on private jets if space is available
Ability to purchase seats ahead of time (discounted)
USA, Europe and various other areas
Must use the app to access the service
Yearly membership in the $10,000+ range (may vary or change)
It pains me to say this is the "Uber of Jets" but I will use that analogy in another way - they built a service that is only available via the app.
Payments, membership, onboarding, support and everything in between is done through traditional marketing platforms.
In other words, you can download the app for free to see what the app does, but you must purchase a membership offline so that you can use the service.
This is a much different mindset than giving away the app in the app store and hoping to monetize exclusively through the app experience.
JetSmarter is using the app as a lead generation tool for new users (i.e. "Create an account to see flight schedules") which puts you into a sales funnel on the company's CRM that will be executed outside the app.
Here's what I saw after signing up for the free "browse only" app:

A well written and highly targeted email marketing campaign.
The call to action was to pick up the phone and call Gisele - that's the first time I've ever thought about actually calling an app company to learn more about their service.
I then started seeing retargeted ads on Facebook.
And banner ads on websites.
JetSmarter was NOT using the app to convince me to buy a membership. They used it to get my email address so they could market to me in ways that would lead to a five figure sale.
The idea of doing a $10,000 in-app purchase is not realistic...but having 2-3 phone calls with Gisele makes that buying behavior much more acceptable.
If I sign up, the app magically becomes active and provides engagement and functionality I would not get on a mobile website.
The lifetime value of this "app" business is astronomical when compared to a traditional B2C travel app that tries to make all it's money via in-app purchases or advertisements within the app.


Apps Provide Benefits Nothing Else Can
When people tell me that the app business is dead, I ask them how often they use Amazon's app versus the desktop website.
What marketers will realize in the next year is that apps are not standalone businesses in the silo'ed sandboxes of iTunes and Google Play - they can (and should) be an extension of profitable businesses.
Adding an app to a high lifetime value company can:
Increase engagement (push notifications/flash sales)

Improve time to purchase (1-click)

Improve ease of purchase (TouchID/ApplePay)
Should you drop everything and build an app for your business? Probably not.
But, you should start having discussions about how you could use an app to fuel the core business.
Keep an eye on iTunes to watch more businesses using apps to fuel their high lifetime value marketing funnels.
Carter Thomas is a marketer and strategist in the mobile app space. Since 2011, Carter has published over 1,500 apps on multiple platforms that have generated 18M+ downloads. Since early 2013, Carter has built and sold 5 separate app portfolios to private buyers.
Along with apps, Carter's blog, Bluecloud Solutions, has reached over 3M visitors and been responsible for over 100M downloads from the readers who implemented his strategies.
On the weekends, you can find Carter swimming in Hawaii and organizing premier events for lifestyle entrepreneurs.
Popular in the Community