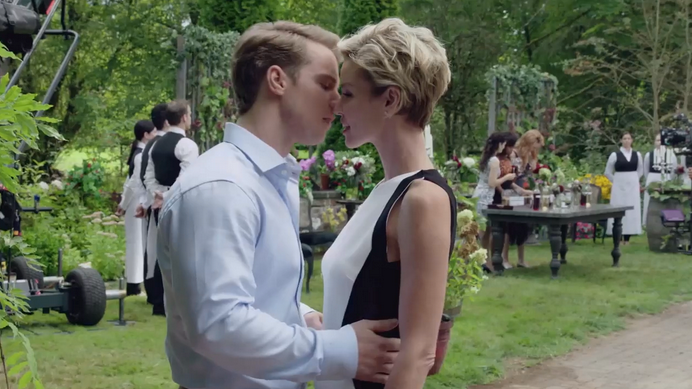 Lifetime made a weekly drama that takes place behind the scenes of a fictional, "Bachelor"-style reality competition called "Everlasting." And it's good. Unironically, truly and genuinely good.
"UnREAL" is, as Willa Paskin said in her rave review for Slate, a show "created by women, [that] stars women, and at times brutally satirizes women." The carefully curated tone allows for the dissonant mix of guilty pleasure, derived from watching the faux "Bachelor" realness of "Everlasting" combined with the discomfort of seeing the machinations behind the scenes. As Emily Nussbaum wrote for The New Yorker, "'UnREAL' is designed as an audience intervention, forcing viewers to taste the cruelty in their reality-TV bacon. The fact that the show itself also tastes like bacon -- at once sweet and salty, greasy and irresistible -- is no accident."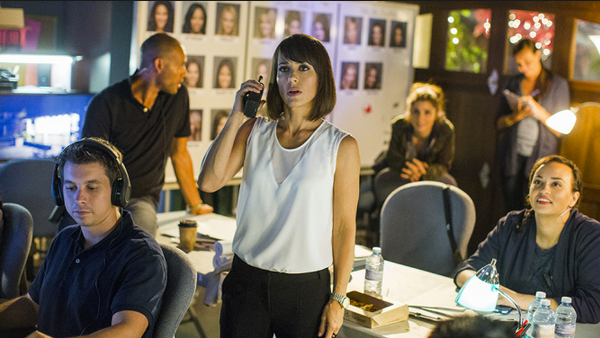 What led you to first start working on "UnREAL"?
Sarah Gertrude Shapiro, the co-creator, was a producer on "The Bachelor" for nine seasons. A few years after leaving there, she made this short film called "Sequin Raze," which Lifetime bought the rights to with the intention of turning it into a series. Then, they called me and they said, "We think this will immediately turn you on over here!" I got to see the short and it was quite like the show turned out.
What was the adaptation process like?
We've actually gone darker than the film. My first question to Lifetime was, you know, "Is the tone of this true to the show you're going to make? Because, if it is, I'm down with it! If you're gonna soften it, I'm not really interested. And they were like, "No, we mean it, we want this to upset everybody."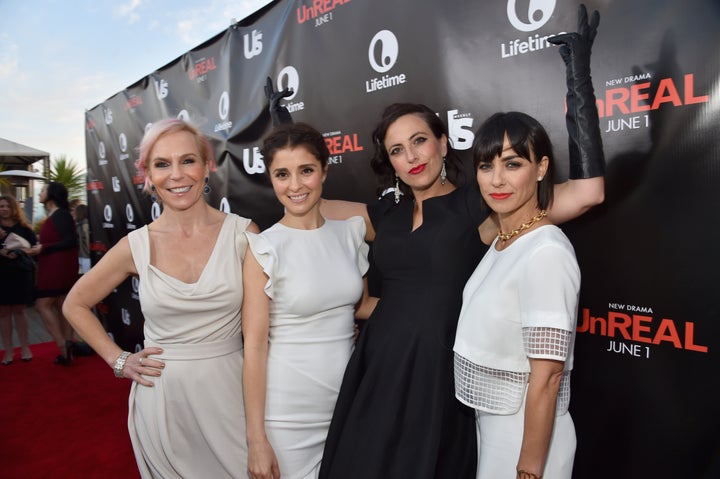 It seems Lifetime is going through a hefty rebranding. What do you think led to them almost parodying the content they've become known for?
That's such a good question. It was certainly our question, because, you know, I've been involved with some development with them in the past that never really led anywhere, but for years they've been saying, "We're gonna be the new Lifetime." They've been trying to do it. And I have to say, the experience we had on "UnREAL" was really new for everybody. It was new for everybody on Lifetime, it was new for me working with them.
Basically, [President and CEO of A&E Networks] Nancy Dubuc said, "We want a dark, premium-cable-style show and we want you to pitch us like it's on any network that doesn't have to worry about sponsorship or censorship in the same way. Just give us that and, if we have to, we'll pull you back."
The day we went in, there were these giant conference tables with 20 executives including Nancy and all of the A&E Network. I pitched them and I think I talked for an hour and a half. There were a couple of moments, one of which happened in last night's episode [Episode 5, "Fly"], where I thought, "They're gonna stop us." Between the suitor being basically just a bastard and all these other things, I kept waiting for someone to hold a hand up and it just didn't happen. When I got done, there was this pregnant pause and Nancy leaned back and said, "Good." And that was it!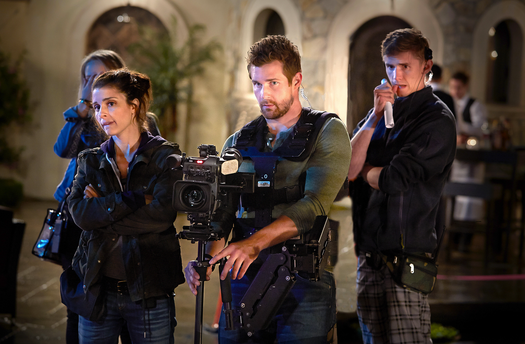 There are moments that almost play like aversion therapy -- they deliver the guilty pleasure of reality TV but come with a cutting wake-up call recognizing the cruelty of the genre. How did you find that balance?
That was one of the stakes Lifetime embraced with us. You know, I was raised by a lesbian feminist, who told me that shaving my legs was giving into the patriarchy. So, I consider myself to be a bona fide feminist. I've got cred. But, at the same time, I've watched my fair share of reality television. I've watched seasons of "The Bachelor" before this opportunity came along, and I started off watching it ironically and by the end I was like, "I don't know, would that guy pick me? I think he'd pick me! I mean, I think I'd be good enough." I found myself getting caught up in the princess fantasy. It's so potent and primal.
I think as things get more and more confusing sexually and politically between men and women -- there's just so much changing so fast -- that fantasy has even more appeal. We kind of know it's not real, but there's a little part inside a lot of us that kind of wishes it were. You know, he really gets to be a prince the way they present him on the show. The suitor is the prize and you're all maidens trying on the glass slipper.
I think we wanted to to both of those things. There are so many despicable things which go into getting people to behave a certain way. You know, sort of the reality of unscripted [television] is that you're taking non-actors and forcing them to play roles, which causes a lot of psychological and emotional damage. These are not actors. They don't know what their script is. So, we wanted to show both of those things -- the way we yearn for that princess fantasy to be true and then how it works inside and outside with all of the people who make the show and are on the show.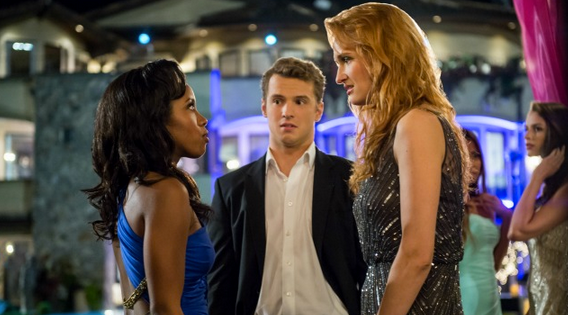 There is such an intense level of manipulation from producers. From your research and Sarah's experience on "The Bachelor," can you speak to how much of that element of "UnREAL" is true to the genre?
I will say we got a lot of information not just from Sarah, but from other reality producers. I knew a casting director who was a big deal working for some major shows and they cast people who they know have flaws or are unstable. In many cases, for example, they'll cast someone they know has borderline personality disorder, because they know that's good TV.
I had a conversation with one reality star, I can't say who, and they said, "I want to tell you more stories, because everything they're saying is true." Even if you go on Twitter, you see there are a number of people who say, "I worked in this genre and you're telling it dead-on."

[Author's Note: ALERT! The question below this photo contains a spoiler for Episode 5, "Fly," which aired last Monday, July 13. Y'all have been warned.]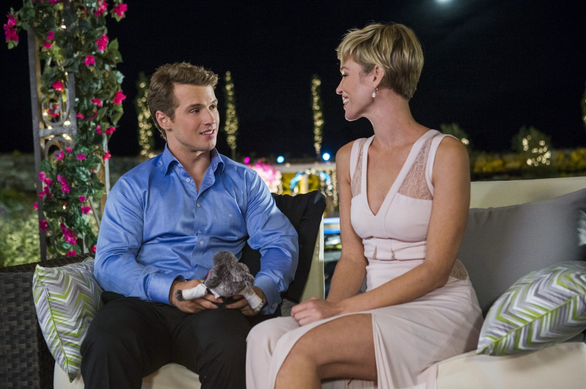 In this most recent episode, producer manipulation of Mary's meds leads her to commit suicide. How did you craft that storyline and how do you think it impacts the moral structure of the show?
I think we were reacting to our [research]. This was a place where obviously we took our creative license and pushed scenarios. We've certainly never heard a story about someone changing someone's meds. That came from our, you know, devious, despicable little minds. But we do know that there are people who have been on reality shows, who, not during the show but after or while the show's airing, took their own lives.
We can't say that's the only reason. We know with Mary it's not the only reason either. But the kind of thing where you bring in a surprise guest who has the potential to really upset and create a lot of emotion on a show, you know, they do that all the time. So, there's a little bit of an amalgamation of the stories we've heard and then the reality of this stuff.
That kind of intense scenario definitely works to dismantle the idea that the participants are "asking for it," when they can't possibly know what they're getting into.
From the beginning, we wanted to have sympathy for the contestants. It would have been too easy to make them all bimbos. There's such an undercurrent of bullying that goes on in the making of these shows and then with the people who watch them. I think we watch these shows like that a lot, like, "I'm so much better than that person. I would never do that thing."
You're encouraged to make fun of people and there's a real cost to that. For me, it was really important to realize we were seeing real people and they don't know what they're getting into. The fact is they go home to their real lives after that and that breaks my heart and it really pains me to watch all of these shows, because I feel like that undercurrent is so cruel. And I don't want to be affected by that in some way. I don't want my children to see me watching that.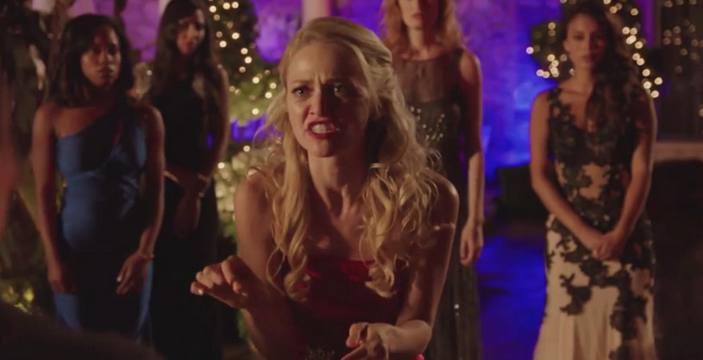 You just got renewed for a second season. What's next? Would you ever move on to working within another sub-genre of reality TV?
I think I would stay definitely for another season with "Everlasting," for as long as I can see into the future right now. The truth is there's a difference between the competition shows where you're testing skills and the type of shows where you're trying to create drama. You know, these women are competing in what's basically a beauty contest. That's a different thing than saying who cooks best or who can make a dress. You still want some drama from your contestants, but I think part of watching that show is, "Oh my god, these are accomplished people?" With this one it's like "Who's the prettiest? Who's the cattiest?" It goes to all the worst kind of stereotyping we're doing with women.
We might do a season where we flip it and it's all guys with a female suitor, or suitress, or whatever you'd call her. We might mess with the "Everlasting" format a little bit. Ironically, at one point during the season, we said, "What if we had two bachelors or two suitors that were girls and they were competing to be the last one to pick the last guy?" And then they did it on the show and we were like, "Aw, man!"
What other issues would you like to tackle moving forward?
There's so much more to tackle. Lifetime's been amazing. They really meant what they said, which is that they wanted a show that could easily be on FX or Netflix, and they really did not pull back. Like I said, I kept waiting. They were a couple things too where they definitely could have pulled back with things. But, oh my gosh! We have a lot more to say about culture and women. It's so so exciting to get a second season. The best feeling you can ever have when you're working on a show is that the characters are still inside you, and they have a lot left to do. I think I definitely feel that.
This interview has been edited and condensed.