 Although I've only logged a single "check-in" to a "habit" in the two weeks I've been using the app, I already feel better.
For me, the joy of using Lift comes from seeing precisely where people feel they're falling short. According to what we share via Facebook, Pinterest, Instagram, Twitter and the like, we're all magnificently brilliant leader-scholar-lovers who are more fun to be around than you. Lift strips away that fiction of perfection to reveal that we're all pretty mediocre and, more often than not, forget to floss.
Seeing each other through the world's Pinstabooks suggests we rock at everything. Lift gets us to admit we think we could do better.
Log on to the app, and you'll be asked to identify a habit that the Lift community will help you achieve through encouragement and positive feedback. The first -- and still only -- time I "checked in" to a habit, another user almost immediately gave me "props," a kind of email high-five.
It's in browsing the roster of habits that the real fun begins. The list offers a window into what other people think they're doing badly and the good habits they've chosen to prioritize. I found reading the list to be a win-win-win. It's an affirmation that I'm not so alone in wanting to be fitter, more productive, healthier and more attentive to my parents. It gave me ideas for ways I could improve my life. (Meditation? Why yes, I think I will).. And, I confess, I took satisfaction in the fact that while others were struggling to floss regularly, get to bed by midnight and arrive at work by 10 a.m., I'd already accomplished all those things.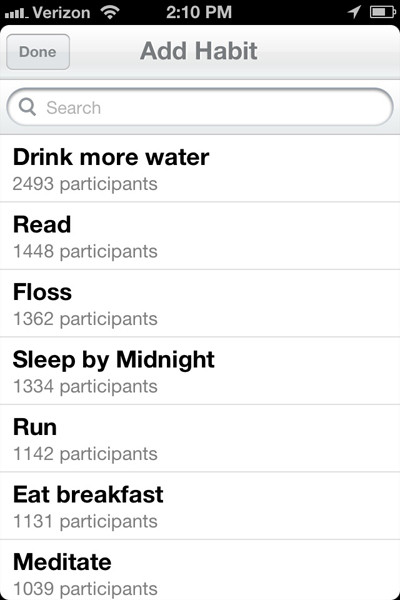 Not surprisingly, many of the most popular habits focus on living a healthier life. The top 10 Lift goals are to drink more water (2,493 participants), floss (2,493), read (1,448), sleep by midnight (1,334), sleep at least eight hours (1,277), run (1,142), eat breakfast (1,131), meditate (1,039), pushup(s) (906) and "set priorities for your day" (864).
Other goals speak to people's efforts to improve spiritually. "Stop and enjoy life," "tell my wife I love her" and "pray" all rank among the top habits that users have pledged to adopt. People have also formed habits such as "fall in love," "make husband feel loved/desired," "think like a citizen, instead of a partisan," and "breathe." Though some might find it disheartening that people need an app to remind them to tell their spouse "I love you," it's also encouraging that people recognize when they're falling short in these areas and take action to improve.
Even if Lift doesn't make you better, it might help you feel better. At least for now. There's no guarantee that Lift's honest admissions of mediocrity won't someday give way to habit humblebrags.
I'll be keeping an eye out for those of you who check in to "write something that doesn't make the New York Times bestseller list for a change" and "stop being late to private jet takeoff time."
Related
Popular in the Community