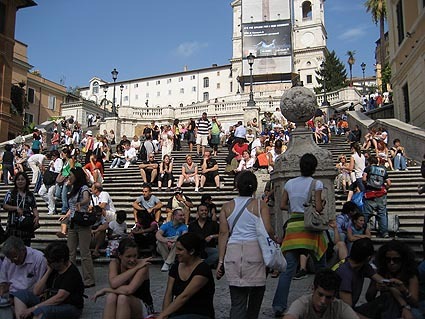 I've been in Europe for two weeks on business, at the height of tourism in Rome, Milan, Madrid, and London. To say it's been crowded would be the understatement of the season. Along with the heatwave, it's been a challenge.
I haven't been around so many tour groups in my life. Well, scratch that. I haven't been around so many tour groups since I was in a tour group myself when I was in my teens.
I have to confess that it got annoying. Really annoying. Crowds of people, speaking loudly at each other, disregarding any rules of decorum...it was enough to make a grown man crazy.
They would stop dead in their tracks on the sidewalk to take a selfie, with a selfie stick no less. They would march into a quiet restaurant as if it was the first time they'd ever been in a place to buy food. They would sing songs in unison as if their next ride depended on it.
And they hollered with pure joy when the wheels on the plane hit lift off. Whoa! Whoa! Whoa!
That's when it hit me. I'm not a grown man; I'm a grumpy man.
I've lost that inner excitement that comes from seeing something for the first time. I've lost that uninhibited feeling of walking down the street with a group of friends, holding hands, hugging each other, and shouting at the top of our lungs. I've lost that unadulterated feeling of having the absolute time of my life.
I've lost it...but when the group cried out "whoa" it came rushing back again.
I remembered in that instant the first time I traveled through Europe with a friend, the first time I saw something that really challenged my norms in a rush of excitement, and the first time I felt the pure love that comes from true friendships.
But now it's back again, thankfully.
I'll end this blog post with the same sentence that I start my new book on fatherhood. The book I wrote in honor of my two children, about the path we've we are taking collectively in our lives:
"I believe the children are our future, teach them well and let them lead the way."
And the words that soon follow that opening lyric:
"Let the children's laughter remind us how we used to be."
Indeed. I won't lose that again. Whoa!