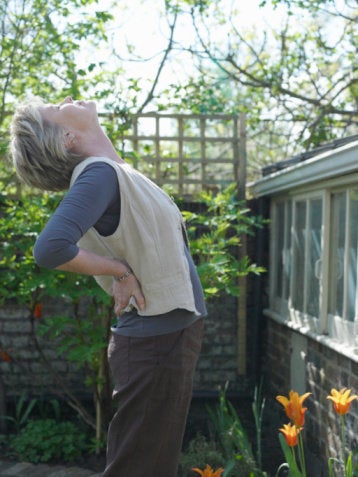 Have you ever suffered from tension in the shoulders? Do you think others around you (especially those closest to you at home or work) should do things differently - help with house cleaning; be kinder or stricter, more understanding or forgiving; be a better leader, fairer, wiser, more inspirational? Have you ever looked at others' happiness, success, fitness, spirituality and thought you should be like them?
Recently I worked with a woman who was literally giving herself sleepless nights. She was well versed in self-help ideas and had been applying herself to them.
In working through her sleeplessness, she had plans that started: I should.... Or, I have got to... She was applying a left brain and linear logic when she could be more intuitive and open, certainly kinder and more patient with herself.
Through the pressures she was assuming, I could literally feel her spirit withering and depleted. It was hardly surprising that she was not sleeping well. Beneath her burden of shoulds, I could sense a serene and radiant beauty that was buried. She had lost the connection to her own resources of wisdom and understanding. She had ceased to love and value herself, just as she is. To be happy, fulfilled, and content, she was thinking she had to be different.
There are times when it is right to have a plan of action. Other times when it is better to hold, not act and listen inwardly for guidance. If you are one who likes to feel in control, letting go and trusting for a while may not make sense. It has been said that life is not a problem to be solved, but a mystery to be revealed.
The love of the human spirit that you are knows what is best for you. Love is the guiding spirit we all have. You can learn to trust it. It knows when to act, when to hold.
In my post last week on forgiveness, several commentators assumed that they "should" forgive, when clearly that was difficult for them. There are times when it just does not feel possible to forgive. I think you have to honor those feelings when they show up. Accepting what is true for you right now does not mean that you are stuck that way forever. What is true for you can change. Changes happen.
Life gets busy, complicated, and pressured. We make it worse by thinking we "should" take this or that action. We let our minds rule our hearts. You may think you "should" be grateful for example, but honestly, you might be feeling lacking and empty. Take a moment to acknowledge those feelings, really feel them. Breathe deeply. Let go. Then find one little thing you can feel grateful for.
As I suggested to my client, try replacing should with could. Could opens a door of possibility, where should closes it. Listen to what is true for you. Accept it, for now.
The good news with my client is that she changed her mind about what she thought she should be, do or have. That night she slept better than she had for a long time.
No accident perhaps that should is in the word shoulder. Pain in the shoulders may result from carrying a burden of shoulds -- guilt perhaps (I should have... ) or resentment (they should have... )
Set your spirit free with genuine forgiving. Take yourself to heart and love you beyond your burdens. Deep down, you are more remarkable than you could ever imagine.
The story below illustrates one who is free in their spirit, and another who is pressured out of it.
Law of the Garbage Truck Written by David J. Pollay Reprinted with permission by author

One day I hopped in a taxi and we took off for the airport. We were driving in the right lane when suddenly a black car jumped out of the parking space right in front of us. My taxi driver slammed on his brakes, skidded, and missed the other car by just inches! The driver of the other car whipped his head around and started yelling at us. My taxi driver just smiled and waved at the guy. And I mean, he was really friendly. So I asked, "Why did you just do that? This guy almost ruined your car and sent us to the Hospital!"

This is when my taxi driver taught me what I now call, "The Law of the Garbage Truck." He explained that many people are like garbage trucks. They run around full of garbage, full of frustration, full of anger, and full of disappointment. As their garbage piles up, they need a place to dump it and sometimes they'll dump it on you. Don't take it personally. Just smile, wave, wish them well, and move on. Don't take their garbage and spread it to other people at work, at home, or on the streets.

The bottom line is that happy people do not let garbage trucks take over their day. Life is ten percent what you make it and ninety percent how you take it! Have a blessed, garbage-free day!

Do you ever put yourself under pressure with a "should"? How do you feel when you are being true to yourself? What do your friends love most about you?
Re-tweet or pass to friends who may enjoy this post.
For information on my future blogs, click on Become A Fan at the top.