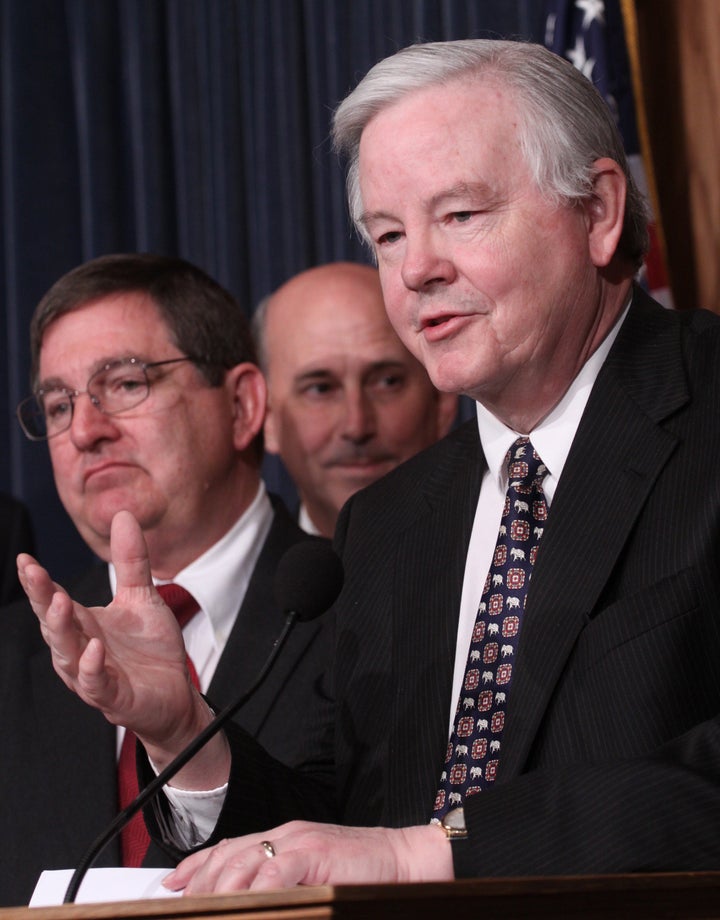 Jordan Howard contributed to this report.
WASHINGTON -- The House of Representatives will vote Tuesday on whether to repeal light bulb efficiency standards that are set to take effect at the beginning of 2012, with some lawmakers arguing such regulations amount to an assault on personal freedom.
Though the new standards would save the country billions of dollars per year -- around $6 billion in 2015 alone, according to White House estimates -- Republicans have opposed efficiency standards on the grounds that consumer choice should not be dictated by government bureaucrats.
"This is about more than just energy consumption, it is about personal freedom," said Rep. Joe Barton (R-Texas), a sponsor of the new bill, in a statement earlier this year. "Voters sent us a message in November that it is time for politicians and activists in Washington to stop interfering in their lives and manipulating the free market. The light bulb ban is the perfect symbol of that frustration. People don't want congress dictating what light fixtures they can use."
Rep. Fred Upton (R-Mich.), chairman of the Energy and Commerce Committee and the lead sponsor of the light bulb provision when it was introduced as part of a Republican-backed energy bill signed into law in 2007, has since walked back his support for the standards: He told The Hill's Andrew Restuccia, "It was never my goal for Washington to decide what type of light bulbs Americans should use. The public response on this issue is a clear signal that markets - not governments - should be driving technological advancements. I will join my colleagues to vote yes on a bill to protect consumer choice and guard against federal overreach."
The new lighting standards do not ban incandescent bulbs, said Michelle Schaefer of Consumers Union, the nonprofit publisher of Consumer Reports. Rather, they set benchmarks that are are technology-neutral, and manufacturers have already developed more efficient incandescent bulbs that are available and on the market today.
The Natural Resources Defense Council, a leading environmental advocacy group, said Americans' energy costs would be reduced by an average of 7 percent, or about $85 per household per year, and the country would save more than $12.5 billion annually by 2020, when the new standards are fully implemented.
"Lighting accounts for 10 to 15% of household electricity use, and is one of the cheapest efficiency upgrades available to consumers," Schaefer said in a statement. "By repealing these standards, we would increase consumer energy costs, waste energy, and diminish the lighting choices available to consumers."
The House debated the bill Monday night, and a floor vote is expected Tuesday that would require a two-thirds majority to pass. But whether the provision is passed by the House, it faces dim prospects in the Democratic-controlled Senate.
The Obama administration announced its opposition to the repeal efforts in a statement on Monday night, saying the bill would stifle U.S. innovation as well as the creation of new manufacturing jobs.
UPDATE 6:55 p.m.: House lawmakers on Tuesday night rejected a bill to repeal light bulb efficiency standards that conservatives have argued amount to an assault on personal freedom.
The Better Use of Light Bulbs Act failed to garner the two-thirds majority needed for passage. The vote was 233-193.
"Fortunately, the Republican attempt to repeal minimum efficiency standards for light bulbs failed," said Rep. Ed Markey (D-Mass.), the ranking member of the Natural Resources Committee and a senior member of the Energy and Commerce Committee, in a statement after the vote. "But it is a reflection of how radical the House Republican majority has become that a bipartisan, common-sense provision supported by both industry and environmentalists was threatened with repeal, and that the House wasted its time on such a matter when we have much more important work to do to create jobs and reduce the deficit."
Calling all HuffPost superfans!
Sign up for membership to become a founding member and help shape HuffPost's next chapter