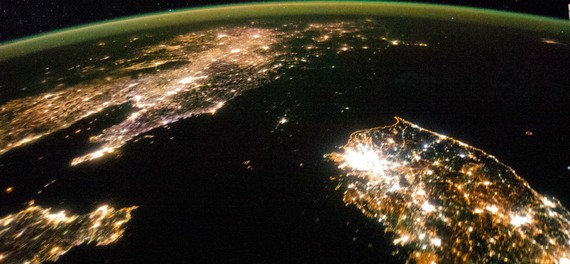 Astronauts on the International Space Station (ISS) took this night image of the Korean Peninsula. Photo via NASA
By Amanda Schnetzer and Victor Cha
Over the last several weeks, a Hollywood film has put North Korea in the headlines and captured the world's interest. Whether Kim Jong Un's government played a role in a cyber-attack against the United States is a serious issue that deserves our attention, but more urgent are the unspeakable atrocities committed by an isolated regime against its own people. As the story of the Sony hack unfolds, the story of those living in tyranny in North Korea remains largely untold.

An unprecedented United Nations resolution last fall classified the North Korean regime's horrific treatment of its people as crimes against humanity. Now is the time to consider what each of us as individuals can do, and what those in positions of authority must do, to improve human rights in North Korea. This is not only part of our moral obligation to those living without basic freedoms; it is critical to our national security.

Over the past year, the Bush Institute has brought together experts, government officials, and leaders in civil society and business to help inform a new path forward for improving the human condition in North Korea. Today, at bushcenter.org, we are releasing our call to action: to raise global awareness of the suffering of the North Korean people, support and empower refugees, increase the flow of information in and out of the country, and make human rights there a priority for all governments.

According to research commissioned as part of the Bush Institute's study, most Americans know that North Korea denies its people basic rights. Yet only half of Americans have ever heard of the country's gulags, where as many as 130,000 men, women, and children are held captive without charges or trial. And while only a few Americans know about the UN Commission of Inquiry's recent work to document North Korea's abuses, more than two-thirds agree that the international community has a responsibility to help. It is clear: we must raise global awareness of the atrocities occurring in North Korea.
More must also be done to break down the regime's information barriers inside North Korea. Radio transmissions and balloon drops of pirated DVDs and videos are starting to show North Koreans what life is like beyond their borders. Additional broadcasts with content focused on government corruption, the success of informal markets, and the role of women entrepreneurs could empower them. The proliferation of technologies that escape the censors' reach could stream more information into North Korea.

The way forward should also include more and better resettlement opportunities for North Korean refugees. The United States is the only nation outside of South Korea to operate such a program. But so far, fewer than 200 refugees have settled here.

Joseph Kim is a 24-year-old refugee who, at the age of 12, saw his father starve to death, his mother disappear, and his sister flee to China in search of food. When he was 16, Joseph decided to escape North Korea. While hiding in China, he met a Korean-Chinese grandmother who protected and fed him until he found help from Liberty in North Korea (LiNK), an NGO that provided shelter and later helped him escape to the United States.

Joseph was taken in by an American family and is now in college studying international business. He is still searching for his sister. There are many more people like Joseph who need our support. More must be done to increase the number of refugees who resettle in the U.S., and other free nations should adopt similar programs.

Joseph is one of several escapees -- men and women alike -- who have visited the Bush Center in Dallas and shared their stories. Also among them is North Korean political prison camp survivor Shin Dong-hyuk. Dong-hyuk is the only known person to have been born in a North Korean gulag and escaped. His story is heartbreaking, and his time in the gulag was brutal. But he is remarkable. He harbors no bitterness -- just a desire to adjust to freedom and determine how he will live his new life.

During the conversation we discussed the importance of helping remind people who live in darkness that there is light. Governments, civil society, the private sector and individuals all have a role to play in shining the light of freedom on the 24 million North Koreans who remain trapped behind Pyongyang's iron curtain.
Amanda Schnetzer is the Director of the Human Freedom Initiative at the George W. Bush Institute.
Victor Cha formerly served as Director on the National Security Council staff in the George W. Bush Administration. He is the Korea Chair at the Center for Strategic and International Studies, Director of Asian Studies at Georgetown University, and a Fellow in Human Freedom at the George W. Bush Institute.
Popular in the Community