There's an old saying that lightning never strikes the same place twice. After all, what are the chances that lightning will strike a specific place even once? Hard to imagine. But twice? I don't think so.
I grew up on Little Tree Lane. I kid you not. Quaint little name for a quiet little street. Big lots, well maintained houses, nice neighbors, groups of kids walking to school together. You'd never guess that my house on Little Tree Lane actually WAS hit by lightening. Twice.
I think I was pretty young the first time. I know that the lightning hit a light switch downstairs but that's all I know. I had to have been pretty young not to remember because believe me, when you've been where lightning strikes it makes its impression.
We're all different. There are things we worry about and things we do not. When you live in a house that's been hit by lightning, you worry less in a storm. You're completely confident that even in a bad storm, the one place that lightning is NOT going to hit is your house.
The second time it happened I remember vividly. The crash is deafening. The earth shakes. Hard. The wall is black. Before you even know what just happened, you know you are terrified.
My whole life I looked back at those lightning strikes and thought what incredible bad luck that was. And then, a few years after I got married, it all came full circle.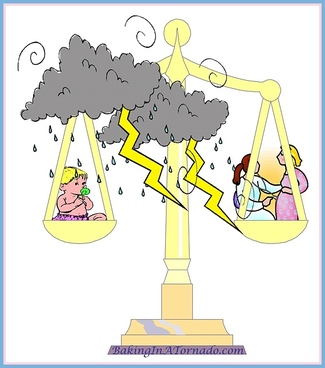 I was already living 1,500 miles away at this point. I was far from home and family and my doctors, and I could not get pregnant. We saw different doctors, attempted surgery that could not successfully open my tubes to the point of viability, and were faced with the fact that the only option that could result in my giving birth was IVF, In-Vitro Fertilization. It was a physically and emotionally arduous process, with the depressing statistical chance of a cycle ending in pregnancy at around 15 percent at that time. Our story is a very long story, each element an entire story in itself. I won't go into the whole thing here and now.
It's not the kind of story you glaze over either, but here's the basics: the first attempted cycle was abruptly ended by growths on my ovaries. The first full cycle ended in pregnancy. And miscarriage. The second was a pregnancy with twins. The twin that was ectopic, inside that little bit of tube we had opened, could have killed me but emergency surgery in the middle of the night, when my husband was out of town and while the tornado sirens were sounding as I drove myself to the hospital successfully removed that tube. Miraculously my reproductive endocrinologist was able to do it without jeopardizing the other viable fetus.
Seven months later lightning struck. Against great odds we had a son.
Here's the thing about having lived in a house struck by lightning twice. You end up with a skewed perspective. You know it can happen.
Not long after my older son's birth we decided to try again. It's a harder decision than you'd think. We had an amazing gift, did we really want to jump onto that emotional roller coaster again? If not for those lightning strikes on Little Tree Lane all those years ago, I could very well have been a person who believed you beat the odds but once in a lifetime. But as it happens I was not.

My first attempt ended abruptly when the embryos I had frozen were not viable at transfer time. OK, off all the meds and try a full IVF cycle. This one ended in pregnancy.
At about 10 weeks pregnant, while back home visiting family, I woke up cramping and in a pool of blood. My reproductive endocrinologist consulted with my former hometown gynecologist, who jumped in despite not having set eyes on me in years. My sister's friend gave me shots twice a day. I was on bed rest. It was a wait and see situation.
The following March lightning struck again. We had two sons.
I wanted my kids to know the circumstances that brought them to us. They were always told the basics of how we came to have them and how many people we needed to help us. When the boys were little we used to go into that endocrinologist's office once a year. They went to tell her "thank you for putting me in Mommy's belly."
I know you think that I'm telling you this story but I'm not. I'm reminding me. It's worth remembering. In my life, lightning HAS struck twice.
And it has happened... twice.

Karen is a former Director of Social Service and Retail Buyer, now adjusting to a semi-empty nest. She blogs and shares recipes at BakingInATornado.com.
Karen's been featured on websites including BlogHer, BLUNTmoms, The Daily Meal, Mamapedia, Scary Mommy, GenerationFabulous, Treat a Day, Foodie Network, Wellnez TV, Midlife Boulevard and BA50. She's a BlogHer Influencer as well as a contributor to The TODAY Show Parenting Team, The Culinary Content Network and Felicity Huffman's What the Flicka. Karen has been published in the Life Well Blogged series and co-authored the book The Mother of all Meltdowns.
For updates, visit her blog at Baking In A Tornado.
and her Baking In A Tornado Facebook Community.
Related