Considered a time of repentance, sacrifice, and deep spiritual growth - Lent embodies the dichotomy of dark and light. As we focus for 40 days on atonement, we must not forget the power of positive action as we pursue spiritual enrichment. As we observe Lent this year, let us reflect on not only ourselves, but the world around us and find ways to respond and seek to counterbalance the darkness. As the light of Jesus draws our attention to the Holy Land, now more than ever, we must be keenly aware of the disturbing realities affecting Israelis and Palestinians living in the land of Israel and the occupied Palestinian territories.
During the 2014 conflict in Gaza, the main power plant in Gaza was severely damaged. Limited access to electricity has been significantly exacerbated by the difficulty in purchasing Diesel fuel due to a financial conflict between the Palestinian Authority and Hamas. According to the Israeli human rights organization, GISHA, the only remaining reservoir is small and can supply fuel for only up to three days, placing Gazans in the dire emergency of facing total darkness for up to 21 hours a day. The electricity crisis significantly contributes to the severe humanitarian crisis in Gaza.
The limited electricity and fuel disrupts access to clean water. Lack of reliable electricity prevents regular operation of water pumps and wells. GISHA's recent report, Hand on the Switch: Who's Responsible for Gaza's Infrastructure Crisis, states that water in Gaza is contaminated with six times the recommended suitable amount of chlorides and nitrates. This contamination forces Gazans to rely on trucked in bottled water because 95% of the water more readily available is unfit for human consumption. B'Tselem's (The Israeli Information Center for Human Rights in the Occupied Territories) report Israel Cannot Shirk its Responsibility for Gaza's Electricity Crisis shows that sewage treatment plants cannot operate regularly, thus treatment cycles have decreased, resulting in only partially treated sewage going into the sea. Deeply impacting Gazans health, these unsanitary conditions can result in diarrhea, cholera, dysentery, typhoid and polio. To amplify these issues, several main hospitals barely have enough fuel to operate for five days and are forced to rely on generators. The lack of reliable electricity significantly limits any opportunities for stability within civil society, because so many aspects of daily life depend on electricity.
Here are some of the profound ways daily life can be affected by limited electricity: Public transportation becomes unreliable. Schools, universities, and hospitals cannot operate with full functionality. Internet and cell phone usage is limited. Household appliances become inoperable – which includes air conditioning in the summer and heat in the winter. Industrial and agricultural sectors are also affected impacting access to fresh food because crops cannot often be properly irrigated. Tania Hary, executive director of GISHA, offered further insight during a webinar discussion I hosted with Churches for Middle East Peace (CMEP). The webinar focused on the unsustainable realities on the ground in Gaza. For example, since January 2017, Qatar donated 12 million dollars to purchase fuel in an attempt to address the electricity crisis, but those funds will only last a few months.
In the darkest of times, we often need God the most. May this Lenten season allow us to seek light in the midst of darkness. As we experience the light of God, may we share that light with others. One tangible way of giving light is by donating a small inflatable solar powered light to a family in Gaza. For every $25 donation, a family in Gaza receives a light. The light will provide greater opportunities for students to study, mothers to cook meals for their families, and for children to play. In addition, for every light, one individual will take the message of the humanitarian crisis and limited electricity in Gaza to elected officials on Capitol Hill, seeking to address the systemic issues contributing to the problem.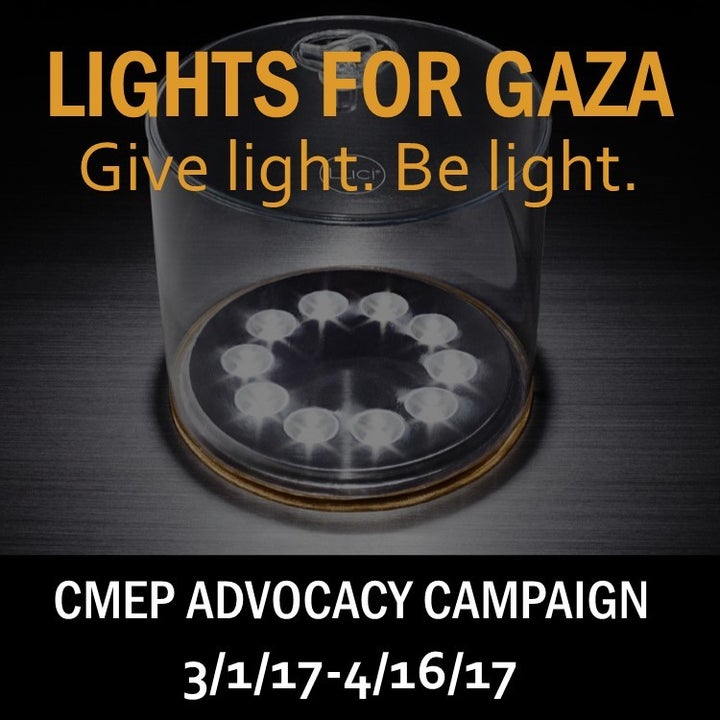 We hope and believe that the individual solar lights we send into Gaza will be meaningful for families, but we acknowledge that without sustainable solutions to the crisis, Gazans could face yet another period of darkness. According to the United Nations, the electricity provision will need to double by 2020 in order to meet population demand or Gaza could become uninhabitable. As we send points of light into the darkness, we work and pray for the structural changes needed to make light a reality for Gazans.
I am grateful that the darkness of Lent is only a season… and soon the Light will come.
Related
Popular in the Community