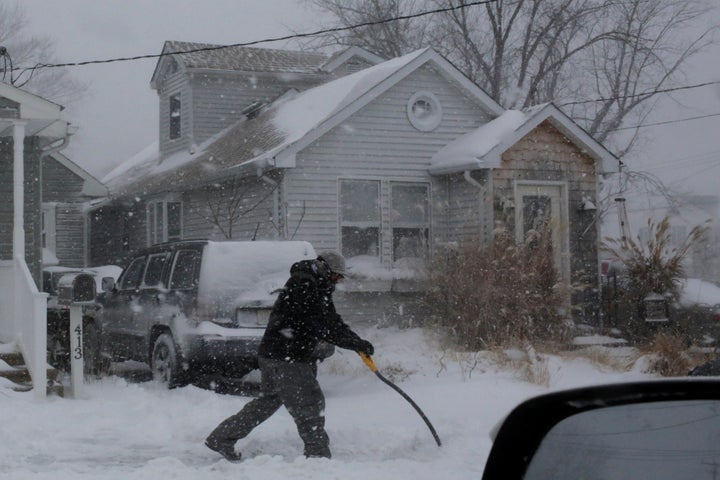 WASHINGTON ― After then-President Barack Obama and Republicans in Congress cut funding for a federal program that helps poor people pay utility bills in 2011, warm weather and low fuel prices mitigated the impact of the change.
But now, unusually cold weather and rising prices could cut into the benefits that reach only 6 million households, just 16 percent of those eligible.
"If this is what the rest of the winter's going to look like, we're going to have a tough time," said Mark Wolfe, head of the National Energy Assistance Directors' Association, a lobbying group for state heating assistance programs.
"Families in the Commonwealth will soon confront a home heating emergency as LIHEAP funds are exhausted while extreme cold weather continues to strike the region," the lawmakers, all Democrats, wrote in their letter. "Families in the Northeast are also facing heating fuel prices that are significantly higher than last winter."
Since the early 1980s, the Low Income Home Energy Assistance Program has helped millions of households heat their homes in winter and cool them in summer. Partly because of higher fuel costs, Congress boosted the program's funding to $5 billion for 2009 and 2010, then started paring it back after the Obama administration signaled it was willing to sacrifice social spending to cut deals with Republicans. The program currently gets $3.3 billion.
"We had a huge spike in energy prices, and the program doubled to $5 billion," White House budget director Jack Lew said in 2011. "We're now at a price level that's close to where we were before that increase."
Energy prices subsequently increased again, bottomed out in early 2016 and are now on the rise once more, according to data from the U.S. Energy Information Administration. Several relatively mild winters have alleviated the impact of the higher prices in recent years, but 2018 started out unusually cold across most of the U.S.
Wolfe said heating oil price increases will effectively reduce the value of federal assistance for home heating costs from 61 percent two years ago to 52 percent today for households that benefit from the program.
While the Obama administration supported cuts to heating assistance, the Trump administration proposed getting rid of it entirely as part of an austere budget last year that took funding from safety net programs and gave it to the military. (Most of the budget was a nonstarter on the Hill.)
Trump budget director Mick Mulvaney called heating assistance wasteful and cited a Government Accountability Office report from 2010 that found 9 percent of beneficiary households had incorrect information on their applications, including 11,000 Social Security numbers belonging to dead people.
"Eleven thousand dead people got this benefit a few years ago," Mulvaney told Congress in May. "Dead people!"
Keith Wilson of Wendell, Minnesota, said he'd called the Minnesota Department of Commerce to request a heating assistance application on Thursday. His utility costs had increased about $50 per month last year.
Wilson said it's been so cold that a pipe froze and burst in his basement last week. The 61-year-old disabled woodworker faulted himself for not keeping the heat high enough in the basement, but said he's been scraping by on Social Security Disability Insurance benefits.
"I had to take out a loan to get a tooth fixed," he said.
Arthur Delaney co-hosts the HuffPost Politics podcast:
Popular in the Community