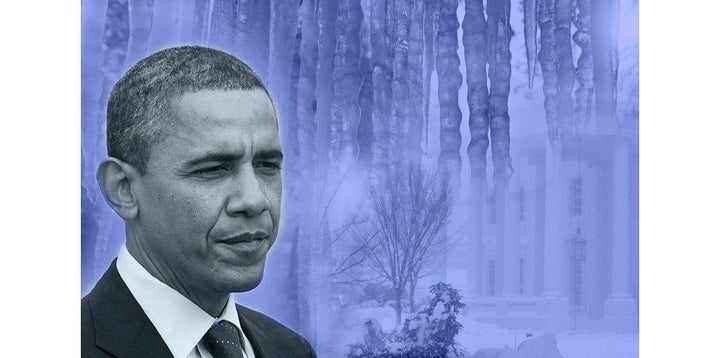 Ralph Olivieri of Coventry, R.I., says he and his wife Alexis will run out of heating oil in a couple weeks after receiving roughly $400 worth courtesy the federal government's heating assistance program in December.
"I got the temperature down to 65, and I got to keep a jacket on and a couple of sweaters in the house, because I never know when the next oil's gonna come," Olivieri said.
Olivieri, 81, had applied to a local nonprofit for heating oil under the federal Low Income Home Energy Assistance Program. "They send you a letter, they call the oil company up and send the $400 to them," he said. "On the letter they say that's my allotment for oil. They don't say that they're gonna give you any more."
It's not likely they will: Just in time for the start of winter, Congress and the White House reduced LIHEAP funding by 25 percent. The federal government doled out $4.7 billion for heating assistance in fiscal 2011; the 2012 allotment is $3.5 billion. The cut happened in December as lawmakers scrambled to fund the government before they left town. The result will be less heat for fewer people.
Nearly 9 million households received assistance in 2011, according to the National Energy Assistance Directors' Association, a Washington group that advocates for household energy subsidy programs. The average benefit was $417 per year. Ninety percent of households that received assistance last year had at least one "vulnerable" member, which NEADA describes as a person who is older than 60, younger than 18 or disabled. Households are eligible for the program if their income is at or below 150 percent of the poverty level or 60 percent of their state's median income.
NEADA director Mark Wolfe said the smaller appropriation would mean assistance for roughly 1 million fewer households. Mostly, the reduction would mean less aid for many of the homes that do get help.
"We'll really see the problems next month," Wolfe said. "We've never gone into the winter before with heating oils this high."
Members of Congress from northeastern states have been pushing to maintain LIHEAP funding at the current $4.7 billion level, but that's not likely to happen.
Early in 2011 President Obama proposed cutting energy assistance all the way to $2.5 billion, pointing out that the cut would only reduce LIHEAP funding to its 2008 level. Congress first increased LIHEAP funding for fiscal 2009, doubling the program's funding to $5 billion from $2.5 billion in 2008.
But the members of Congress lobbying for increased aid say their constituents are still feeling the effects of a lagging economy.
"Even though the number of households eligible for the program continues to exceed those receiving assistance, this funding has been a lifeline during the economic downturn and rising energy costs, helping to ensure that people do not have to choose between paying their energy bills and paying for food or medicine," wrote Sen. Jack Reed (D-R.I.) and Sen. Olympia Snowe (R-Maine) in a Tuesday letter urging President Obama to set LIHEAP funding at $4.7 billion in his forthcoming budget proposal for 2013.
How the cuts affect low income households varies by state. In Vermont, the effect will be minimal: State lawmakers are dipping into reserves to make up the shortfall from Washington's cuts.
No such luck in Maine, which saw its allotment drop from $56 million to $38.5 million. Last year 64,000 Maine households received LIHEAP assistance, with an average benefit of $804. The quasi-state agency that manages LIHEAP will make sure no fewer people receive assistance, partially by shifting funds and partially by slashing the average benefit to $483.
"We are seeing more people than ever with no resources to heat their homes," Rick McCarthy, a consultant to the Maine Community Action Association, which processes LIHEAP requests, said in a statement. "We are counting on the generosity of Maine people and businesses supporting Keep ME Warm and other efforts to meet that need."
John Adams of Phillips, Maine, said he and his wife Joan get by on $1,500 a month in Social Security checks. They're "hurting for fuel," Adams said, "because we can't get as much help as we got in the past." Adams, 74, said for the past three years he's applied for fuel from both LIHEAP agencies and Citizens Energy, a nonprofit that provides heating oil to seniors. He said he received 100 gallons of fuel from LIHEAP three weeks ago, and that the line's always busy lately when he calls Citizens Energy.
In the meantime, they're keeping the thermostat low to save funds.
"At night we leave it down to 50 and during the day right now we run it at 60 degrees," he said. "This is ludicrous. The wealthy can handle it. We haven't got any money. I go to the food bank. All I get is outdated cans and a lot of spaghetti. There's a rich versus poor situation in this country. It's bad."
Ronald Renaud, director of the Rhode Island Department of Administration, said the state is expecting roughly $23 million in LIHEAP funds this year, down from $31.1 million last year. "I think it's safe to say fewer households will receive a benefit this year than they did last year," Renaud said. "$390 a home and you have 30 percent less funding, there's gotta be some cuts."
Ralph Olivieri of Coventry said he's used credit cards to pay for fuel when he can't find another way. He's called churches and other charitable organizations with no luck. He said he and his wife together receive only about $1,300 a month in Social Security retirement benefits and that it costs $1,200 to $1,500 a year to heat his home, which is the same one he's lived in for the past 55 years.
"When you're living on social security you just can't afford it," he said. "I know they reduced [LIHEAP funding]. It's kind of ridiculous. ... The politicians are all screwed up anyway."
CORRECTION: An earlier version of this article incorrectly reported the 2009 stimulus bill increased LIHEAP funding to $5 billion. The increase came from a 2008 appropriations bill.
Popular in the Community