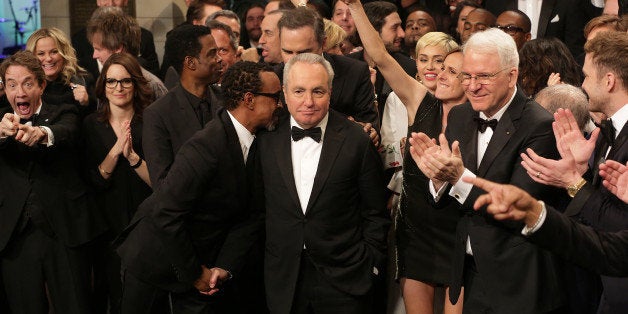 With the birthday of Saturday Night Live this weekend, we celebrated 40 years of an institution. In those four decades, television entertainment options have increased exponentially, but SNL has been the one constant. And who has been the only constant of that constant? The boss: Lorne Michaels. There's a lot to be learned from Lorne -- he's good enough, smart enough, and doggone it, people like him. Here are six-and-a-half "bossy" tips that make him the ideal head honcho:
1. Always be developing new talent. SNL has long had a mix of seasoned veterans blended with new upstarts, creating a balance of beloved established characters while developing a new pipeline of talent. Having an experienced office is great, but new perspectives can drive fresh ideas along.
2. If the talent is ready to move on, let them go. When SNL stars were primed to explode onto the movie scene, Lorne kicked them out of the nest. The loss of a talented cast member was always a short-term setback for the show, but Lorne knew that he could consistently attract the best new talent because of the stars he developed. We live in a retention-driven business world, but the best leaders have the individual interest of each employee in mind.
3. Don't panic. Let's face it: It has not been all sunshine and rainbows for SNL. There have been bad seasons when a young cast was trying to find its way, but a good leader like Lorne trusts the formula for success and doesn't get overly concerned with a short slump.
4. Live in the moment. The water cooler debate about the best SNL cast has been a generational divider for... well, 39 years. My parents would argue that it never got better than the original cast of Belushi, Radner and Chase, and I prefer the 90s stars of Farley, Carvey and Meyers. But resist glorifying the past. A good leader appreciates the journey and learns from mistakes, yet knows enough to leave former conquests and problems in the rearview.
5. Cultivate a mentor system. As new cast members have come through the ranks, other alums have snatched them up and put them in their films. Encouraging your higher-ranking staff to identify and help nurture up-and-coming talent can lead to a more cohesive unit.
6. Be a place that your former employees want to come back and visit. The most magical part of the "SNL 40th Anniversary Special" was not only the amazing assembly of talent, but the fact that you could see how proud they were to be SNL alums. We might not be able to assemble A-list stars at our offices like Lorne, but by treating employees the right way, we can create an atmosphere that makes people want to come back.
And six-and-a-half: Remember to honor those we've lost along the way. RIP Jon Lovitz.*
Related
Popular in the Community