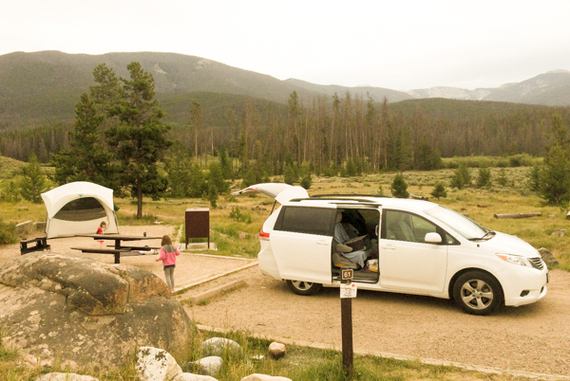 Car camping with my Ticla Mojave 4-person dome tent, near Granby, Colorado. It's true that car camping means you can bring some extra stuff, but not too much.
BOULDER, COLORADO -- I used to be a backcountry camper. I went light. I brought only what I could carry on my back. Now, as the proud father of three Colorado native daughters, ages 2, 5, and 7, I'm ready to embrace my family's full car camping--and glamping--potential.
It's a whole new ballgame, but I'm ready to play. First, I'm tricking out our suburban minivan into a car-camping assault vehicle. All summer long, we are ready to bug out and sleep under the stars at a moment's notice. We started the season with a few short overnight trips in early summer, and now we're going big, taking a road-trip across the western half of Colorado for nearly a month.
I don't want to pamper my kids and make it too comfortable, but I want to make the experience easy on everyone, so that we'll want to plan another trip next year. Part of this balancing act is having the proper gear. Following are a few suggestions based on my experience plus a few new-fangled gadgets I'm trying out for the first time.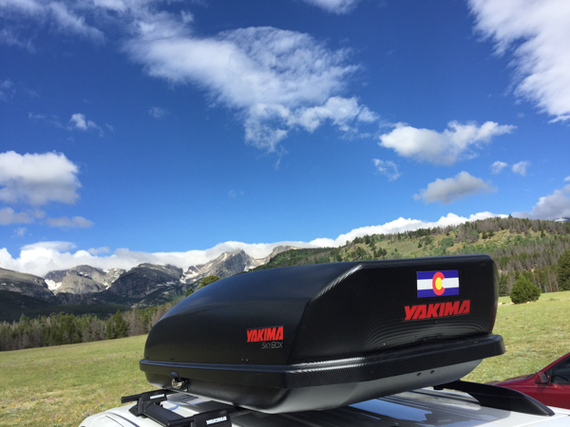 The Yakima SkyBox, or any similar sturdy roof storage, opens up space inside your vehicle and allows you to stay packed all summer long. Seen here near Long Draw Reservoir, in Northern Colorado.
The Vehicle and Roof Rack
Any vehicle will do. You can rent a camper, van, or RV, or just pile your stuff into the back of your sedan. It's true that car camping means you can bring some extra stuff, but not too much. The more you bring, the more there is to unpack and clutter up your vehicle and campsite.
The first step is to use the roof to free up precious space inside. I got 21 cubic feet of extra space with my Yakima SkyBox 21 Carbonite. My plan is to keep the tent, stove, sleeping bags, and pads in there all summer long. That way, I'll always be packed for the next trip, and we'll have space inside for more important things, like elbows, breathing room, and a (well-secured) cooler full of drinks and snacks.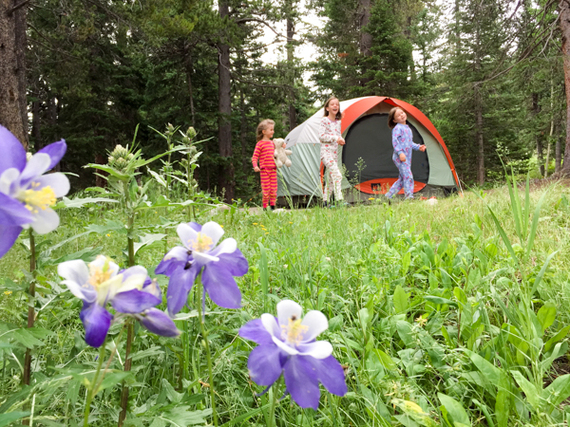 My daughter and her buddies, making lifetime memories at a group site at Peaceful Valley Campground, just under the Continental Divide
I pack everybody's sleeping bags, pads, pillows, and pajamas into two army duffels, to be tossed into the tent the minute it's standing. I have two tents, depending on the mission. When it's just me and my two older girls on a one- or two-night escape, we roll with a Ticla Mojave 4-person dome ($400), which feels more like a 6-person, especially with tiny bodies. Ticla tents are designed to cover the car camping gap, heavier and more spacious than you'd carry into the backcountry, but still easy to fit in the trunk and set up.
When we go camping as a family of five, however, I want to make sure there is more than enough space. For that we're field-testing an 8-person Fast Pitch Jenny Lake tent from Coleman ($329.99). It has a divider down the middle, so the kids can have their own "room" and mom and dad and can have one too, with push-out closet and hanging rod(!), plus we each have our own doors. It's my first 2-BR tent, but because the poles come color-coded and mostly connected, and the ground tarp is built into the floor, it lives up to its "fast pitch" name.
Buy a heavy rubber mallet at your local hardware store ($4), mainly for pounding tent stakes. Otherwise, you'll have to scour every campsite for the perfect pounding-rock. Better yet, grab Zippo's 4-in-1 Woodsman multi-tool ($75), which combines hammer, axe, saw, and tent stake-puller. It's hands-down one of my favorite things to use when setting up or striking camp.
Inside the tent, I make my daughters sleep on old-fashioned Therm-A-Rest RidgeRest foam pads ($15-20). My girls are small and light enough that a simple foam pad is comfortable for them, and I don't want them getting spoiled right off the bat. For mom and dad, however, we get some extra cushion. I've never seen anything like Nemo's Cosmo Air 25L sleeping mattress ($139.95). The integrated foot pump works really well to blow it up without using your lungs at all, and in the morning, popping the air valves drains it in seconds. Put two of these pads side by side, and then slip on a custom bottom sheet and Mambo Duo 20-degree backless quilt ($269.95), and we have a worthy master bedroom on our side of the tent. The Mambo quilt is huge and has a "footbox" that hooks into the pads.
Another relatively luxurious mattress option that fits easily in your trunk or roof box is a single-thickness, queen-sized Coleman DuraRest air mattress ($49.99). Their DuraRest line, which came out in spring, 2015, is more puncture resistant, stronger, and lighter than their standard air mattresses and it is made specifically for rough car camping. Just plug it into a car-charger to inflate the mattress.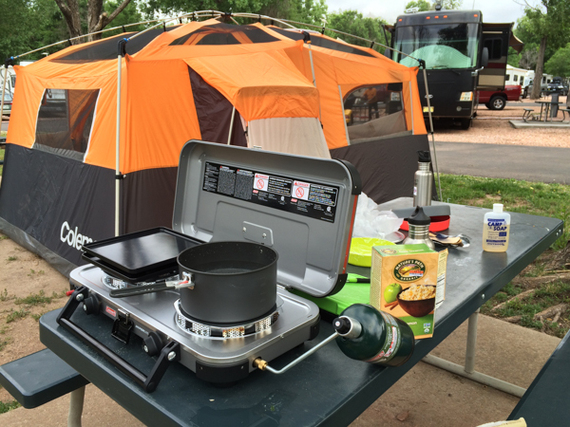 Tent camping in a sea of RVs, with my Coleman Gladiator Series FyreKnight stove and Jenny Lake 8-person tent; both would be too heavy for backpacking, but are just right for car camping. At Garden of the Gods RV Resort in Colorado Springs, Colorado.
Start with a table-top, two-burner stove that fits across one end of your campsite's picnic table. Coleman, the venerable old camping company based in Golden, Colorado, released six new stove models in 2015 with a wind-resistant technology that they claim cuts boiling time in half. I have the Gladiator Series FyreKnight ($159.99), which comes with non-stick griddle-top attachments for eggs and pancakes and tucks nicely into the trunk. Most new stoves have an ignitor button, but just in case, I carry a MSR Strike Ignitor ($15.95), a nice device to have in your pocket, making it easy to light gas camping stoves without singeing any knuckle hair.
The rest of our family camp kitchen consists of a plastic bin. Most kitchen items you can scrounge from your home or corner thrift shop--plates, cups, bowls, silverware, spatula, and ladle (for hot drinks). For the cleanup, two plastic wash basins, dish towels, Dr. Bronner's soap, small container of bleach or other disinfectant, and pot scrubbies. For cooking, you can bring any old pot and pan, or step it up and grab MSR's shiny, stainless steel Alpine 4-pot kit ($79.95), which nest nicely into each other.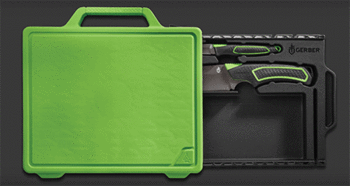 Instead of the dull steak knife from my kitchen though, I'm trying a Gerber Freescape Camp Kitchen Kit ($88), which doubles as a cutting board and lockbox/carrying case for two super-sharp chef knifes. It has a built-in ceramic sharpener and a three-stop locking system which gives me extra peace of mind when we have little ones running around the campsite, getting into everything they can reach.
Usually, we'll be shopping for food along the way, but it's always a good idea to keep a box of dry goods and also a stash of dehydrated instant meals on hand. Good To-Go makes dehydrated gourmet meals; so does Mountain House, which has an enormous variety of menu items and portion sizes, including kits and family-sized cans.
One advantage to car camping is being able to carry plenty of water, just in case the stream by the campground is dry or the water spigot at your site doesn't work. I like a 2.5-gallon hard plastic container as a backup for cooking water and emergencies, plus a couple of 64-ounce vacuum insulated stainless steel Klean Kanteen containers ($59.95). These containers are incredibly efficient, plus they have interchangeable tops and many different sizes, including kids' sippy cups. A set of their stainless steel tumblers is nice for camp, especially the vacuum-insulated pint glasses ($23.95 each), my new favorite for coffee/beer.
Some kind of collapsible water tank is also very handy around camp. I'm trying the 6-Liter Platypus Platy Water Tank ($39.95), by Cascade Designs. Normal cotton towels and rags are fine, especially in dry climates where the sun dries everything rapidly, but having a specialized PackTowl ($7.95-$37.95, depending on size) on hand is nice too, especially for improvised swimming stops.
You should always have a sturdy flashlight in the car anyway, but for the campsite, grab a compact, LED headlamp from Princeton Tec, or place a Thermacell Repellent Camp Lantern ($60) on your picnic table. The Thermacell has both a 300-lumen light and a mosquito repellent that is a "mimic of the natural repellent found in chrysanthemum flower" to establish a 15x15 foot mosquito-free zone around your campsite. For a much smaller, packable light, I love the Coleman Pack-Away Puck Light 250 ($54.99), which shines from both the top and the bottom, charges via USB (runs about 4 hours on high after a full charge), and can fit in your pocket if you need.
Another tent/light option is Big Agnes, an outdoor gear company out of Steamboat, Colorado, with their line of mtnGLO tents with integrated LED light kits, eliminating the need for a lantern at all. They also sell a lighting accessory kit ($39.95) to add to the tent you already own. Yet another lighting option to find your way back to your tent at night without tripping over it, is to hang a glowstick, or some kind of LED clip-on light, like PowerWrapz safety bands, which run on small batteries and can be attached to your tent.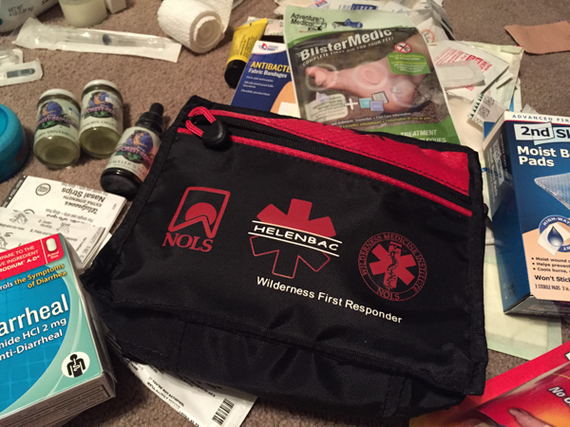 Med kit from WMI/NOLS. Some kind of Wilderness First Responder training is crucial, even if you are planning on camping only in the frontcountry.
First aid kit--and training
For first-responders, "wilderness" is defined as being one hour or more away from a hospital. So even though I'm not taking my family into the backcountry, we may very well find ourselves an hour away from medical care. If you have the time, get a Wilderness First Responder certificate. It is a phenomenal scenario-based course, usually about 60 hours done in 8 straight days. If you can't pull that off, at least take a Wilderness First Aid course, often given over a weekend. Find courses near you at Wilderness Medicine Institute (http://www.nols.edu/wmi/).
For the kit itself, I like to divide it into four compartments: (1) cuts, scrapes, splinters, boo-boos; (2) burn kit; (3) meds, and (4) trauma items like splints, sheers, tape, etc. If you buy a pre-made kit, spend some time before the trip going through all the contents and creating "what-if" scenarios to prepare yourself for the real thing. NOLS (National Outdoor Leadership School) sells some excellent compact kits. It should go without saying that the knowledge and skills to use what's inside any first aid kid is as important as everything inside.
The same thing can be said for most of the camping gear in your arsenal, of course, and the best, quickest way to gain those skills is to get out there--rain or shine. So do it.
Joshua Berman writes a monthly column in The Denver Post called "Around Colorado." He is also the author of the upcoming edition of Colorado Camping (Moon Outdoors: 5th edition, Spring 2016). His website is www.joshuaberman.net.
Disclosure: Some of the companies mentioned above sent product samples for the author to photograph, field-test, and review. The author was not paid by any company mentioned in this article, nor does he have any contract with or work with any specific brand.
Related