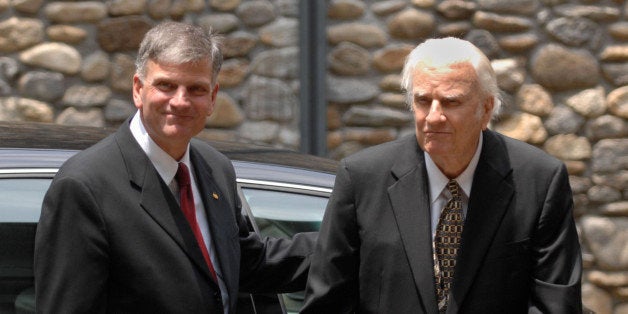 Franklin Graham cloaked himself in his father's legacy when he recently condemned gay adoption as "recruitment" and expressed fear about a gay political agenda. "My father never worried about polls," he stated. "I don't care about them, either. And with the issues we are facing today -- if my father were a younger man, he would be addressing and speaking out in the exact same way I'm speaking out on them." Although Franklin seems far more abrasive than his father, the harsh truth is that the nut does not fall too far from the tree: As a younger man, Billy Graham was rabidly anti-gay.
In 1974, when a young woman wrote to the famous evangelist about her sexual love for another woman, Graham immediately replied with a hellish threat: Homosexual perverts, with their "ungodly spirit of self-gratification," will not inherit the kingdom of heaven.
"[L]et me say this loud and clear!" he added. "We traffic in homosexuality at the peril of our spiritual welfare." (That position was no surprise to Graham's minions: Several years earlier he had described homosexuality as "a sinister form of perversion" contributing to the decay of civilization.)
Graham's God clearly took no pleasure in lesbianism, even one marked by love. "Your affection for another of your own sex is misdirected, and will be judged by God's holy standards," he admonished the young woman.
For the content of "God's holy standards," the fundamentalist turned to the Bible, of course, concluding without reservation that the Word of God "praises the marriage of a man and a woman" but "speaks only negatively of homosexual behavior when it is mentioned."
Convinced by the Bible's fierce condemnation of homosexual acts, Graham counseled the young lesbian to repent of "this insidious temptation" and return to the welcoming arms of Jesus. "Such reformation is possible for you," Graham claimed. "Seize it while there's still a chance."
So make no mistake about it: However moderate he appeared at points, Rev. Billy Graham was just another bigoted preacher spouting anti-gay theology grounded in outdated biblical interpretation.
Unfortunately, Franklin is his father's son.
Billy's worse than before. He stands firm in his harsh position even while now conceding that gay and lesbian inclinations may have genetic roots. In fact, his current website makes the peculiar argument that "in a broken world, the discovery of a genetic link would not prove that such a condition was God's intent. It must be emphasized that even if a biological predisposition to homosexuality in some people exists, it would not change God's opposition to that behavior."
The evangelist thus continues to advise gays and lesbians to seek forgiveness from Christ, separate from people and surroundings that encourage same-sex feelings, and get help from a Christian counselor who practices so-called reparative therapy. For Graham, "any willing person can be liberated from homosexuality through the power of Jesus Christ."
And so while Franklin Graham is deeply misinformed about countless matters, including gay adoption, he's absolutely right about his father: Like his son, Billy Graham cannot accept gays and lesbians just as they are.
Just as they are -- bigoted and anti-gay -- Billy and Franklin are truly father and son.
REAL LIFE. REAL NEWS. REAL VOICES.
Help us tell more of the stories that matter from voices that too often remain unheard.