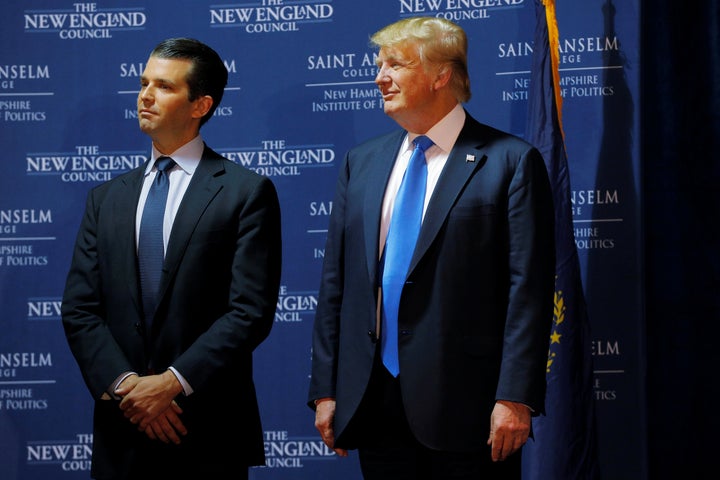 WASHINGTON (AP) — If Donald Trump Jr. is worried, he sure doesn't show it.
His father, the president, is reported to be fretting about his eldest son's entanglement in the Russia investigation. And Don Jr.'s role in the special counsel's probe continues to throw off headlines. But the 40-year-old son is hardly ducking his head.
He's beloved on the right as the swaggering embodiment of the Make America Great Again agenda. And he's embracing his role as a popular emissary for his father, crisscrossing the country on campaign trips, penning op-eds in support of favored candidates and showcasing his new relationship with former Fox News host Kim Guilfoyle.
Unbowed and unapologetic, the son's approach appears to mirror the father's combative defiance toward special counsel's Robert Mueller's investigation. The enthusiastic reception he receives in many Republican strongholds is more evidence that Trump voters are rallying around the president's criticism of the probe — perhaps even fired up by the fight.
Trump Jr. has downplayed any talk of his own legal exposure stemming from his involvement in a 2016 Trump Tower meeting that's a focus of Mueller's investigation into possible links between the president's election campaign and Russia. The president recently unleashed a series of angry tweets on the subject, and in one he acknowledged that his son set up the meeting to seek damaging information about Democrat Hillary Clinton from a Kremlin-connected lawyer.
In another political era, that's the sort of uncomfortable fact that could make someone a pariah on the campaign trail. Today, Trump Jr. is a sought-after surrogate.
He's stumped in West Virginia, Montana, Florida and Kansas in recent months. In the coming weeks, he's expected to campaign in Missouri, Indiana and North Dakota.
"He's one of the top draws, if not the top draw for people not named President Trump," says Jason Miller, a top aide to the 2016 Trump campaign.
His appeal was clear in Great Falls, Montana, recently where he was cheered as he discussed his love of hunting in the state and laid into Democratic Sen. Jon Tester.
"Just because Donald Trump isn't on the ticket in 2018 doesn't mean that everything he has accomplished is not on the ticket," Trump Jr. said, adding: "I'm going to be coming a lot out here in this fall, helping all of these guys."
He welcomed Montana Republican Sen. Steve Daines and Rep. Greg Gianforte onto the stage. Invited to speak, Daines said, "Donald Trump Jr. is a heck of a shot."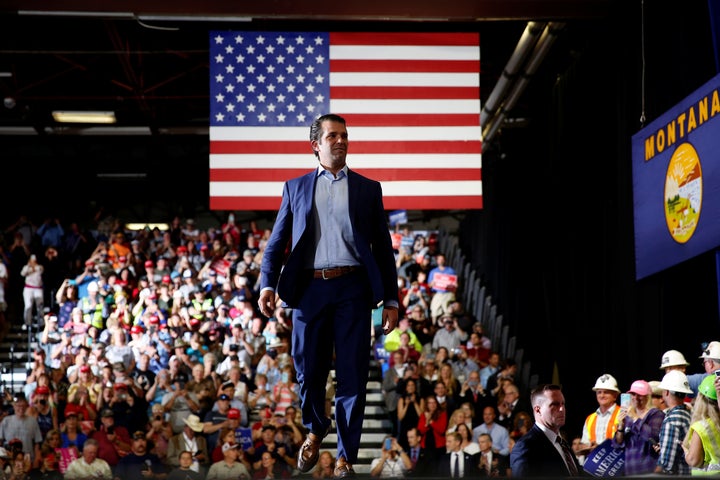 And the Mueller investigation?
"I never see anybody at any of these events, nobody even brings it up," Miller said. "The base loves him because he's a true believer."
In fact, the legal concerns may work in his favor, says Sam Nunberg, a consultant who was a political adviser to the Trump 2016 campaign. "It actually helps him because he's being persecuted," says Nunberg. "Don is the biggest asset of all the kids. He's a guy's guy. He understands the movement. And knows how to communicate it."
Trump Jr. has long been the Trump child most in touch with the president's most ardent voters. He seems to relish the button-pushing, asserting or trolling Tweet. His Twitter feed has traded in conspiracy theories and hard-line messages about immigration or gun control. He once circulated a post that compared Syrian refugees to a bowl of Skittles candy that contained some that "would kill you."
"He's someone who like the president can rile up the base and get party activists excited," said Republican strategist Ryan Williams. "He's probably not someone you're going to send to a swing district, but in a red state he may be able to draw out some base voters."
Republicans say Trump Jr. shows few signs of being rattled by the attention. He is not talking much privately about the investigation and tends to dismiss the scrutiny as mere media fixation, according to a person familiar with his thinking who demanded anonymity to discuss private conversations.
Trump Jr.'s allies believe he's being held to a higher standard than others and that any campaign would have taken the meeting with someone offering dirt on an opponent.
But his legal woes have not been so easily brushed off by his father.
The president has stewed over the media coverage of the federal trial of Paul Manafort, his former campaign chairman, who has been charged with financial fraud as part of the Mueller probe. Though the trial is not connected to Russian election interference, Trump has seethed to confidants that he views the Manafort charges as "a warning shot" from Mueller. He has told those close to him that as he watches the courtroom proceedings, he fears that Donald Trump Jr. could at some point be the one on trial, according to two people familiar with his thinking but not authorized to discuss private conversations.
Despite his behind-closed-doors concerns, the president publicly denies that he is worried about his son. While doing so on Twitter in recent days, he offered a new — and potentially legally damaging — explanation of why his son is under such legal scrutiny.
"Fake News reporting, a complete fabrication, that I am concerned about the meeting my wonderful son, Donald, had in Trump Tower," Trump tweeted last Sunday. "This was a meeting to get information on an opponent, totally legal and done all the time in politics - and it went nowhere. I did not know about it!"
Trump Jr. has acknowledged that he took the meeting in anticipation of receiving dirt about Clinton.
"To the extent that they had information concerning the fitness, character or qualifications of any presidential candidate, I believed that I should at least hear them out," he told Senate staff in a private interview last year.
Trump Jr. told investigators his father was never advised about the arrangement.
Federal law makes it a crime for a campaign to knowingly accept or solicit a "thing of value" from foreign nationals. But Trump Jr. has said he received nothing of value during the meeting, which he has suggested was ultimately a waste of time. He declined to comment for this article but has not shied from the limelight as he campaigns around the country.
In a recent interview with TV host Laura Ingraham, he angrily deemed the matter a Democratic conspiracy.
The meeting lasted 20 minutes and "ended up being about essentially nothing that was relevant to any of these things," he said. "That's all it is and that's all they've got."
Lemire reported from New York. Associated Press writer Eric Tucker contributed.
Popular in the Community