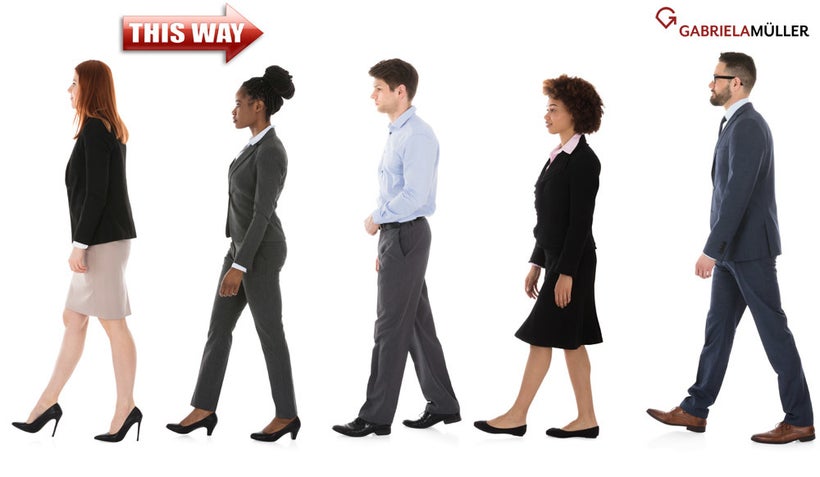 by Coach Gabriela Mueller Mendoza - Coach Trainer Speaker Catalyst -
Bern, Switzerland 03.11.17. The vast majority of living species are capable of walking backwards, even if it's not a frequent occurrence. This ability helps species in dangerous situations or when they feel threatened. The number of animals that cannot walk backwards are few. Kangaroos cannot walk backwards for example- their body prevents them from going in reverse. We, humans though can walk forward and backwards, physically and metaphorically. Unfortunately World Economic Forum Gender Gap Report 2017 just came up yesterday shows we are going backwards in several ways when it comes to closing the Gap! We often focus on progress, though it is also useful to look back and see where we are "dropping the ball". So here some compelling conclusions and a suggestion.
Weighted by population, in 2017, an average gap of 32.0% remains to be closed worldwide across the four main Index dimensions in order to achieve universal gender parity, compared to an average gap of 31.7% last year. This is a yellow / red flag depending on how you decide to see it.
There are a number of countries and regions that have crossed symbolic milestones on the path to gender parity for the first time this year. At the current rate of progress, the overall global gender gap can be closed in 61 years in Western Europe, 62 years in South Asia, 79 years in Latin America and the Caribbean, 102 years in Sub-Saharan Africa, 128 years in Eastern Europe and Central Asia, 157 years in the Middle East and North Africa, 161 years in East Asia and the Pacific, and 168 years in North America.
Report shows also a major gap in Occupational fields. Women are strongly under-represented in Engineering, Manufacturing and Construction and Information, Communication and Technology. Remember those are key areas that determine the present and the future of the world and its solutions to global challenges. The political gap is 23%, unchanged since last. There are some fields that report progress, slow, though some steps forward.
The GDP potential is not doing it! The  economic gender parity could add an additional US$1,750 billion to that of the United States, US$550 billion to Japan's, US$320 billion to France's and US$310 billion to the GDP of Germany. And just think what it could mean for China, a US$2.5 trillion GDP increase from gender parity. That alone should make us fall our chair because the world as a whole could increase global GDP by US$5.3 trillion by 2025 by closing the gender gap in economic participation by 25% over the same period. However, this argument is not getting the expected results.
Gender parity is also fundamental to whether economies and societies thrive. Ensuring the healthy development and appropriate use of half of the world's total talent pool takes a real toll on the growth, competitiveness and future-readiness of economies and businesses worldwide.
I serve this purpose. I stand for this at the core. As coach, business owner, and change maker I work to accelerate this process. I do it through collaboration between business, government, civil society, education, sport and training sector worldwide. So although this report is not good news today, we cannot take our foot off the pedal. We simply can't afford to it. We owe it to our next generations. Let's work together to make this a thriving world. After all, a nation's true success can be measured based on how it treats its women and its girls and how they thrive. We cannot walk backwards. Like Kangaroos, we need to move forward and leap. After reading the #WEF report as checkpoint, I suggest we raise our heads, learn, look forward, roll up our sleeves and work. If you a decision maker and want to change this let's connect and talk.
Ps. To access the report, I suggest get yourself a hot tea first, take a deep breath and click here

Gabriela Mueller Mendoza is a global coach trainer and professional speaker. She empowers diverse teams and female leaders worldwide. From heads of states, to heads of companies and schools. Catalyst who aims at creating a thriving world in business, government, schools, sport and NGOs. Follow her on Twitter gabrielamueller Instagram CoachGabrielaMueller www.gabrielamueller.com
Calling all HuffPost superfans!
Sign up for membership to become a founding member and help shape HuffPost's next chapter
This post was published on the now-closed HuffPost Contributor platform. Contributors control their own work and posted freely to our site. If you need to flag this entry as abusive,
send us an email
.