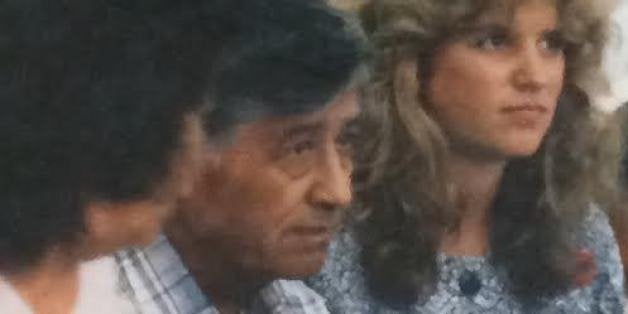 Fifty years ago this month my father, Robert F. Kennedy, traveled to Delano for a Senate hearing, six months into a bitter strike by Filipino and Latino grape workers. To everyone's surprise, he visited a vineyard picket line and spoke with strikers at their union hall.
He was the first national politician to unequivocally embrace their movement and leader, Cesar Chavez, with whom RFK forged a close personal bond. He returned two years later when Chavez broke his 25-day fast for nonviolence, calling him "one of the heroic figures of our time."
Since then our family and I repeatedly stood with Chavez and his cause. I learned about him, first from my father and later my mother. The last time I was with Chavez was in 1988, when he ended his last, and longest, fast of 36 days in Delano over the pesticide poisoning of farm workers and their children.
There was no quality Robert Kennedy admired more than courage. My mother said Daddy told her Chavez was the most moral man he knew. "Moral courage is a rarer commodity than bravery in battle or great intelligence," RFK said. "Yet it is the one essential, vital quality for those who seek to change a world, which yields most painfully to change."
That may explain his admiration for Chavez. Although they came from different worlds, they were about the same age, devoutly Catholic, had big families and were driven in their fight against injustice. Chavez was "paid" $5 a week, never took a real vacation and typically worked six- and seven-day weeks, and 10- to 14-hour days. Sometimes facing death threats, he was singularly focused on giving people hope and opportunities through union organizing, negotiating and administering contracts; on creating innovative infrastructure to sustain those activities; and on legislative and political campaigns to preserve California's historic farm labor act Chavez won. When he established a school at UFW headquarters in the '70s to train negotiators, some union leaders wanted applicants to have college degrees given the tough curriculum. Chavez insisted young farm workers from the fields also attend.
Chavez and his colleagues had a unique vision of a union. They recognized workers are not just workers. Only a union could remedy economic abuses at work. But Chavez knew it would take more than a union to overcome exploitation and prejudice farm workers confronted in the community; it would take a movement.
So he adopted the social unionism of the early 20th century, when unions also represented impoverished immigrants -- Italians, Irish, Poles, Russian Jews -- who also endured discrimination, often didn't speak English and faced crippling dilemmas in the community. Like those early unions, Chavez began organizing by providing services, which evolved into comprehensive programs such as high-quality affordable housing, a Spanish-language educational radio network and academic tutoring for needy students that continue through what today is the Cesar Chavez Foundation.
Chavez proudly belonged to the labor movement, but sometimes diverted from his labor allies, for example by opposing the Vietnam War in the '60s and supporting gay rights in the '70s. The UFW was the first major union to oppose the federal law banning the hiring of undocumented workers, in 1973, long before most other unions acted similarly.
Chavez's example stands out in this era of anti-immigrant bigotry. Although they opposed strikebreaking by anyone, no American labor leader or union championed immigrant rights earlier and more consistently than Chavez and the UFW. Chavez refused demands to check union members' legal status after contracts were signed in 1970. When he won the California farm labor law in 1975, Chavez insisted it protect everyone. The UFW helped enact the 1986 immigration law's provisions providing legal status to 2.7 million immigrants.
The UFW, under Chavez, dramatically improved the lives of tens of thousands of farm workers, documented and undocumented. Union contracts brought -- and still bring -- decent pay, family health care, paid holidays and vacations, pensions and protections from sexual harassment and pesticide poisoning. Moreover, Chavez inspired millions of Latinos and other Americans from all walks of life who never worked on a farm to social and political activism.
My father first stood with Chavez and his movement 50 years ago because he admired their courage and perseverance. That's why I proudly stand with them now as they continue their nonviolent labors.
_______________________________
Kerry Kennedy is president of Robert F. Kennedy Human Rights.
Calling all HuffPost superfans!
Sign up for membership to become a founding member and help shape HuffPost's next chapter