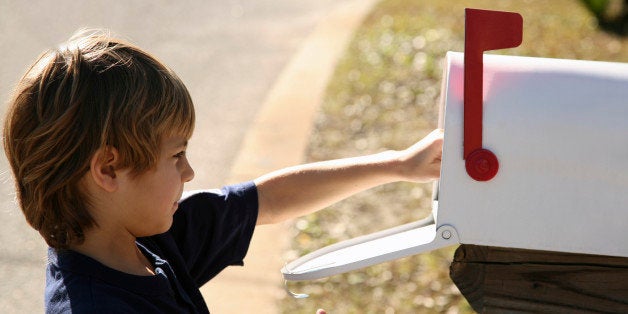 I've always thought that receiving a handwritten letter is like getting a hug in the mail.
I'm one of probably a handful of people who are truly excited -- who even know -- that April is National Card and Letter Writing Month. I'm in an even smaller club of people who accepted the "30 Letters in 30 Days" social media challenge. I'm writing notes like a fiend and loving it.
The handwritten friendly letter is a dying art form. That saddens me, because I'm amazed and gratified at all the wisdom and support that have been passed on to me via letters. Some of these letters came to me as a kid -- from grandparents, a favorite uncle and teachers. They seem more thoughtful, more intentional than the email correspondence of today. When I see my grandfather's graceful cursive handwriting, I can almost hear his voice and the cadence of his speech. These letters are keepsakes, and rereading them still makes me feel good.
My love of letters started when I was young, when I'd blow my babysitting money in a local stationery store. I had several pen pals, and I was one who rarely balked at writing a thank-you card or a letter to Grandma. That may sound unusual, but, as editor in chief of Highlights magazine, I see my young self in many of our readers who write to the magazine with affection, curiosity, and enthusiasm. When we write them back -- and we always do -- they tell us they are surprised and delighted.
Even if writing letters isn't something your child naturally gravitates toward, letter-writing -- habitual or occasional -- is a practice you'll want to encourage your kids to develop. Why? For starters, letter-writing improves their communication skills. It gives kids practice expressing themselves in a clear manner.
Letter-writing also improves handwriting skills. This is increasingly important in an era when handwriting instruction is being cut from school curricula.
And here's my favorite reason: Letter-writing offers kids a way to practice empathy. Is Uncle George having surgery? Is your friend who moved away feeling lonely? Did the neighbor's dog die? These are all opportunities to teach your kids how to think about the feelings of others and write the kind of letter they'd like to receive in these circumstances.
Even writing to Santa Claus or the tooth fairy is good practice. A child can write a letter to his older self and tuck it away to be read down the road -- or included in a family time capsule.
Make it easy. Keep stationery supplies handy, including stamps. The USPS this month released a new stamp, "From Me to You," that has extra kid appeal. The stamp even comes on a sheet with stickers that can be used to decorate letters and envelopes. Keep art supplies handy, too, and encourage the kids who like to draw to illustrate their letters and envelopes.
And, as is ever true, if we adults model the desired behavior for our children, we increase the likelihood that they'll adopt it.
Write a letter today. Maybe you'll get one in return!
Popular in the Community