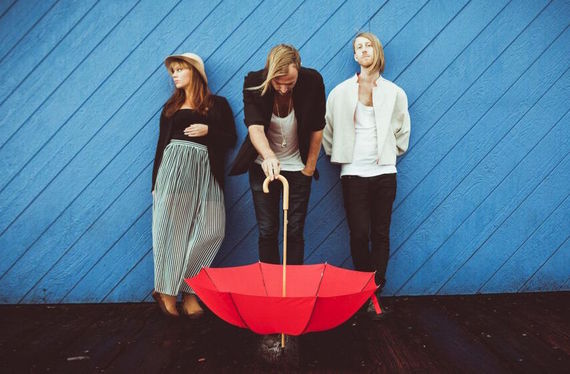 Co-written with Christopher Flakus, Musician and Freelance Writer at Blackheart Magazine and L'Allure des Mots.
Emerging in late 2012 from a five-member group called You Say France & I Whistle (named for a legendary Van Morrison demo put down drunk in a single take), Like Swimming ventured onward to create their debut album Structures, which was recorded in a small cabin just outside of Stockholm. The album featured seven years of writing between Claes Carlström (guitar/vocals), Ida Hedene (vocals/keys), and Petter Wesslander (drums).
In 2014, the Swedish indie-pop trio released Structures, which featured irresistibly catchy love (and death) songs, seamless harmony, and playful rhythms imbued with delicacy. Like Swimming is a magical paradox, possessing an innate aptitude for blending the acoustic with the electronic and showcasing a refined sense of the absurd.
Released this Friday, Tiny Structures is comprised of intimate, stripped down versions of Structure's original tracks. Tiny Structures honors the music in its most authentic and transparent form. The band says, "We've used ukuleles, pencils, glass, and kids' drumkits to create new versions of the songs from the album, and each time we found new energy in the songs as they were transformed. The versions became smaller and smaller, and that's when the idea of Tiny Structures came to us." The EP also includes a couple of new songs -- the band's haunting cover of Major Lazer's "Lean On," and their latest track, "Cover My Eyes." (Above)
Read on as the band talks Tiny Structures, Virginia Woolf, and the joys of playing in hipster living rooms, medieval constructs, and zombie-packed bars.
You mention the lyrics to the song "Cover My Eyes" really fit into the concept of the album. Could you talk a little more about the concept for this album? Is it a "concept album" in your eyes?
We haven't thought of it as a concept album. The concept, or better yet, the main idea or driving force behind the album, has been to go more clean, nude, fragile, honest, and alone -- in that sense, "Cover My Eyes" fits in well. We've realized we don't have to hide the music in layers and layers of tonal curtains, and when the songs get stripped down to the core that they hopefully consist of, we can get closer to the ideas. And that's where we hope to connect to the listeners.
Does the band's name come from the Morphine song of the same name? Are you fans of Morphine?
No, we've only started listening to Morphine after people thought we were a tribute band! Great stuff, though! The Oxford band Foals also has a song called "Like Swimming", and we thought that name could summarize our early sketches of music: anything from airy pop in calm waters to some energy filled crawls and splashy water parks!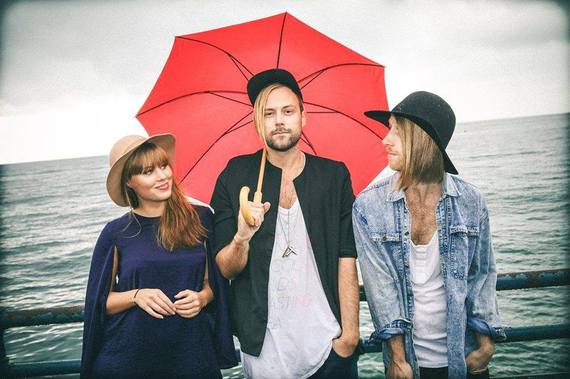 You've performed spontaneously in many places, saying, "We tried to play in as many strange situations as we could find, and so far that's been quite a few. How about a medieval city wall in Sweden, a hipster living room in Brooklyn, or a zombie-packed bar in Connecticut?" Is there a favorite moment or performance of this kind?
To be honest, a good show could be just about anywhere. It's the connection to the audience that's most important. Once we had to improvise an acoustic show in Philadelphia when the PA [system] broke down, and that became really special -- everyone had to be completely silent just to hear our shaky performance!
Playing those kind of shows seems very DIY and improvisational -- is that a driving force in your music or more because of the situation?
DIY is truly a driving force for all of us. Our first EP was made out of screenprinted cloth that we made in Petter's parents' basement. But when it comes to shows, we really like to prepare as much as possible. It's just that the outcome is always different than the plan!
Sweden has a very influential and strong music scene. Are there other Swedish bands (e.g. Dungen, Peter Bjorn and John, The Sounds, and Tallest Man on Earth) that influence your music?
To us, any music could be influential or inspirational. We always keep playlists between the three of us to discuss new music that could give us ideas when we work with new material. Jennie Abrahamson, The Royal Concept, Niki And The Dove, and José Gonzales are a few Swedish acts that we could really recommend!
Lyrics such as "I think I've seen it / the consequence of joy / all the kings of the world / would never take from a boy" in the song "A Room Of Her Own" and the verse "Gotta let me go to let me grow" seem to echo a feeling of freedom and empowerment. For instance, "Mary's gonna blow your mind if you give her a room of her own." Very strong lyrics and quite poetic. What is the writing process like for you? Is there a particular member responsible for lyrics?
For us, good lyrics are poetry. And for us, poetry takes time to give birth to. So the lyrics might be the part of the song that take the most amount of time. And waiting. It generally starts with a few words deeply connected to the melody, but from there it connects to literature, world events, and so on, and grows into an idea. With time, it ages into a whole. You just have to wait, make it grow by letting it go. Sometimes it gets there in a day, sometimes it takes a year.
The title "A Room Of Her Own" is reminiscent, of course, of Virginia Woolf's famous "A Room of One's Own." This is not a coincidence, we take it. Her theme of feminist empowerment seems to run through your song as well. Is the song a feminist song in your view?
We are feminists, and we wrote the song, so in that sense, yes. And as you said, there's a theme of feminist empowerment in the song, but neither the song or Woolf's must-read essay are only that. There are several themes, depending on the perspective.
The album has a sense of yearning for freedom, as well as a lyrical disclaimer -- having too much freedom or greed. (The song "Icarus" serves as an example of this.) Do you feel there is such a thing as too much freedom, either artistically speaking or in life?
Yes, there is. When somebody's freedom takes away other people's freedom, that's too much freedom. And there are many advocates of that kind of freedom in the world today. There is Amnesty International wanting to legalize prostitution, for example, or LGBTQ-organizations working for legalization of surrogacy. Those are movements [from organizations] promoting human rights -- the good guys.
The EU has built walls so that people can feel free within, and lots of people are now working hard to shut out other people in need -- refugees from Syria, Nigeria, Somalia -- so that we "Europeans" can be free. That's too much freedom.

What is something you've struggled with as musicians, either independently or as a band? Is it something you've overcome?
We've been struggling with stripping down. We tend to overdo things and as a result the core of the music is tainted. But then again, it's boring when it's too clean. So trying to find that balance. That's a never-ending story; something we will probably never overcome.
How have you progressed since your beginnings? How has your music changed over time?
Less is more. From the very start, back when we played in our earlier band together, we've stripped off things in terms of people, tonal layers, syllables, tempo and attitude. And in that way, tried to make our music more complex, yet clean, at the same time.
Switching gears a bit -- you get to kick back, relax, and have a beer with anyone in the world (living or dead). Who is it and why?
We would love to spend some time with Pippi Långstrump (Pippi Longstocking). She could teach us a thing or two about life. But we'd probably stick to soda!
Like Swimming's EP Tiny Structures will be out Friday, September 11th. Their cover of Major Lazer's "Lean On" is available for purchase here. For more info, visit Like Swimming's official website. Learn more about the author at laurenkruczyk.com.
Special thanks to Like Swimming, Stunt Company, and DigSin for the wonderful opportunity!
Calling all HuffPost superfans!
Sign up for membership to become a founding member and help shape HuffPost's next chapter