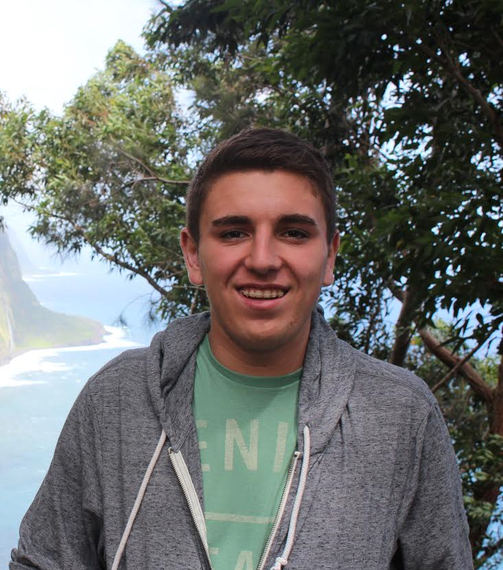 At six, Uncle Dan lost his left eye in a freak accident, which led to many surgeries. Doctors called him "Superman" because he never cried. I always felt strange calling him uncle because we're only nine years apart. He is more like the brother I never had since I'm an only child. We have been inseparable since the time I was old enough to walk and talk. His courage in the face of challenge influences the way I handle adversity. Considering the story of my life, Dan has been, without a doubt, one of the greatest influences.
Our bonding time comes largely through travel. We both enjoy the adventure of new places, including Spain, Mexico, Florida and California. In February, we were lost in Paris for our first trip alone. Neither of us speaks French. We were in a subway station trying to manage our way to the Eiffel Tower, and neither of us knew where to go. Finally after a joint effort, we found our way to the top of the Eiffel Tower. When we finally got to the top it was getting dark and we felt the February wind. We saw the city's lights slowly twinkling on and laughed that a whole afternoon had gone by in our confusion.
For me, school has not produced the kind of challenges that Dan faced. His resolve inspires me; in particular, his ability to navigate school. School administrators and students treated him like an outsider because of his learning disabilities, while I am a guy that can get along with mostly anyone. He has been told "no" his whole life, whether it was school, driving or work. Yet he has persevered. Dan has a license, and works 16 hours a day at the airport trying to realize his dream of becoming an airplane mechanic. His work ethic motivates me to push myself in school and at work. When homework assignments pile up and I feel like procrastinating, I think of him and keep going.
Dan, being very shy and quiet, doesn't usually defend himself. This compels me to be more assertive. When we are together, I often have to step up and take a leadership role. A couple of years ago we were together in a clothing store. "Sir, can I help you find anything?" an employee asked Dan. My uncle wasn't able to process the question quickly enough and the employee snickered at the long pause. I had to speak up. "Excuse me, what's the problem? Not everyone has the same abilities as you. There is no need to laugh." The clerk quickly apologized. Without expressing it, I knew Dan appreciated my actions.
My sensitivity to others has grown up alongside my relationship with Dan. Seeing the effects of bullying has made me more aware of my own actions and words. When I start to lose patience with someone, thoughts of my uncle often come to mind and I become more understanding.
I also witnessed my most terrifying moment in his presence. Recently, when sleeping over at my house, Dan had a seizure for the first time ever. I had never witnessed one before and was frightened. I could only imagine the worst. Considering the possibility of life without him was painful. As a lifeguard, I am certified in first aid but was too traumatized to act. Thankfully, the paramedics came and he survived. Although I was too numb to act in the moment, I have pledged to myself that I will be ready to act if anything like this happens to anyone around me in the future.
Through Dan, I have learned that compassion isn't inherited, or taught at school, but rather something that is gained through experiences with people. My experiences with him have formed my appreciation of others and my ability to see the unique gifts of individuals.
AJ Zerka, a graduate of Ardsley High School, is a freshman at Fairfield University.
Related
Popular in the Community