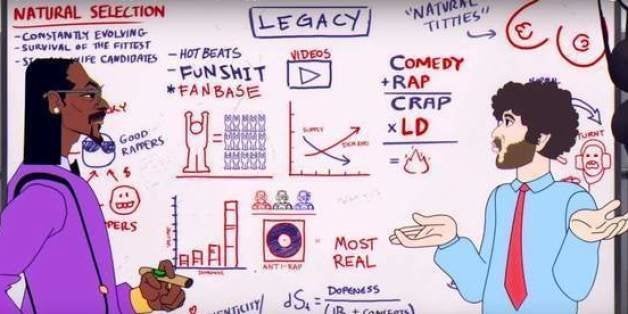 It's a slimy art to put hip-hop's swagger-fueled materialism on trial as an outsider. No matter how earnest, learned, and well-intentioned the resulting song is: Preach fiscal responsibility to rap fans and you might as well write a track about pulling up your pants.
In his star-studded clip for freshly minted single "$ave Dat Money," 27-year-old rapper and former comedian Lil Dicky (real name David Burd) tries to have his bottle service and pop it too. His message attacks his rap counterparts for their irresponsible spending -- even though he leans on their talents and slang to get there.
MORE FROM THE DAILY DOT:
The viral video's concept is simple: Engage high-end retailers and wealthy people, ask them to borrow stuff for a shoot, and make a Roman orgy rap clip on the cheap.
The song is gorgeously engineered. Trap king Fetty Wap handles chorus duties; T-Pain encourages Dicky to borrow footage from his in-progress set; and Rich Homie Quan pops in to essentially lampoon his ode to lavish living, "Lifestyle." (Itself one of 2014's finest works.) Producer Money Alwayz leans on the warm, clang-on-PVC-pipe synthesizer trick still in our heads from Iggy Azalea's "Fancy." For his part, Lil Dicky twists words into laugh-out-loud knots -- on the bridge he goes full DJ Screw, slow-pitching his voice for a towering diatribe about haggling with a waiter.
Dicky rhymes well, and more importantly understands the cues and flow of rap music. This makes his stern grandstanding less repellent than Macklemore's box cutter, void-of-charisma lyrics about ironic mopeds. It makes Dicky appear less clueless than the sulking teen bile tossed at rap videos by Lorde.
But it's still an irresponsible gaming of the system.
MORE FROM THE DAILY DOT:
Dicky enjoys the misogynist perks of filming women in bikinis on a yacht, but never yields his humble, low-rent, good-dude charm. For an artist who grew up in the upper-middle class streets of Cheltenham Township, Pennsylvania, pretending that a McLaren brings him the same accomplished symbolism that it does a rapper from Paterson, New Jersey (and its 15 out of 100 crime index safety rating) is misguided.
He's also able to use his white privilege to not only flip the script on rap, but also bring his director's treatment to life. The video calls for him to get access to free and expensive items by way of -- and this is rich -- walking into gated communities, night clubs, marinas, and car dealerships, then asking other white people to use their stuff. At the risk of being cynical, I don't believe the sweet, elderly white woman who ultimately lets Dicky film in her mansion answers the security buzzer if it's Rich Homie Quan at the door.
As pure artistry, it's easier to traverse a universe and borrow components than it is to fully operate under its guiding parameters. With the luxury of detachment, structuring a rap business model that strays from the norm (black people writing about what is around them and how they feel about it) and veers into Seth Rogan-esque, basketball shorts commentary for frat houses is calculated cake.
PIt's not a bad way for newcomers to skip the XXL magazine Freshmen cover, and go straight for a GQ profile. In Dicky's previous video -- a collaboration with Snoop Dogg -- he at least lays out why he thinks it will work: "Literally I can reinvent myself, I get a forum to express myself."
He's fully aware of his background, but uses it incorrectly as a bargaining chip -- reasoning that he must work harder to avoid the stigma of his upbringing in order to make his rap career work. This ignores being able to tinker with music throughout college, then having enough institutional runway to ditch structured work and give music a go.
"That's my niche," he raps to Snoop. "Don't get offended by this, but that's the market y'all miss. That's the target I'll hit. That's the heart of my pitch -- I want to do this whole thing different."
He goes on to make the point that his "anti-rap" will land with people who don't value and respect rap music, and his music is "ironically one of the real brands of rap left." Dicky's plan to beam into the YouTube apps of suburban kids is moving along swimmingly.
Engaging with rap long enough to cultivate a rhyming voice is something a vast, undiagnosed cluster of fans instinctively do. But it's a weapon -- just ask Tom Hanks' son Chet.
Dicky made a name for himself rapping like what he called a "thug" about childhood pop culture like Disney's The Lion King. He carved a voice out composed of stereotypes -- otherwise known as a blaccent -- built upon his experiences listening to records.
To be fair. Dicky is an objectively talented young rapper. When his material lands, the joke is pure Lonely Island: Present the dichotomy of familiar posturing with common engagements like stealing Wi-Fi from your neighbor, and you have well-earned viral hits.
I'm rooting for the guy because he has a story to tell. One about getting stoned, feeling alienated in a suburb, and stubbornly carving a path via privilege and cultural theft. He's basically Win Butler, but honest and interesting because his ace in the hole is competent observational humor.
But next time out, let's hope he remembers that rap materialism is rooted in the escapism that comes with being an American minority who sometimes feels oppressed. Ever listened to loud, bleeding music in your ears to block out the world? It can be a territorial defense mechanism.
There is fatalism in throwing money at depreciating assets, but also beauty. Never forget that stunting is a habit. Dicky should learn to love the humanist value of putting everyone's margaritas on your card.
Ramon Ramirez is the evening editor for the Daily Dot.
Popular in the Community