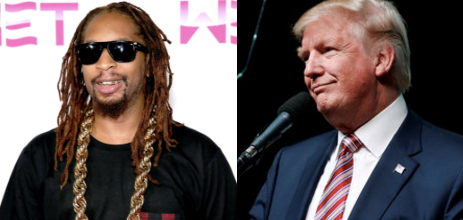 Lil Jon said he once had to call out Republican presidential nominee Donald Trump for offensively calling him an "Uncle Tom" during a 2013 episode of "The Celebrity Apprentice." 
"Look, he's Uncle Tom!" one staffer reportedly said Trump yelled during the show at least twice.
The Daily Beast reported that the same staffer explained to them how Trump was "tone-deaf to the racially charged history of the term, which is used to deride a black man deemed to be subservient to white people." 
Lil Jon's statement confirmed the name-calling and that he had to explain to Trump why the term was so offensive. 
"When this 'Uncle Tom' incident happened on 'Celebrity Apprentice' in the boardroom several of my cast mates and I addressed Mr. Trump immediately when we heard the comment," the rapper wrote. "I can't say if he knew what he was actually saying or not but he did stop using that term once we explained it's offensiveness."
"I also want to be clear that I don't agree with many of the statements Mr. Trump has said during his current run for president," he said. 
Correction: An earlier version of this story reported incorrectly that Trump continued to use the slur after its meaning had been explained.
REAL LIFE. REAL NEWS. REAL VOICES.
Help us tell more of the stories that matter from voices that too often remain unheard.
BEFORE YOU GO
PHOTO GALLERY
How Donald Trump Talks About Undocumented Immigrants