Lil Nas X is riding his horse right into the history books with "Old Town Road," breaking the record for the longest-running streak at the top spot on the Billboard Hot 100 chart.
The genre-defying summer smash has dominated the Hot 100 chart for its 17th consecutive week, surpassing previous record-holders "Despacito" by Daddy Yankee, Luis Fonsi, and Justin Bieber, and 1995's "One Sweet Day" by Boyz II Men and Mariah Carey, which both topped out at 16 weeks.
The 20-year-old rapper, who's blocked competition like Taylor Swift and Billie Eilish from securing the top spot in recent months, seemed all but certain that he'd reign once again, writing on Twitter last week, "what we doing to celebrate the billboard record when we break it y'all." He also thanked anyone who streamed the song since its release.
After he officially broke the record, Lil Nas X posted a simple message: "YEEE TF HAWWW."
The rapper expanded on his feelings in a heartfelt and emoji-laden Twitter post about just how far he's come since making the song as a "struggling artist" living in his sister's house.
"This song has changed my life and the way I see the world around me in less than a year," he wrote. "Thank you to every single person who has been a part of this journey. As I said before, it's just the beginning."
Remixes have been integral to the country-trap single's success, as Billboard calculates remixes and the original versions of the track together in a single listing on the chart, as long as they meet specific guidelines.
First launching on the social video-sharing app TikTok in 2018, "Old Town Road" has since been officially remixed four separate times with artists like Billy Ray Cyrus, Diplo, Young Thug and Mason Ramsey and most recently the Korean pop group BTS putting their own spin on the single.
"Last one I PROMISSEE," Lil Nas X tweeted on Wednesday after the dropping the latest remix with the popular boy band, titled "Seoul Town Road."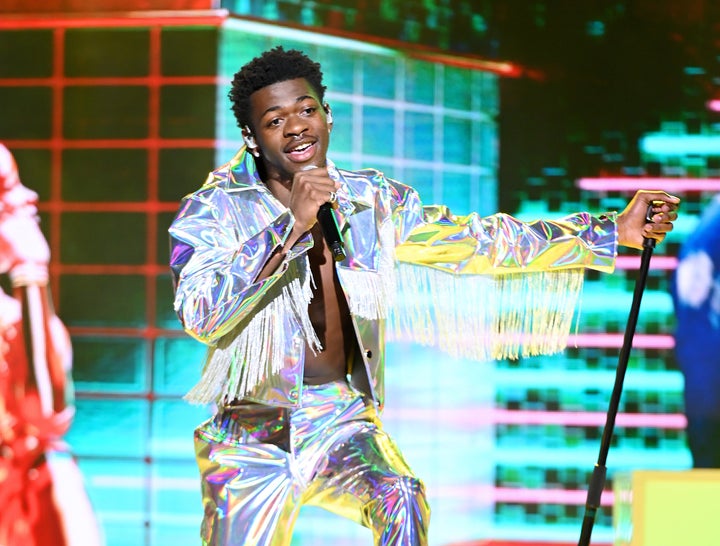 The Atlanta-based rapper's victory is all the more noteworthy given he was banished from the Hot Country Songs chart in late March for not embracing "enough elements of today's country music." The song's removal jumpstarted conversations about gatekeeping in the country music industry and the erasure of black artists' contributions to the genre.
"I had this idea in mind at first, but then as I went on to think about it, I was like, Maybe because [the] country [music industry] is guarded," the rapper told Teen Vogue about the controversy. "You can have your country song with trap elements, but if it's by known country artists, then it's allowed. A black guy who raps comes along, and he's on top of the country chart, it's like, 'What the fuck?'"
As for what he'll do to mark the occasion, the rapper joked that he's already got some big plans.
"Instead of doing my usual crying in the bathtub for five hours, I'll cut it down to three," he joked to TMZ, adding that he also "may buy Mariah Carey some roses and send them to her, cause I love her."
This has been updated with further tweets from Lil Nas X.
Popular in the Community