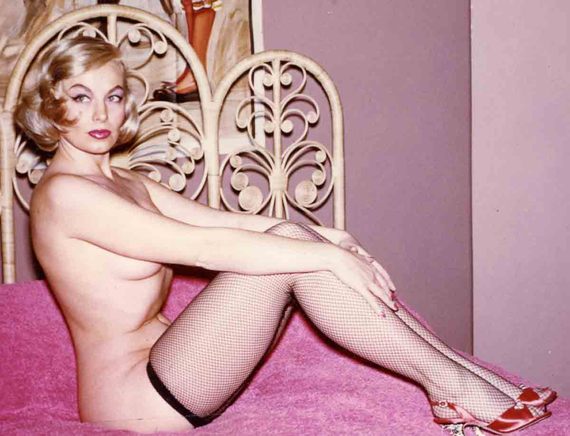 Photo Courtesy of Pat Carroll
Lili St. Cyr was labeled many things; artist, icon, muse, goddess, man-eater, recluse. But feminist? As an unintended historian of early American entertainment, with a special emphasis on burlesque, I am often applauded for digging into this marginalized and stigmatized amusement, and my desire to shine a light on former strippers/dancers, who many, today, insist were early "feminists." I am praised for showing Lili to be a one such; a pioneer, a free-thinking independent woman. Yet, I had to question, was she a feminist?
Goddess of Love Incarnate Book Trailer
As a stripper Lili did not care for that label. Call her "dancer" or "ecdysiast" but don't call her stripper. She did not like the "vulgar" association. During the 1940s and '50s she was one of the most famous burlesque artists of her day, though today she's a mere line in a song sung by Susan Sarandon in the cult film "Rocky Horror Picture Show."
St. Cyr (pronounced sincere) had an act consisting of bathing in see-through bathtubs on stage as lavender and pink bubbles floated over the heads of her swanky movie star audience. Lili perfected the reverse strip; she entered the stage in the near nude then as the act progressed she would drape herself in expensive gowns by Dior and Balmain, wrap yards of diamonds and pearls around her neck and toss a fur stole over a floor length mink coat. Lili St. Cyr was her generation's "It Girl." All the while going through scores of admirers, lovers and husbands.
As an artist Lili inspired, and continues to inspire a world-wide contingency of new burlesque artists. She was hard-working, successful and independent, all clothed in a 5'9", high-cheek boned, green-eyed package of lean muscle, a wasp-waist and platinum curls. Her look was cold and intimidating, she held a deliberate aura of mystery around herself, patterning herself after her idol, Greta Garbo. She was the producer and director of her own astoundingly successful acts. Lili measured her worth through work. Work gave her something relationships did not. "As long as I have that I won't have to be dependent on anybody," she claimed.
Writer and uber-feminist, Rebecca West said what labeled herself a feminist was that she expressed "sentiments that differentiate me from a doormat." Lili, who favored pantsuits in the 1903s, and was criticized for such, was most certainly unafraid to state her vanguard opinions. One such novel idea was her belief that she deserved to profit from her looks. Lili told reporters men had to pay to date her. It wasn't for the sex (that was free) but if she had to rise early for a breakfast date, after dancing all night in a club, and make scintillating conversation, all the while looking her best, then it was worth something. $150 to be exact.
As a headliner she was making more than any of the men on the bill. She demanded cash. If a club owner wanted to add a show to her perennially sold-out performances, she held out a pink ribbon-lined basket and said owner -- even if it was her brother-in-law, famed burlesque producer, Harold Minksy -- had to fill it with crisp bills before she would step one polished toenail on stage. Over a 30-something year career she remained at the top earning thousands.
During a wrenching public-chastising on his television show, Mike Wallace belittled Lili for her novel "sentiments", such as her belief in UFOs. She told Wallace she didn't believe in alimony. If she were a man she would never marry, she professed. She married six times.
People who criticized her line of work were hypocrites. She was doing nothing wrong. "I must work," she explained. She wasn't supported by any of her husbands. Independence and freedom were of life-sustaining importance to Lili. She would not be bound by the conventions of her time or the expectation society placed on a stripper.
"My body, my choice," wrote Lena Dunham to explain her feminism. Lili would agree. Lili felt free enough to show her body, free enough to earn money from it, and free enough to take charge of it. When Lili undertook an abortion at a very young age, she went by herself, paid for it by herself. It was her right. She never wanted children. She wanted to be somebody, to see something of the world. As noted feminist and columnist of The Nation Katha Pollitt urges, society needs to stop making young women to feel guilty for not wanting a baby before they are ready. Lili wasn't ready. She had a world to conquer.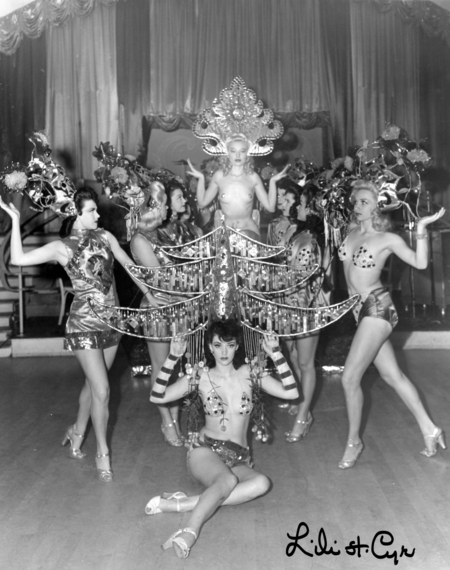 Lili center stage at the Florentine Gardens
Courtesy Pat Carroll
And starting in 1944 she became an international sensation. Lili became an icon. Over her long career, despite claiming to be lazy, she rarely took a day off, traveling constantly between Los Angeles, New York, Montreal and all points between, conquering audiences and breaking hearts.
She got her start (at a late age of 22 or 23) at Los Angeles's Florentine Garden, where her employer N.T. Granlund said she "had an aversion to wearing anything." But nudity would get a girl only so far. Burlesque dancers usually had a gimmick. And a snazzy moniker, burlesque being about re-invention as much anything else. Lili would attempt Lili LaBang, Lili LaSeur, before settling on the French-sounding and sophisticated Lili St. Cyr. Lili's "gimmick" would be elegance and class and, eventually bathtubs and massive hand-carved wooden beds. Slowly and steadily Lili rose through the ranks of anonymous half-clad starlets to become the highest paid stripper in America, surpassing Gypsy Rose Lee for wealth and fame. Though hers would not be as lasting. Lili didn't write books, host a televised talk show, or have her life made into a musical that has become a theatrical perennial for fifty years. But Lili had a better body and a sexier act than the `Gyp,' as she was known to her friends.
"Lili revolutionized stripping and redefined what a stripper could be. Lili's audience held their breaths mesmerized by her queenly carriage. She was classy. Lili didn't just strip. She acted in silent `pantomimes' creating stories that sought a clever way to incorporate losing her clothes." She was in control of her life, her story.
Comedian and feminist, Amy Schumer gave a speech in which she proclaimed "you will not determine my story. I will." Lili too created her story. Born 1917 in Minnesota, as Marie Francis Van Schaack, Lili St. Cyr was raised as a solitary child, moving often, without money, friends or security. She determined she would live a first class life of adventure, romance and limousines. And she achieved it. And not through men. No man kept her. Though showered with furs and jewels, she bought plenty of her own. She achieved everything through her art. Lili did much to legitimatize burlesque and turn stripping into a first-class entertainment. "I try and give it dignity," she said. She succeeded. "She does things," it was noted, "to her audience that no one in the early days of burlesque dreamed could be done." She knew how to convey "her personality across the footlights." La Belle Lili, or Languid Lili, or the Ample Anatomy as she was oftentimes referred to "raised burlesque from an all-time low -- low in box-office receipts as well as in quality of presentation." She was the first stripper to infiltrate Hollywood nightclubs performing at Ciro's in 1951 in front of standing room only movie star audiences, who were used to mainstream performances by Jerry Lewis and Dean Martin, Edit Piaf and Duke Ellington. She was the first to conquer Las Vegas as the "resident Stripper on the Strip" making enormous sums of money and ushering in the glitzy nude era we know Las Vegas to be today. She danced there well into her fifties.
Lili tried the label of wife while still a teen, but that was more to escape a dysfunctional family of story-tellers and secret keepers. She would try wife five more times. Marriage didn't suit Lili. She felt confined by the demands and expectations of her husbands who usually wanted her to quit working though they enjoyed living off her income. She claimed to be the first woman to pay alimony in the state of California. Mike Wallace scorned her for her "unconventional views on marriage" asking her what society would be like if all women thought like her? She thought it would be a more peaceful gentle place as she didn't hurt anyone.
Lili was, as most strippers were, accused of being immoral. Arrested several times, for "indecent" performances. In court she wore pearls and gloves. Her attorney, Jerry Giesler, the Alan Dershowitz of his time, told the jury and the press Lili was simply trying to elevate herself that was the American promise.
By definition a feminist supports the rights of women. Lili did, indirectly. By living the life she chose, by fighting to stay relevant, by literally dancing to the beat of her own violin she became an example of what a woman could do, with dignity, grace and success. While she was fighting for her rights, consequently she was fighting for the rights of all the dancers. If feminism is "grounded in supporting the choices of women" Buzz Feed's Roxane Gay wrote in her introduction to "Bad Feminist" then maybe that is why so many young women look towards Lili for inspiration. Though she didn't know how to support women, women know how to support her.
Lili has become a feminist by inspiration. Too shy, and truthfully too self-involved to advocate for other women's rights, always a loner, never a joiner. She looked out for Lili because no one else did. Do women, strippers, and artists benefit in her wake? Yes. She is a symbol of determination, confident in her place in the world.
-all quotes from "Goddess of Love Incarnate" and sourced and noted therein.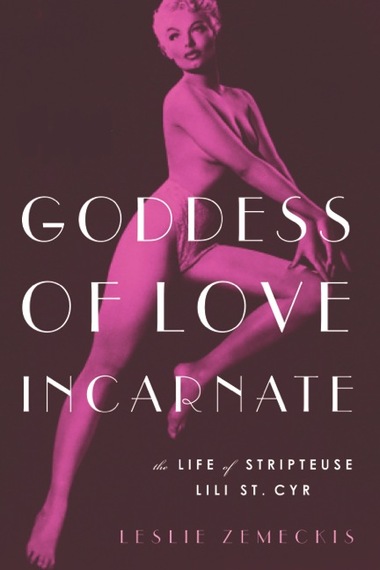 Leslie Zemeckis is the author of "Goddess of Love Incarnate; The Life of Stripteuse Lili St. Cyr," published by Counterpoint Press, out now. Zemeckis wrote "Behind the Burly Q", the definitive history of burlesque and the director, producer of the award-winning documentary Bound by Flesh, about Daisy and Violet Hilton of Sideshow fame. Her next project is a documentary on legendary tiger trainer Mabel Stark, out in 2016. Zemeckis has one of the largest collections of burlesque memorabilia. @Lesliezemeckis, www.lesliezemeckis.com
Calling all HuffPost superfans!
Sign up for membership to become a founding member and help shape HuffPost's next chapter