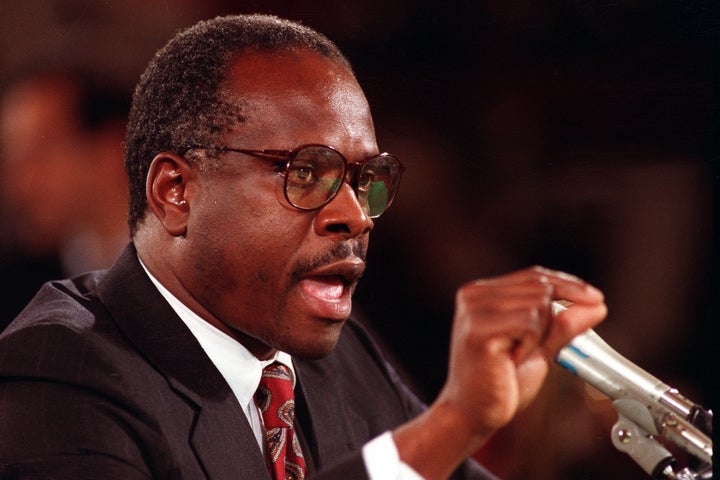 In the wake of news that Virginia Thomas, wife of Supreme Court Justice Clarence Thomas, recently contacted Anita Hill, the woman behind a sexual harassment scandal that almost derailed the Justice during his confirmation hearings, Thomas's ex-girlfriend is now seeking to enter the fray with serious new allegations about his demeanor in the years before the Hill controversy. In an interview with the Washington Post, Lillian McEwen says Hill's allegations fit a pattern:
"He was always actively watching the women he worked with to see if they could be potential partners," McEwen told the Post, adding that he was particularly "partial to women with large breasts" and even would ask woman about their bra size.
"He was obsessed with porn," McEwen also said of Thomas, a claim that is particularly relevant to Hill's allegations that the then-chairman of the U.S. Equal Employment Opportunity Commission had repeatedly relayed scenes from pornographic movies to her. "He would talk about what he had seen in magazines and films, if there was something worth noting," McEwen continued.
As for why McEwen has decided to break her silence now, the Post explains that the woman who partook in Thomas's "freewheeling sex life" between 1981 and 1986 has a story to tell.
She has written a memoir, which she is now shopping to publishers. News broke that the justice's wife, Virginia Thomas, left a voice mail on Hill's office phone at Brandeis University, seeking an apology -- a request that Hill declined in a statement. After that, McEwen changed her mind and decided to talk about her relationship with Thomas.
Calling all HuffPost superfans!
Sign up for membership to become a founding member and help shape HuffPost's next chapter