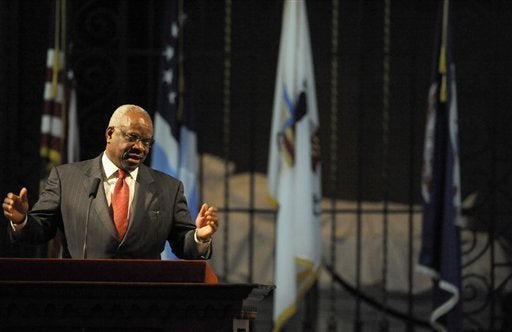 The ex-girlfriend of Supreme Court Justice Clarence Thomas reveals details about their past sexual relationship in her newly-released memoir D.C. Unmasked & Undressed, the AFRO reports.
Lillian McEwen broke a 19-year silence last fall on a sensitive situation she found herself in as a result of her relationship with Thomas. The Washington Post reported at the time:
When Anita Hill accused Clarence Thomas of sexual harassment during his explosive 1991 Supreme Court confirmation hearing, Thomas vehemently denied the allegations and his handlers cited his steady relationship with another woman in an effort to deflect Hill's allegations.

Lillian McEwen was that woman.
In McEwen's book, she offers new details about her relationship with Thomas and also reiterates some of what she told the Post last year, such as suggesting the high court justice had a strong interest in porn. The AFRO reports:
McEwen gushes over Thomas' prowess and "fantasy [package]," describing his body as "coffee-bean ... velvet-covered cement."

He was a "national treasure," she said, one she shared with other women in ménages à trois and in a voyeuristic pleasure palace. And she described her then-lover as being "easily aroused," with a "strong interest in pornography."
McEwen spoke candidly to the Post about the demeanor and tendencies of Thomas when she broke her silence on their history. She suggested he "was always actively watching the women he worked with to see if they could be potential partners," and noted he was "partial to women with large breasts."
Click here to read an interview McEwen gave to AFRO about her new book and her past with the Supreme Court justice.