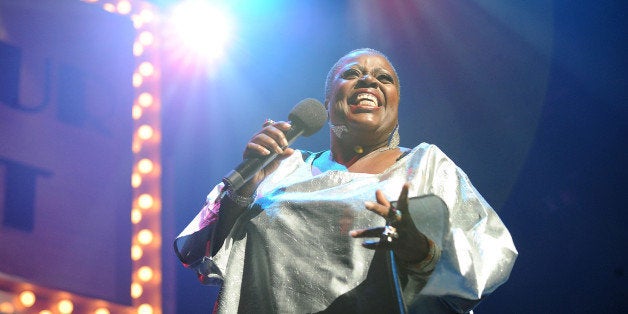 Lillias White stops short of calling her new cabaret act an open audition for her next big Broadway role. Still, the singer-actress is viewing the show, appropriately titled "The Lillias White Effect," as a small but personal gesture to theater producers who've yet to "really, really embrace the concept of non-traditional casting" that doesn't rely on Hollywood star power.
To her credit, White, 62, remains both optimistic and forward thinking about her work in theater, and one gets the sense that "The Lillias White Effect" will be no exception.
White sings "Don't Rain on my Parade" from "Funny Girl"
"We must think outside the box to get the next generation of theatergoers into those seats and loving the theater as much as we do, and maybe the word will get out that people should re-consider how they're casting those roles," the star, who nabbed a Tony Award in 1997 for Cy Coleman and Ira Gasman's "The Life" and starred to great acclaim in 2010's "Fela!," says. "Some of the big stars they put in those roles...what the hell are they doing there? Why are they taking a job away from someone who is trained and has worked their behind off for years and years to be able to work in this field?"
Her show, which opens May 1 at New York's 54 Below and is directed by Will Nunziata, with not only include songs from "Mame," "Gypsy" and other musicals that she'd like to tackle in the future, but also touch on the star's budding relationship with up-and-coming composers Douglas Lyons and Ethan Pakchar. In fact, White says the songwriting duo, who began collaborating while on tour with "The Book of Mormon," are developing an all-new musical in which she hopes to eventually star.
"I'm very interested in doing new material that explores different cultures and different ways of thinking and living," White says. Though she notes that Lyons and Pakchar are still "tossing around some ideas and seeing what makes sense," White describes the pair as "a couple of young guys who just really get me."
Of course, "The Lillias White Effect" won't shy away from nostalgia entirely. The show's title, White says, is a nod to an experience she had with a weeping fan at the stage door of the Richard Rodgers Theatre during her run in the 1995 revival of "How to Succeed in Business Without Really Trying." Similarly, fans of White's seminal turn as a gritty prostitute in "The Life" will be pleased to know that her signature tune, "The Oldest Profession," will appear in an arrangement featuring Billy Stritch on piano, Buddy Williams on drums and Gary Haase on bass. White says that she's "still very flattered, humbled, honored and pleased" that "Profession" was written by Coleman specifically for her, noting that the song "continues to be a big feather in my cap."
She's hopeful that her three-night 54 Below run will also prompt additional cabaret gigs in other cities around the world ("We'll take this show wherever we can take it," she quips). Still, no matter where her next performing venture may be, White says she'll never take her talents for granted.
"I really consider myself blessed and highly favored," she notes. "I hope and pray that I will always have the ability to give of myself in this way."
Lillias White stars in "The Lillias White Effect" at New York's 54 Below on May 1-3. Head here for more information.
Calling all HuffPost superfans!
Sign up for membership to become a founding member and help shape HuffPost's next chapter
BEFORE YOU GO
PHOTO GALLERY
2014 Broadway Season Preview