Lily Allen spent seven years trying to end the harassment from her stalker with little support from UK law enforcement. Now, the British singer and mother of two is teaming up with the Women's Equality party (WE) to launch a campaign for stronger measures that will protect women from stalkers and raise awareness about the dangers they face. The campaign launches this week, during National Stalking Awareness Week in the UK.
In an interview with The Observer, Allen discussed the harrowing experience with her stalker -- one that eventually culminated in a terrifying break-in in the middle of the night. According to Allen, Alex Gray had been threatening and stalking her since 2009, but only after he broke in and stole her handbag did the police take the situation seriously enough to find -- and finally -- charge him. 
"It's difficult to articulate [stalking] when you have no definition, when the police are saying, 'right, it's burglary if you want this guy to get a prison sentence,' and you're thinking, 'but I don't give a sh*t about my handbag. What I give a sh*t about is a man who is saying he wants to put a knife through my face,'" Allen told The Observer. 
She kept the police informed of Gray's behavior over the years, but was never taken seriously. "Every time I tried to talk to someone about it, it was like hitting a brick wall," she said. "The police made me feel like a nuisance, rather than a victim." Allen also said she recognized she was fortunate enough to have the means for support, so she could afford to move house and to pay legal fees. "But if you don't have that money, how much more terrifying must it be?" she said.
"As Lily's story illustrates, the justice system still does not fully understand stalking behaviors and risks," WE party leader and London Mayoral candidate Sophie Walker said in a statement on the WE website. With the help of Allen and stalking advocacy group Paladin, WE is campaigning for "funding for stalking support services, specialist-led training for criminal justice professionals, perpetrator treatment and a register for serial stalkers," according to the statement.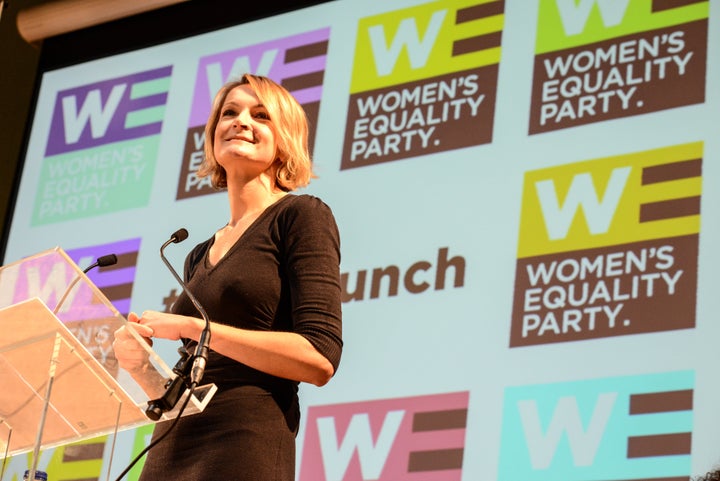 According to Paladin, there are a reported 700,000 women who are stalked in England and Wales every year. In the US, a startling 6.6 million people experience stalking as well, according to the National Center for Victims of Crime. "As with many other forms of violence, these are not isolated incidents but a structural violence perpetrated against women," Walker said on the WE website. 
The campaign is using the hashtag #JoinTheDots -- a not-so-subtle commentary on what the police should have done with Allen's many reports of stalking -- and encouraging people to share Allen's story and their own.
Need help? In the US, contact the Safe Horizon victims hotline here. In the UK, contact the National Stalking Helpline here. 
Calling all HuffPost superfans!
Sign up for membership to become a founding member and help shape HuffPost's next chapter
BEFORE YOU GO
PHOTO GALLERY
These Are The Things Men Say To Women On The Street