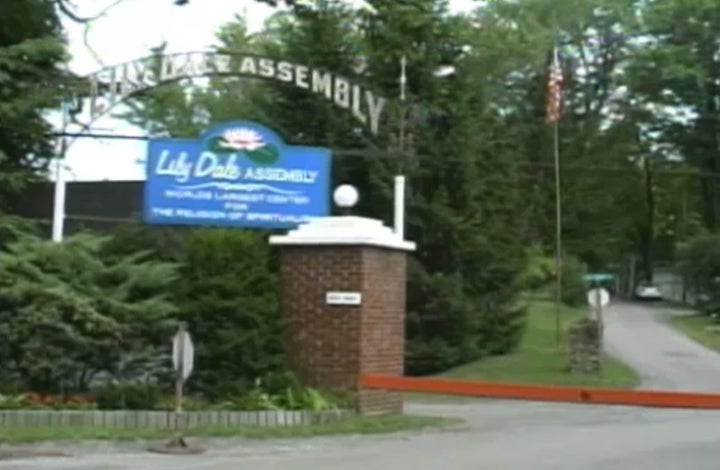 (RNS) The lobby and the wide front porch of the Lily Dale's Maplewood Hotel are typical of a place built in 1888, except for the sign that reads "No readings, healing circles or seances in this area please."

The sign's not out of place here. It's posted among the hotel's vintage furnishings as well as its paintings and tapestries, said to have been created with help from the spirit world. The Maplewood, with about 40 guest rooms but no air conditioning, televisions, telephones or elevators, is the social hub of Lily Dale, a gated community of about 500 Spiritualists in southwest New York, on the east shore of Upper Cassadaga Lake.
For 133 years, Lily Dale has been home to the Lily Dale Assembly, a religious organization of mediums and healers who claim to communicate messages from those who have passed on to those still living on the Earthly plane.
Lily Dale historian Ron Nagy said the tiny village, now considered the "World's Largest Center for the Science, Philosophy and Religion of Spiritualism," started out as a summer campground for Spiritualists in the 1870s. They bought 20 acres of farmland for $1,845 and called their meeting place Cassadaga Lake Free Association, then changed the name to The City of Light. In the early 1900s, they adopted the name Lily Dale due to the abundance of water lilies on the lake.
Lily Dale has been the subject of much speculation as well as more than a half-dozen books, newspaper stories, a Canadian documentary and an HBO special, and it attracts upwards of 22,000 visitors during the summer. Visitors come from Australia, England, Italy, Germany, Japan and Kuwait.
"People come here for a lot of reasons," said Susan Glasier, executive director of the Lily Dale Assembly. "They come for the private readings, the workshops, or they come just to be. It's a beautiful place. You don't have to talk to anybody (while you're here), but you'll never meet a stranger."
Barbie Stowe-Ranieri and Holly Lebied, both former psychiatric nurses who live in Syracuse, said they come to Lily Dale for several days every summer. "You come with an expectation," Lebied said. "You hope to connect with a loved one and you don't always, but even if you don't, you leave here with a sense of peace, a sense of closeness. Even if they haven't come and talked to you, you feel them around you."
Lebied said she felt a connection to three deceased family members during one of the free, public message services held several times each summer day. During message services, which begin and end with prayers, registered Lily Dale mediums as well as visiting and student mediums give brief readings, conveying messages they say come from loved ones in the spirit world.
During message services, many mediums delivered light-hearted messages. One joked about spirits of ex-spouses and in-laws coming through, "even when we'd rather they didn't." Another puzzled medium said a spirit was showing her images of Tootsie Rolls and Schlitz beer, which prompted a woman in the crowd to say that had to be her grandmother, who greatly enjoyed both in life. Messages affirming pride, happiness, love and caring portrayed spirits watching over the living, guiding and supporting them.
Registered medium and Lily Dale resident Jackie Avis said some messages begin with the spirit referring to the circumstances surrounding his or her passing. "Oftentimes, that's the only way the spirit can come through; identifying themselves (to their loved ones), and it can get heavy, very serious."
"We're here to prove the continuity of life, that life goes on, to let you know that your loved ones are well, that they care about you, that they're around you," said Glasier. "We're not entertainment. We're not psychics, we don't do tarot cards, tea leaves. We are a recognized religion by the United States of America. The sad part about Spiritualism for me is that it used to be so easy -- and still would be so easy -- to fake."
Glasier said mediums who would like to give private readings at Lily Dale must submit to rigorous, multi-part testing that includes giving private readings to members of the Lily Dale board of directors. Private readings with Lily Dale mediums, like Avis, are usually booked online at lilydaleassembly.com. However, mediums who have available appointments may leave a sign-up sheet on their porches for walk-up clients.
Avis, who sees no more than four clients a day, said she doesn't consider what she does a gift because everyone has the potential to do it. "I consider it as any other skill -- piano playing -- if you want to be better at it, then you have to give it your all and devote yourself to it ... but we all have access to spirit because we are spirits," Avis said.

Healing services are also offered throughout the day and evening in the Healing Temple, which has stained-glass windows, soft lighting, and an altar-like stage. Everyone spoke in hushed tones, except for some gigglers in the back row, and after a brief welcome, each healer invited participants to come forward one by one. The participants sat on benches and the healers laid their hands on or inches above heads, shoulders, backs, hips and knees.
After the healing service, participants are invited to say a private prayer and to tie a "prayer ribbon" to the hundreds of other ribbons adorning a small tree near the temple's entrance. Steve and Mila Barnes, of Niagara Falls, linked their ribbons to the others. Steve Barnes, a U.S. Navy veteran, said he thought he was led to Lily Dale after he saw it in his dreams, and he talked about a message he'd received from his grandfather during a message service at Inspiration Stump. Mila Barnes, while supportive, seemed less enthused. "I really like it here. It's really nice and green," she said and shrugged. "That's what I like. That's it."
In spite of the Lily Dale Spiritualists' avowed belief in God and Jesus Christ, Glasier said they do not consider themselves Christians. "We accept Jesus as our older brother, our master teacher, our master healer," Glasier said. "We just do not accept that he died on the cross to save us because we believe in self responsibility."
Due to their beliefs and the goings-on at Lily Dale, Glasier said a lot of people don't understand them. "There's an undercurrent of animosity from some of Christian religions, especially in this close area, but again," Glasier said, "they don't know us."
(Kathleen Poliquin writes for The Post-Standard in Syracuse, N.Y.)
Related
Popular in the Community