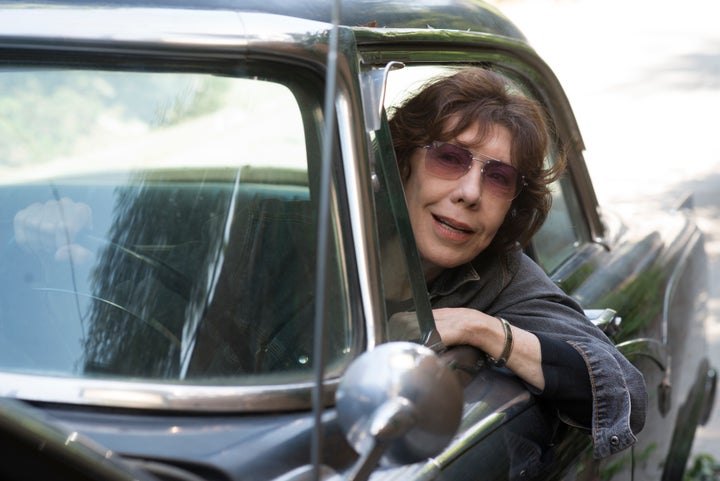 It's been 39 years since Lily Tomlin's first Oscar nomination and 44 years since her first Emmy nod. But if headlining a film is what makes someone a movie star, then Tomlin is only now earning her due. And if top billing on a series makes someone a television star, then Tomlin didn't accomplish that either, until just a few months ago. Now she has a lot to show for it: Her film, "Grandma," which opened this weekend, has attracted glowing reviews and Oscar buzz since it premiered at the Sundance Film Festival in January, and the first season of her Netflix series, "Grace and Frankie," led to Tomlin's umpteenth Emmy salute.
"I've never thought of myself as a movie star," Tomlin said when I sat down with her at a Manhattan hotel during the Tribeca Film Festival, where "Grandma" screened in April. "I'm considered a little eccentric in a way."
It's not hard to pinpoint the origins of Tomlin's self-assessment: Her breakout stint on "Rowan & Martin's Laugh-In" in the early 1970s included such characters as fast-talking, nasally 5-year-old Edith Ann and the condescending telephone operator Ernestine. She smoked pot with Jane Fonda and Dolly Parton in the 1980 feminist comedy "9 to 5" and became a fixture of Robert Altman's sprawling ensemble films about the idiosyncrasies of the American experience ("Nashville," "Short Cuts," "A Prairie Home Companion"). "Grandma" fits in nicely with that catalog. Tomlin portrays a crusty, weed-smoking lesbian poet who assists her teenage granddaughter in cobbling together $600 for an abortion. And in "Grace and Frankie," she plays a breezy, weed-smoking painter whose longtime husband leaves her for another man.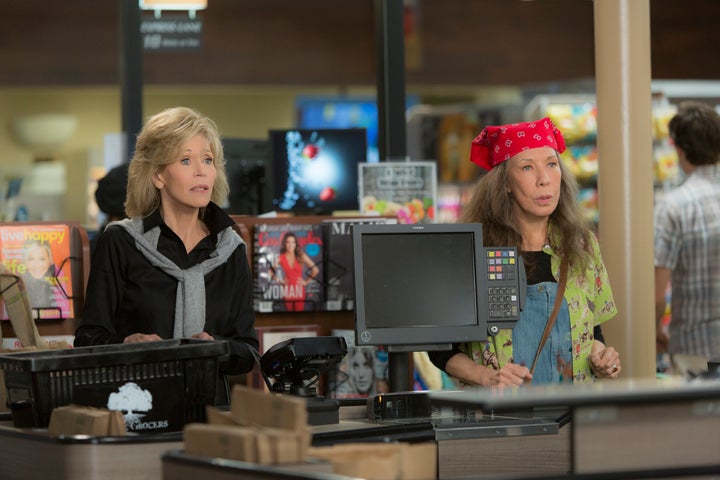 These eccentricities don't always extend to Tomlin's real life, however, as much as her reputation may assume otherwise. She and Fonda, who portray "Grace and Frankie's" title characters, did take peyote to prepare for a pilot's hallucinogenic scene, but Tomlin has repeated time and again throughout the "Grandma" press cycle that she rarely smokes pot and certainly doesn't consume heavier drugs with any regularity. ("I'm too wacky and nutty and foggy anyway," she told The Daily Beast. "I don't need to get too blissed out.")
What does factor into Tomlin's real life is the excellence of her "Grandma" performance, which the actress said is the closest she's come to playing herself onscreen.
"I don't know why I didn't think of this a long time ago," she said of portraying a semi-analogue. "I identified with many things in the script: the fact that she was a lesbian. I'm not a poet, but I kind of wish I was."
I told Tomlin that comedy could be considered a form of poetry. She beamed.
"Well, that's true," she responded. "Thank you! Bless you. You sound like Diane Keaton. She said, 'Comedy deserves something good,' and then she got an Oscar for 'Annie Hall.'"
Part of the reason "Grandma" hit home may be that Paul Weitz, who directed her in the 2013 Tina Fey-Paul Rudd comedy "Admission," wrote the script with Tomlin in mind. (The same goes for "Grace and Frankie," which "Friends" scribe Marta Kauffman co-created for Fonda and Tomlin.) She's shared the screen with the likes of Bette Midler ("Big Business") and Steve Martin ("All of Me"), but this is the first movie in which Tomlin is the one true lead. At 75, that sounds like a feat, especially when she reveals that "not very many" scripts drift her way anymore.
"It's an age thing for me right now," she said when I asked why more casting directors aren't ringing her up. "What's going to come across your desk is not going to be a lead role, and you're not going to be a romantic interest in a conventional movie. I didn't get a romantic lead when I was 30, though. I was thought of as a comedian."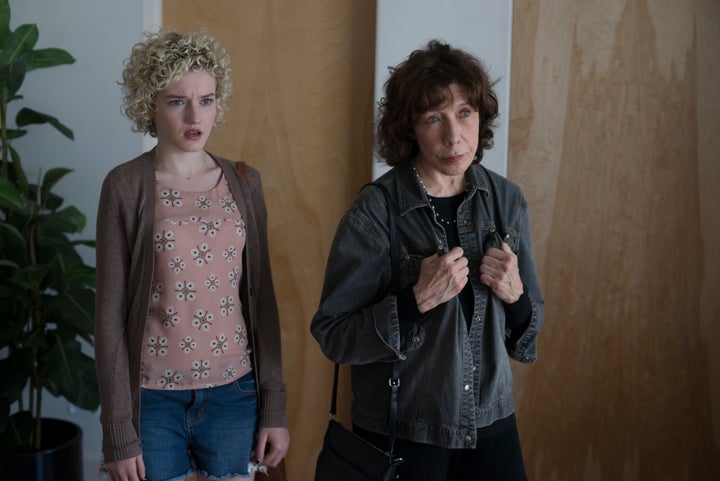 She doesn't see herself as the lead of "Grandma" either, though. Tomlin was "over the moon" when she learned that Julia Garner had been cast as her granddaughter, Marcia Gay Harden as her stuffy daughter, Judy Greer as a doting ex-girlfriend and Laverne Cox as a tattoo-artist pal. Oh, and she got to clobber "Paper Towns" star Nat Wolff with a hockey stick in one scene, too.
But "Grandma" is Tomlin's movie. Perhaps she's taking a modesty cue from her own mother. I asked whether the film's family dynamics resonate, and Tomlin launched into an account about sometimes needing to act as a parental figure while growing up. Like that time she called a door-to-door salesman who'd duped her mother, too intimidated to tell him no, into purchasing 10 vacuum cleaners at about $300 a pop. She ordered him to come to their home and refund her mother's money.
"I was all piss and vinegar," she recalled. "I was just cursing him and telling him that if he didn't come I would throw it in the street. He finally came out and said, 'Your mother bought that vacuum cleaner' and all this stuff. And I pitched it out off the stairs. I was forever doing stuff like that. I just railed against it. In the early years, my mother would have been more concerned about what the neighbors -- or the relatives in the South -- would think. I was a Detroit kid, a street kid, so I was kind of tough. I would stand up for myself."
That resolve worked in Tomlin's favor over the years, including the many times she's said she has no regrets about turning down an offer to reveal her sexuality on the cover of Time magazine in 1975. The same forces that prevented her from accepting the deal -- potential career suicide at the time -- would have stymied a pro-choice, pro-weed, pro-sexuality, pro-aging movie like "Grandma" from being made even a decade ago.
"I just feel like so much progress has been made on those fronts, although a lot has been a pull-back, too, in certain regions," she said. "And I know that because my family is Southern. My generation has come around tremendously. My mom's generation, they'd just be negative, negative, negative: 'Did you hear about that Mary Jean?' That's my real name. My mother would be 100 years old by now, and even though my mother came to terms with my brother and me both being gay, my relatives would have been gossiping about us for days. But my younger relatives are much more lenient, much more tolerant, much more accepting. Their minds are just open to things. And yet I can't even talk about this in a way because so much other stuff is so horrible in the world -- the inequities and the prejudice and the hate and the killing."
She's right, of course, but "Grandma" is a phenomenal signpost of the incremental progress this country has seen in recent years. It's also one of the year's best indies to date -- a yarn about old connections resurfacing and disparate generations merging their value systems. In an ideal world, Tomlin would add an Oscar nomination to her list of 2015 successes.
After our 20-minute chat, the publicist said it was time to part. I instantly protested, not wanting to end a great conversation. Tomlin stood and threw her arms around me for a hug. She would never admit it, but somewhere, she must know, 44 years after her first Emmy nomination, that this is her moment.
"Grandma" is now in limited release.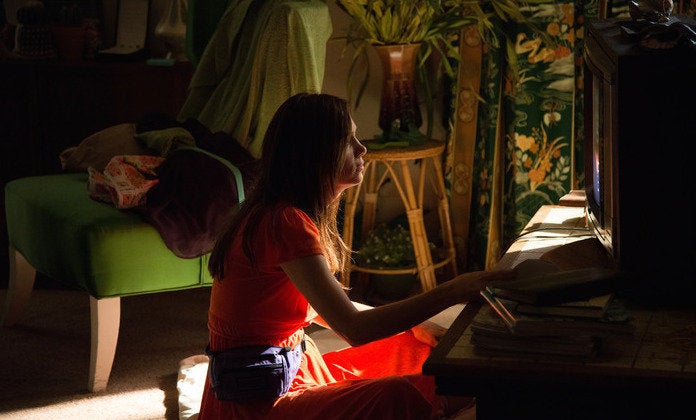 Indie Summer Movie Preview 2015
For a constant stream of entertainment news and discussion, follow HuffPost Entertainment on Viber.
Support HuffPost
The Stakes Have Never Been Higher
Popular in the Community